Negro League Museum and Parkway Theatre are two hidden gems
Driving around town recently, with more of an awareness of where I was, I've noticed many places that make for ideals places to visit and spend time but don't seem to get a lot of attention.  This article will introduce you to two of those places.
If you're a fan of major league baseball, or a historian of the game, or maybe both, you'll want to know about this treasure located at the Metro Centre in the Owings Mills Library.  You can see the Centre from 795.  It's the Hubert V. Simmons Museum of Negro Leagues Baseball that opened the day the library opened, March 27, 2014.
It is a testament to the days the Negro Leagues were playing ball across the country.  The museum is here due to the hard work of Hubert Simmons, who played for the Baltimore Elite Giants from 1950 to 1952, and Rayner Banks, a staunch baseball fan and curator of the museum.  The Giants played from 1920 to 1950.  They were established in 1920 in Nashville and moved to Baltimore in 1938.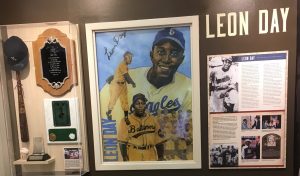 Prior to its opening at the library, the museum was housed at the Presbyterian Church in Lochern.  Their new home offers exhibits, photos, artifacts and memorabilia along with many memories and history.  It is situated on three floors and each one is worth a look.
Much credit goes to Baltimore County Executive Kevin Kamenetz.  He was very instrumental in getting the museum open and being rent free. The museum is open the same hours as the library.  Free tours are available by calling 410-597-9797.
Now let's jump on 83 and head downtown to the newly opened Parkway Theatre at the corner of Charles and North.  What a job the designers Ziger/Snead Architects, Seawall Development Corporation and Southway Builders, Inc. did in getting this long closed movie house open.  And just in time to host the Maryland Film Festival.   It closed January 1978.
The building was originally built by Henry W. Webb's Northern Amusement Company in 1915 for about $120,000.  It was remodeled in 1926 and again in 1939.  In 1956 it reopened as the Five West Art Theatre but closed in the mid 70's.  The Five West was an example of an art house cinema.
After decades of disrepair the building was finally purchased in July 2015 by the Maryland Film Festival.  And, what do you know, on May 3, 2017 the doors were unlocked and in came the Maryland Film Festival.  The total capital campaign goal was $18.2 million.Inside you'll find a beautiful 400 seat theatre to be used for film and special events and two 85 seat theatres.  There is also two theatre lounges, a café and bar and a concession area. I'm told it also houses state of the art projection and sound.  The venue will no doubt be popular with students from Hopkins and MICA and to the community for events.
I certainly recall the many years I drove by the closed Parkway and thought now nice it would be if someone could open it.  The surrounding area is undergoing a renaissance with close by attractions that include the Single Carrot Theatre, restaurants, clubs and The Charles Theatre.  So in essence you can park the car once and spend an entire evening experiencing a movie, dining and  club.
I have been there once and that was for a tour.  I am planning to go back within a few days to see a movie.  Keep in mind the Parkway does not show mainstream films.  It is more of the independent variety.   That means you wont see the a lot of the junk currently showing at your neighborhood movie house.  Check out what is playing by going to mdfilmfest.com/parkway.

Eddie Applefeld is a Baltimore native and a graduate of Towson University. He has been in the broadcasting profession for over 30 years. Currently he is the Promotions Director of WCBM radio. Before that, he was part of the Rouse & Company show on WQSR, host of a cable TV show called Dining Out and adjunct instructor at Towson.
His past accomplishments include being named a finalist in Baltimore Tourism's Employee of the Year Program and winner of Toastmaster's Speaker of the Year contest. He was also twice a heartthrob for the American Heart Association's gala fund raiser.