Morel Crostini and Rockfish a la Bouillabaisse Sauce: Wonderful, earthy dishes
From the recipe files of The Classic Catering People. Traditional Recipes taken to the next level of taste.
Here are my attempts at duplicating the following chef-inspired recipes. My group of informal tasters praised the finished recipes, but decided I had a long way to go, when it came to plating Never mind that they hovered over me, with forks in hand, waiting impatiently as David finished the photos. Distracted with several urgent phone calls, a plate of crostini mysteriously disappeared during the photo session.
Enjoy! Have fun!
Crostini are appetizers made from thin slices of toasted bread (thinly sliced baguettes are my favorite). Brush with olive oil or a combination of olive oil, herbs or a separate sauce. The choice of toppings is unlimited:  cheeses, meats, vegetables, herbs.
Thanks to  The Classic Catering People for sharing the following recipes.
Therese Harding kindly agreed to share her Morel Crostini recipe. The flavors are wonderful, an earthy taste combined with melted gruyere and goat cheese.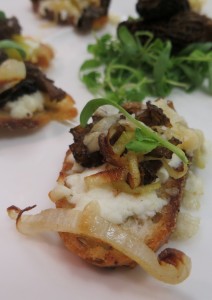 Morel Crostini by Chef Therese Harding of the Classic Catering People
Ingredients:
1 baguette, thinly sliced
Extra virgin olive oil
3 tablespoons unsalted butter
6 ounces fresh morels
¾ cup leeks, thinly sliced
2 teaspoons fresh thyme leaves
1 teaspoon fresh lemon juice
1 tablespoon chopped Italian parsley
Sea salt and fresh pepper to taste
5 ounces local goat cheese
3 ounces gruyere cheese, grated
Parsley for garnish
Directions
Brush baguette slices with extra virgin olive oil. Bake at 325 degrees until lightly toasted, about 10-15 minutes.
In a skillet over medium heat, melt butter. Add morels and sauté until soft, about two minutes.
Add leeks and cook about 4 minutes.
Stir in thyme, lemon juice and parsley. Adjust seasoning to taste, adding sea salt and pepper.
To assemble the crostini, spread goat cheese on toasted baguette slices, add morel mixture and then sprinkle gruyere cheese on top.
Return to the oven for 5 minutes. Garnish with additional parsley and serve.
What is Bouillabaisse? Bouillabaisse is a traditional French fish stew defined by a white fish stock and the addition of saffron and sometimes fennel and orange peel.  Seafood choices depend on the recipe and availability: rockfish striped bass, halibut, cod, tilapia, or snapper, shell-on large shrimp or lump crabmeat; clams or mussels are a few choices. Traditional plating: place a slice of dried bread at the bottom of each serving bowl and add broth. Place portions of the cooked seafood on top and serve with a customary rouille sauce. A rouille sauce consists of olive oil, breadcrumbs, chili peppers, garlic and saffron (a selection of recipes can be found on the internet or cookbooks).
Here is Chef John Walsh's version of a bouillabaisse sauce with rockfish. The broth is flavorful and rich with taste and compliments the fish as only a master chef can do.
Rockfish a la Bouillabaisse Sauce by Chef John Walsh of the Classic Catering People
Ingredients: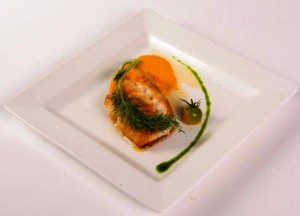 2 pounds rockfish fillet, cut into 8 4-ounce servings
2 large tomatoes, peeled and coarsely chopped
1 large onion, chopped
4 garlic cloves, chopped
½ cup extra virgin olive oil
1/3 cup finely chopped fennel fronds (sometimes called anise)
1 Turkish or ½ cup California bay leaf
¼ teaspoon crumbled saffron threads
1 ½ teaspoons coarse sea salt
½ teaspoon black pepper
2 cups white fish stock (or store bought)
2 tablespoons unsalted butter
Directions
Cook tomatoes, onion, and garlic in oil in 6-to 8-quart pot over moderate heat, stirring occasionally, until onion is softened, about 5-7 minutes.
Stir in fennel fronds and add the bay leaf, saffron, sea salt and pepper.
Add the stock and bring to a boil, then reduce heat and simmer, covered, 8-10 minutes.
Add pieces of fish to soap and simmer, covered, 7 minutes.
Remove rock fish and reduce stock by ½, strain.
Add butter and serve on rock fish.
The Classic Catering People has been part of the Maryland and DC food scene for the past four decades. Based in Owings Mills, they are a preferred caterer for over 40 of Baltimore's top venues and catered the last three presidential inaugurations, for the media on the White House lawn. Also they remain the exclusive caterer for Baltimore Ravens Training Camp. Impressive resume, impressive chefs, impressive fare.
Mary Ellen's Best of Helpful Kitchen Tips, 1980; Thaw fish in milk. The milk draws out the frozen taste and provides a fresh-caught flavor. Baking fish on a bed of chopped onion, celery and parsley not only makes the fish taste better, but also keeps it from sticking to the pan
Mushrooms: Never immerse mushrooms in water when cleaning. They will absorb too much liquid. For prime mushrooms, buy only those with closed caps. The gills should not be showing.

Ann Marie Bezayiff received her BA and MEd from the University of Washington in Seattle. She is an author, blogger, columnist and speaker. Her columns, "From the Olive Orchard" and "Recycled Recipes from Vintage Boxes", appear in newspapers, newsletters and on Internet sites. Ann Marie has also demonstrated her recipes on local television. Currently she divides her time between Western Maryland and Texas.