In my most humble opinion, there are only a handful of restaurants in this town that can be called a destination location. A place you go for that special occasion and a place you know where you'll get a great meal in a really nice atmosphere.
Without question, one of those restaurants is the Milton Inn at 14833 York Road in Sparks.
This was formerly a school and it is named after the author John Milton. One of the students at the school was John Wilkes Booth.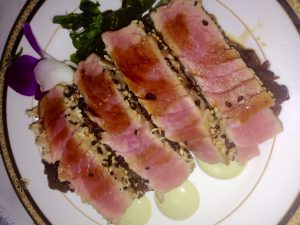 The restaurant is owned by Brian Boston, an experienced and locally renowned chef. Yes ,he does the cooking here. Brian has been at the helm since 1997.
The restaurant is open seven days serving dinner daily, lunch Monday through Friday and a brunch Saturday and Sunday.
All the dining rooms have recently been renovated. And that also includes the outside patio. And in case you didn't know, there are two dining rooms upstairs.
There is ample free parking, the dress I'd say is business casual and reservations aren't a bad idea at anytime, but especially holidays and weekends.
To celebrate 70 years in business, 2017 will introduce an anniversary menu. You'll get a hors d'oeuvres, appetizer, entree, dessert, truffles, coffee and a bottle of wine. The cost is $130 per couple Sunday through Thursday by reservation only.
Two of the entree choices are Chateaubriand and Grilled Rack of Lamb. Two appetizer choices are Shrimp Remoulade and Beef Tenderloin Tartare.
Also new to the Milton Inn is a small plates menu. There are 26 choices starting at $12.00. This is on a separate menu.
They also offer vegetarian and vegan dishes.
In short, you'll never go wrong by dining here. This time of year ask for one of the rooms that has a fireplace.
Reach them at 410-771-4366 or go to miltoninn.com.