'Mickey's Search Party' makes its way to Royal Farms Arena
Tinker Bell's in trouble.
She's been kidnapped by Captain Hook so he can seize her magic.
But don't worry, Tinker Bell. Mickey and Minnie Mouse, Goofy, Donald Duck and characters from movies spanning more than three decades are on their way to help.
Coco, Elsa and Anna, Belle, Buzz Lightyear and Moana will all lend a hand as they travel across the world to free Tinker Bell during "Disney on Ice: Mickey's Search Party," which will have eight shows at Royal Farms Arena from Oct. 13-17.
"When you see how many characters we have, this is truly a show that has something for everyone," said Matthew Young, who plays Prince Eric from "The Little Mermaid." "But this show also takes new avenues to be more exciting and innovative."
What sets "Mickey's Search Party" apart from the dozens of Disney on Ice Shows that have graced Royal Farms Arena is the production features acrobatics as well as world-class ice skating throughout the two-act, 100-minute show. Spectators will see characters hoisted on cables that will enable them to above the crowd, bringing a new dimension to a show that for years had been confined to ice.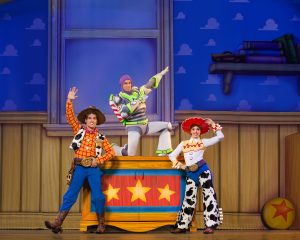 "Since we started this tour, we've seen how much everyone has missed Disney because their faces just light up when we are out there," said Young, noting the COVID-19 pandemic forced the tour be postponed for nearly a year before resuming a couple of months ago. "You can see how much people who pretty much had to stay in their homes for all this time have really wanted to see live entertainment."
Now, spectators can experience Disney without having to go to Florida or California.
Through Miguel from "Coco," they'll get to visit the mystical Land of the Dead and discover a vibrantly colorful performance with skeletons atop poles dancing over the audience in a beautiful cultural celebration of family.
They'll get to spend time in Arendelle with Anna and Elsa of "Frozen," and get to hang out with the "Toy Story" crew of Buzz Lightyear, Woody, Jessie and the Green Army Men. They'll also watch Belle from "Beauty and the Beast" use her magic to bring an enchanted chandelier to life.
The audience will also get to sail with Moana as she prepares to challenge Te Ka, and spend time with the characters of "Aladdin" and "The Little Mermaid."
"It's everything you can expect and more when it comes to Disney," Young said. "It is amazing how much of the Disney park magic we can bring into these stadiums."
If You Go
Disney on Ice: Mickey's Search Party
Where: Royal Farms Arena
When: Oct. 13 – 17
Shows: Oct. 13: 7 p.m.; Oct. 14 : 7 p.m.; Oct. 15: 7 p.m.; Oct. 16: 10:30 a.m., 2:30 p.m.; 6:30 p.m.; Oct. 17: 12 p.m., 4 p.m.
Tickets: $28 – $103 can be purchased here.

Jon Gallo is an award-winning journalist and editor with 19 years of experience, including stints as a staff writer at The Washington Post and sports editor at The Baltimore Examiner. He also believes the government should declare federal holidays in honor of the following: the Round of 64 of the NCAA men's basketball tournament; the Friday of the Sweet 16; the Monday after the Super Bowl; and of course, the day after the release of the latest Madden NFL video game.