No tour of the Baltimore Inner Harbor is complete without a stop at the McCormick World of Flavor Store. The store offers an awesome collection of spices and flavors and one of my favorite places to shop. It's a must stop for my out-of-state visitors who are always impressed with the spectrum of offerings.
A Little History: McCormick has deep roots in Baltimore.
In 2014 McCormick celebrated its 125th year and 2015 appears to be off and running state-side and globally. From its humble beginnings in a Baltimore city cellar in 1889 to an internationally known brand in 2015, its history is directly tied to Baltimore's. The founder, Willoughby M. McCormick and three young workers first peddled their extracts and flavors door to door, launching the present day spice and flavor company. During the 1904 Great Baltimore Fire, its buildings were destroyed but the company decided to rebuild and it continued to prosper. From the 1920s until 1989 the McCormick buildings remained a Baltimore landmark; its factory and headquarters were located on Light Street along the Baltimore Harbor.
With a long list of acquisitions at home and internationally, two notable ones are Schilling of San Francisco which was acquired in 1947 and Old Bay in 1990 from Hansen Industries.
Now the Recipes
In 1989, the company's centennial year, the company released a cookbook entitled The 100 Best Recipes for 100 Years from McCormick. Lindsay Schroeder at McCormick provided me with a sampling of the book's vintage recipes. My sampling crew decided that the Double Chocolate Brownies with Chocolate-Cinnamon Fudge Frosting was a must. The Cinnamon Chocolate Cake with Fudge Frosting was a close second.
Double Chocolate Brownies: 1950-1959
The 100 Best Recipes for 100 Years from McCormick, 1989
Oven temperatures may vary. Adjust your baking time as needed.
Makes a rich, moist brownie with a creamy Chocolate-Cinnamon Fudge Frosting
½ cup butter
3 1-ounce squares unsweetened chocolate
1 ½ cups sugar
3 eggs
¼ teaspoon salt
1 teaspoon pure Vanilla Extract
1 cup sifted flour
¾ cup coarsely chopped walnuts
Chocolate-Cinnamon Fudge Frosting (recipe below)
In top of double boiler over hot water, melt butter and chocolate. Remove from heat. Combine chocolate mixture and sugar. Add eggs, one at a time, beating well after each addition. Blend in remaining ingredients except frosting. Mix well. Pour into a greased and floured 9 x 9 x 2-inch baking pan. Bake in 350 degree F. oven 20-25 minutes. Cool. Frost with Chocolate-Cinnamon Fudge Frosting.
Makes twelve 2 ¼ x 2 ¼ brownies.
Chocolate-Cinnamon Fudge Frosting: In top of double boiler over hot water, melt two 1-ounce squares semi-sweet chocolate and ¼ cup butter. Remove from heat. Combine chocolate mixture with 1 teaspoon pure Vanilla Extract, 1/8 teaspoon ground cinnamon and 1 cup sifted confectioners' sugar. Spread evenly over brownies. Garnish brownies with additional chopped walnuts, if desired.
The following two recipes are updates of classic vintage recipes: deviled eggs and pot roast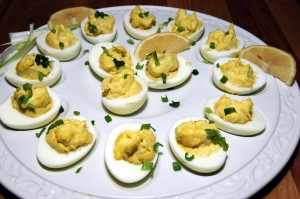 McCormick's Curried Deviled Eggs, Serves 12
12 hard-cooked eggs, peeled
Slice eggs in half lengthwise. Remove yolks; place in a small bowl. Mash yolks with fork or potato masher. Sir in mayonnaise, lemon juice, curry powder, mustard, pepper and salt until smooth and creamy. Spoon or pipe mixture into egg white halves. Sprinkle with chives (the green part of thinly sliced green onions).
Refrigerate 1 hour or until ready to serve.
McCormick's Slow Cookers Savory Pot Roast Recipe
2 ½ to 3 pounds boneless chuck roast or 3 pounds rump roast, well-trimmed
1 1/2 cups cut-up carrots
1 1/2 cups cut-up potatoes
1 1/2 cups cut-up celery
1 cup cut-up onions
1 cup water or 1 cup red wine
Place roast and vegetables in slow cooker. Mix seasoning mix and water until blended. Pour over beef and vegetables. Cover. Cook 8 hours on LOW or 4 hours on HIGH. Remove roast and vegetable to serving platter. Stir from sauce before serving.