Marvel superheroes to battle evil at Royal Farms Arena
Matthew Daos had been training nearly his whole life to be a superhero, even if he didn't know it.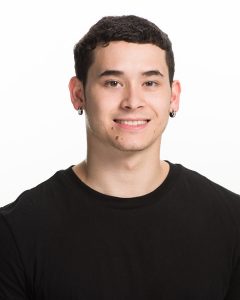 "When I was 7 I started taking tae kwon do and became a third-degree black belt," Daos, 22, said. "I won a world championship in martial arts. I also loved running and jumping off things, which I still do now."
Daos ultimately put his fighting and agility skills to good use, as he made his living playing Spider-Man, in "Marvel Universe Live! Age of Heroes," which visits Royal Farms Arena from April 5-8.
Spider-Man will be joined by many of his superhero friends, including Captain America, Iron Man, Thor and Black Panther, among others when they battle a legion of villains, including Loki, Green Goblin and Electro, who are looking to take over the world.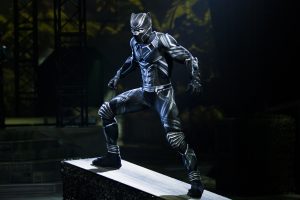 "Our tremendously talented creative team and a nearly super human cast, have created a show that brings the grandeur of Marvel to life," Juliette Feld, producer of Marvel Universe Live! , said "Age of Heroes creates an experience that immerses families in non-stop action, creating movie-style thrills and jaw-dropping stunts that showcase the powers of your favorite Super Heroes right before your eyes."
Daos said the two-act, 100-minute show features almost every hero who has ever stepped foot in the Marvel Universe, including the Incredible Hulk, Wasp, Black Widow, Doctor Strange and all the members of the Guardians of the Galaxy – Star-Lord, Groot, Gamora, Drax and Rocket.
They'll battle a cast of bad guys – and bad girls – including Lizard, Rhino, Black Cat, Yondu and Nebula.
"It's the closest thing the audience can do without being in the comic book or in a movie," Daos, who has donned the red and blue suit for the past three years, said. "It is non-stop action, with great fighting, motorcycle chase scenes and explosions."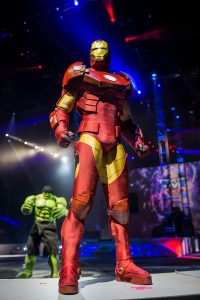 The show features immersive video projection and cutting-edge special effects will captivate and transport audiences across the universe from the fantastical Savage Land to New York City and beyond.
"Audiences will be on the edge of their seats as they witness the outrageous stunts and fight sequences in truly a unique experience that puts fans at the center of the action," Marvel's chief creative officer, Joe Quesada, said.
While members of the Marvel Universe have been popular for decades, the franchise perhaps has never been as popular as it now. On the big screen, "Black Panther" recently posted the fifth-largest movie opening of all time. The film made about $202 million during its opening, three-day weekend, putting it fifth all time behind  "Star Wars: The Force Awakens" ($247 million), "Star Wars: The last Jedi" ($220 million), "Jurassic World" ($208 million) and "Marvel's The Avengers" ($207 million).
Black Panther's $202 million also smashed the previous record for most money at the box office for a film that opened in February, easily topping "Deadpool," which generated $132 million when it opened over President's Day weekend in 2016.
"There's a lot of pressure since everyone knows about Black Panther," said Josh Williams, a 22-year-old native of Springfield, Mass., who plays the Black Panther in Marvel's live show. "It's a very physically demanding role in which I'm always training for every day. He's also a great leader and someone I identify with."
The Avengers' sequel, called "Infinity War," which opens nationwide on April 27, could surpass Black Panther's opening-weekend success, considering it has sold more advance tickets than any superhero movie in history.
"You can't experience [Marvel Live!] at the movie theater," Williams said. "This is as close as you can get to the superheroes."
Marvel Universe Live! Age of Heroes
Where: Royal Farms Arena
Shows: April 5: 7:30 p.m.; April 6: 7:30 p.m.: April 7: 11 a.m., 2:30 p.m., 6:30 p.m.; April 8: 1 p.m.
Tickets: $68, $53, $33, $28, $23, $18 and can be purchased here.

Jon Gallo is an award-winning journalist and editor with 19 years of experience, including stints as a staff writer at The Washington Post and sports editor at The Baltimore Examiner. He also believes the government should declare federal holidays in honor of the following: the Round of 64 of the NCAA men's basketball tournament; the Friday of the Sweet 16; the Monday after the Super Bowl; and of course, the day after the release of the latest Madden NFL video game.