LAS VEGAS — On June 6 the Baltimore Post-Examiner broke the story that Las Vegas Metropolitan Police Department (LVMPD) Field Training Officer Cordell Hendrex was no longer employed by the department.
In our story, 'Las Vegas Metro Police: Officer Cordell Hendrex who failed to take action during Massacre no longer employed', I reported that Hendrex was no longer employed with the department according to three Las Vegas Metropolitan Police Department (LVMPD) Communications Center operators who I had spoken to.
On June 4 the Post-Examiner sent an email to the LVMPD Public Information Office (PIO) requesting verification as to whether Hendrex was or was not an active member of the LVMPD.  Per usual, LVMPD provided no response.
On June 5, I called back the Communications Center twice to confirm what the operator on June 4 had said.   On both separate occasions, two different operators said Hendrex was not in the database and was not with the department.
I then called the LVMPD PIO and asked them if someone would be getting back with me to confirm if Hendrex was still employed with the LVMPD.  I did not hear back and the Baltimore Post-Examiner ran the story on June 6.
My story was shared over 3, 700 times on social media, and viewed more than 4, 000 times on LinkedIn.
The Associated Press reported on Wednesday that LVMPD spokesman Larry Hadfield confirmed Tuesday night that Hendrex was fired on March 20. The Las Vegas Review-Journal reporter Rachel Crosby also was tipped off about our story from one of our readers. She wrote the story about Hendrex and then took credit for breaking it.
On Wednesday the LVMPD released the following statement:
The LVMPD's Office of Public Information has received numerous inquiries regarding the employment status of Officer Cordell Hendrex. Hendrex was terminated from LVMPD effective March 20, 2019 for performance of his duties.  This case is currently in arbitration and therefore no further comment will be made.  Hendrex date of hire was May 20, 2007. On 1 October he was assigned as a Field Training Officer at Convention Center Area Command.
That statement confirms that the LVMPD knew on June 4 when I sent them the media request that Hendrex had already been fired over two months prior on March 20, yet they failed to respond not only to my email request but also to my telephone call the following day.
This has been on an ongoing problem with the Baltimore Post-Examiner and the LVMPD PIO. LVMPD does not recognize online news publications as legitimate news operations and will not provide press credentials to those organization that do not have a print publication. The Post-Examiner has more than 100 reporters contributing content and even President Barack Obama penned a story for the Baltimore Post-Examiner after we traveled to Cuba.
They fail continuously to respond to any of our media requests as was most recently pointed out in my June 2 story 'Former Las Vegas cop's stepdaughter involved in unsolved murder case: Judge claims'.
In that story I quoted a media request that I had sent to the LVMPD on June 30:
"The Baltimore Post-Examiner has sent numerous media requests to the Las Vegas Metropolitan Police Department Public Information Office for comment on stories relating to the Land/Kauffman unsolved 2016 double murders.  The BPE has never received a reply on any of our requests."
The Baltimore Post-Examiner was told by the LVMPD PIO that the LVMPD PIO does not recognize online news publications and denied our request for press credentials and to this date, the BPE is not included on the notification list for LVMPD upcoming press briefings.
Why is it that the LVMPD spokesman commented to the Nevada Current, which is an online news publication, but fails continually to comment to the Baltimore Post-Examiner which is also an online news publication?
*******************
The Baltimore Post-Examiner has published more than 135 stories on the October 1, 2017, Las Vegas Massacre — more than any other single investigative journalist in the country.
I have appeared on national television and radio programs commenting on my stories about the Las Vegas Massacre and other topics.
My experience as a former criminal investigator gives me insight and perspective in the stories that few other journalists have.
Most recently, my stories on the 2016 Land/Kauffman unsolved murders have uncovered what appears to be corruption and misconduct surrounding that case.
Apparently, my stories have touched a nerve with some at the LVMPD.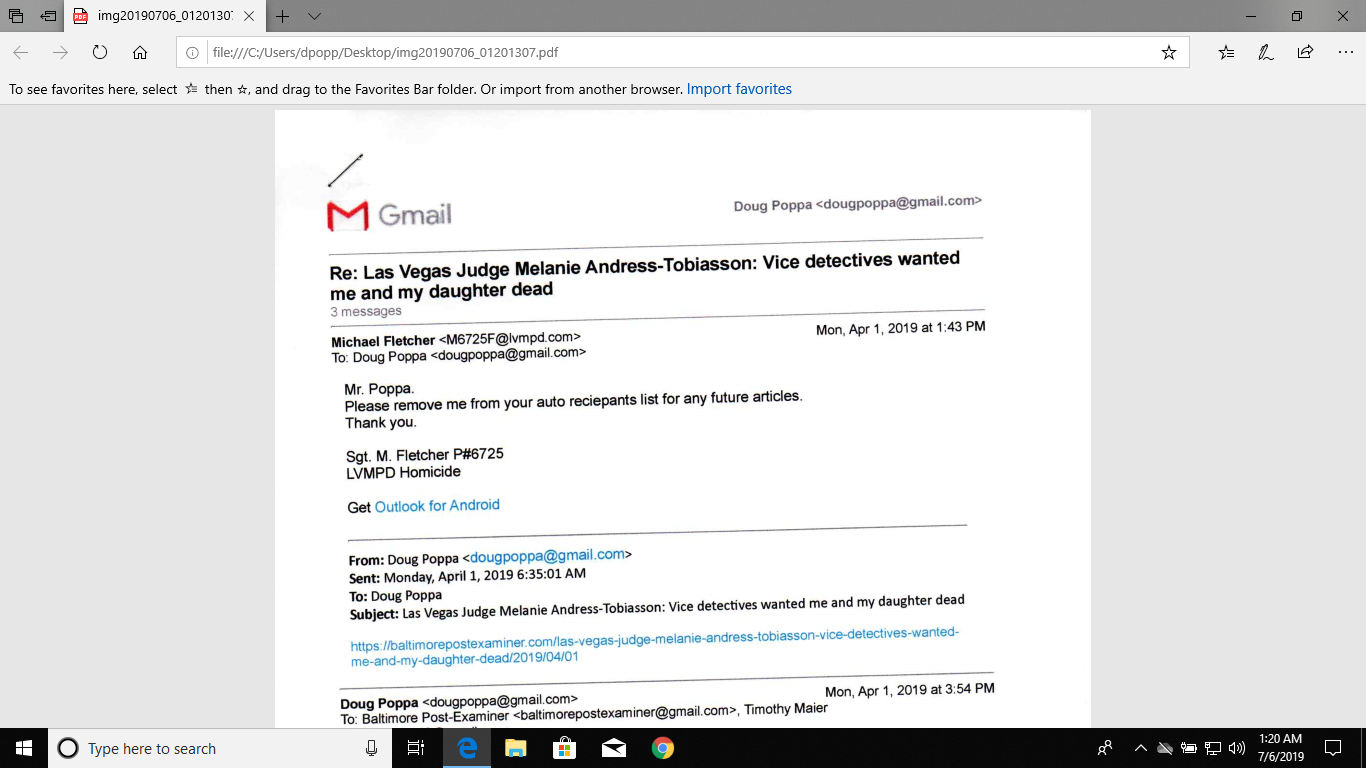 On April 1 I was advised by Sgt. Mike Fletcher of LVMPD Homicide by email, "Mr. Poppa, Please remove me from your auto recipients list for any future articles."
On Wednesday I informed the LVMPD PIO that the Baltimore Post-Examiner is requesting under FOIA and Nevada Public Records Act, the completed unredacted report on officer's actions on the night of the Massacre, that police sources have stated that the department has completed.
The Baltimore Post-Examiner has been told that Hendrex was not the only officer who failed to act that night and that Lombardo is covering up to save face with the public.
We are currently investigating those allegations.
In the meantime you may want to read our July 5, 2018 story, 'Hendrex may have not been the only cowardly cop, law enforcement sources say.'
Or you can wait until the so-called Las Vegas media writes about what we broke months later after they finish their latest UFO report. But those who want to know what is happening in Las Vegas will turn here to find the truth.
A Post-Examiner reader who was fed up with the Vegas media put it this way: "If you want to know what is really going on in Las Vegas, you have to go to Baltimore."
Stay tuned.
Editor's Note: Listen to Doug Poppa on the  Trevor Carey Show.