Kraków in the Capital unites local youth with fellow Catholics in Poland
On Saturday July 30, more than 1000 young people from across the region and beyond gathered on the campus of the Catholic University of America in Washington, D.C. for an event billed as, "Kraków in the Capital." The day-long assembly occurred in spiritual union with more than one million fellow Christians who celebrated World Youth Day with Pope Francis in Poland.
World Youth Day is an annual congregation of young adults hosted by the Catholic Church. This year, the host city was Kraków, Poland, the one-time home of Saint John Paul II. John Paul II – who was canonized in 2014 – initiated the first World Youth Day during his pontificate in 1985.
The Archdiocese of Washington partnered with Washington-area Catholic entities and the regional (arch)dioceses to host a state-side celebration of World Youth Day in Washington. The event afforded numerous opportunities for participants to come together and pray, and also hear talks from bishops and national speakers.
Planners offered a full slate of catechesis (religious instruction) for everyone who attended, including sessions in Spanish, and help for those who are deaf and persons with intellectual disabilities. An exhibit hall provided participants even more information about religious vocations and local and national Catholic organizations. To proffer a taste of the cultural experience that was occurring abroad, the festival included Polish dance, music and food. Danuta Konefal, who owns Creative European Cooking, made around 3,000 pierogies for the event, while the congregation of Our Lady Queen of Poland and Maksymiliana Kolbe donated sweet paczki (Polish donuts) as a part of desert in Pryzbyla Hall. And the Ojczyzna Polish Dancers – a Polish dance group from Baltimore – led polka dancing lessons for event goers.
In his opening welcome at the Basilica of the National Shrine of the Immaculate Conception, Jonathan Lewis – Director of Evangelization, Youth and Young Adult Initiatives for the Archdiocese of Washington, D.C. – reminded the pilgrims that choosing the country of Poland was an especially significant location for this year's World Youth Day.
"Poland is the land of Divine Mercy," said Lewis, "home of the revelation by St. Faustina Kolawski. It is the land of St. Pope John Paul II, founder of World Youth Day and the great Saint of our generation. Poland is also the homeland of a great martyr of our Church, St. Maximillian Kolbe, and the home of the Auschwitz Concentration camp where he was killed. The murder of so many because of their faith, like Kolbe, and including this week's terrible murder of Fr. Jacques in France, reminds us that we are not bystanders but are called to give witness to our faith in every moment of life, and to have utter confidence in the promise of the resurrection."
Also speaking during the welcome ceremony were Fr. Frank S. Donio – Director of the Catholic Apostolate Center and Provincial Rector of the Immaculate Conception Province of the Society of the Catholic Apostolate, and Cardinal Donald Wuerl, Archbishop of Washington, D.C. Cardinal Wuerl would later preside over a candlelight Stations of the Cross, before celebrating a vigil Mass at the National Shrine.
Underscoring the successful and wide-reaching nature of the event were one Polish immigrant and three 30-something participants we spoke with between the catechesis sessions.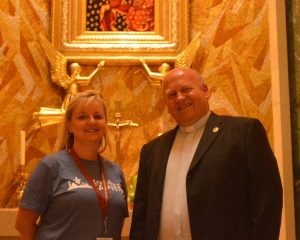 Bozena Lis, from Rockville, Maryland, was delighted with the Polish connection. She was especially grateful she could share the event with her pastor: Father Robert Nalepka from Poznan, Poland. Bozena told the Baltimore Post-Examiner that Father Robert has very positive feelings about Kraków in the Capital – World Youth Day. "It is a good idea for connecting with young adults here in D.C. since Pope Francis is in Poland. Father Robert is happy that he could be a part of the World Youth Day and said the best part was praying The Chaplet of Divine Mercy in 5 different languages – Polish included. It made him very spiritually happy because St. Faustyna is his favorite saint.
"Father Robert, together with Ola ( also from our parish), performed the hymn of World Youth Day in the Polish language. I think this song added a special Polish touch and stronger connection with Poland – at least for me. Strong voices, powerful words, deep understanding and the surroundings of the Basilica allowed us to feel closer to Poland and Pope Francis and everybody who traveled from different parts of the world."
Buffalo, New York native Monica Kassab worships locally at Our Lady of Lebanon Maronite Church. "This is the first time I've been to an event like this, and the reason I was interested is because Father James Martin will be speaking. I've just read a couple of books by Father Martin, so I'm anxious to hear him speak." Monica said she is also a fan of Polish food. "I have a Polish friend back home who used to bring pierogies over all the time, so I'm really looking forward to dinner!"
Mary Bonk made the drive from Lexington Park, Maryland to experience Kraków in the Capital. Mary said she attends Epiphany of Our Lord Byzantine Catholic Church in Annandale, Virginia. "I think this event is great. There are so many people who come from different Catholic backgrounds, and others who are exploring their faith have come as well. I feel like the vibe here is so energetic but also so solemn that it's come together to make a great event for education and fellowship."
Christopher McAvoy, from Vienna, Virginia, calls Mt. Calvary Church in Baltimore his home parish. Chris said Kraków in the Capital was also his first World Youth Day event. "This has been wonderful. It's really one of the best events I've been to. I think it has brought together more of my Catholic friends in one place than I've ever experienced. And it offers education in our faith and numerous opportunities for prayer. Good friends and good Catholics. You really can't go wrong."
(Writer Katherine Hunter contributed to this article.)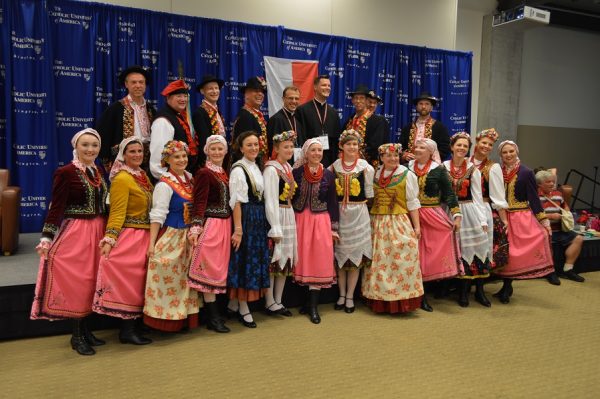 * * * * *
Editor's note: This is the eleventh part of an ongoing series which will look at the places and people that make up the rich history and diverse nature of spirituality, belief, and observance in Baltimore and beyond. Read the series here.

Anthony C. Hayes is an actor, author, raconteur, rapscallion and bon vivant. A one-time newsboy for the Evening Sun and professional presence at the Washington Herald, Tony's poetry, photography, humor, and prose have also been featured in Smile, Hon, You're in Baltimore!, Destination Maryland, Magic Octopus Magazine, Los Angeles Post-Examiner, Voice of Baltimore, SmartCEO, Alvarez Fiction, and Tales of Blood and Roses. If you notice that his work has been purloined, please let him know. As the Good Book says, "Thou shalt not steal."