Hogan Orders Testing for all Nursing Home Residents and Staff
@BryanRenbaum
Gov. Larry Hogan said on Wednesday that he has ordered all Maryland nursing home residents and staff to be tested for the coronavirus regardless of whether or not they have exhibited any symptoms of the virus.
"I've issued an executive order requiring universal testing of all residents and staff at all Maryland nursing homes, regardless of whether they are symptomatic or not. Nursing homes will be prioritized based on an imminent outbreak or a current rising threat of an outbreak," Hogan said at an afternoon news conference at the State House in Annapolis.
"Under this executive order, it will now be mandatory for all facilities to fully comply and cooperate with the strike teams which are deployed by the state. In addition, the executive order requires nursing homes to have a physician, nurse practitioner, physician's assistant or registered nurse evaluate all residents on a daily basis."
In early April, the governor ordered expedited testing for every symptomatic resident of a long-term care facility as well as required the use of personal protective equipment and the separation of infected patients.
He said there are now outbreaks and clusters of COVID-19 at 278 facilities across the state — including 4,011 confirmed cases at 143 nursing homes. "These outbreaks account for 19 percent of all the total positive cases in our state but, shockingly, 46 percent of the deaths in Maryland are patients from nursing homes"
Hogan said the use of universal testing will likely lead to a significant increase in the number of nursing home residents and staff who test positive for the virus. Staff who test positive will be "immediately discharged into isolation," he said. Nursing homes will be required to establish "emergency surge staffing plans" so that they are ready to deal with outbreaks, Hogan said.
Newly established "bridge teams" will provide "emergency clinical staffing to nursing homes that are experiencing a crisis," augmenting the assistance that strike teams are giving, Hogan said. Each bridge team will be comprised of a "registered nurse and 5 to 7 aides — sufficient to care for up to 100 nursing home residents per shift," Hogan said. The bridge teams will consist of 260 registered nurses and aides contracted by the state via the staffing firm Allegis Group, Hogan said.
The strike teams — which consist of Maryland National Guard members, doctors and nurses — have responded to 84 facilities since they were launched three weeks ago, he said. Two weeks ago, federal disaster medical assistance teams from the U.S. Health and Human Services  — comprised of physicians, nurses, paramedics and safety officers — also began helping, Hogan noted.
Families must be kept in the loop
His new order requires nursing homes to provide regular updates to residents, resident representatives and staffs about new infections, he said.
"It is heart-wrenching enough that families can't visit their loved ones, but it is even worse when they can't get information about what is happening inside these facilities," he said. "Nursing homes will be required to keep families informed on a regular basis."
Hogan said that while most nursing homes have been obeying the orders, complying with directives from the state, some have not. "We are increasingly concerned and, quite frankly, outraged that a few operators are not complying with directives from the state."
Consequently, Hogan said he appointed Col. Eric Allely, the Maryland Army National Guard's state surgeon, to serve as an "emergency safety and compliance officer" for nursing homes. Allely, who joined him at the news conference, will lead multi-agency teams to ensure compliance with state law, the governor said.
"Going on offense against this virus"
Hogan said he is closely monitoring statistics as the state's reopening plan is formulated.
"The key numbers, which we remain most focused on and that we are watching very closely on a day-to-day basis, are the rate of hospitalizations and the number of patients admitted to the ICU. When we start seeing a plateauing of those metrics, then that can put us in a position to begin implementing the reopening and recovery."
The governor said he met Tuesday with the Coronavirus Recovery Team — which is comprised of local and national business, labor and economic leaders who are helping guide the reopening and recovery process. He said the state is "intensifying both containment and mitigation efforts" in an effort to control the disease.
"We are no longer just playing defense; we are going on offense against this virus — attacking it from every angle with everything we've got."
Community testing also expanding
As a result of acquiring 500,000 COVID-19 tests from South Korea  and increasing lab capacity and the supply of materials,  Hogan said, "we are exponentially expanding our testing capacity, enabling us to attack the most acute outbreaks, clusters and hotspots — including nursing homes — and to provide additional testing for our health care workers and first responders."
Community-based testing also has expanded, Hogan said, noting that two additional drive-in testing sites recently opened at Vehicle Emissions Inspection stations. Seven of those testing sites are now operating across the state, he said.
On April 20, "when we announced the acquisition of the tests, we indicated nursing homes would be prioritized," Shareese Churchill, the governor's press secretary, said Wednesday evening in an email to MarylandReporter.com. "Once we validated the tests, and the FDA indicated we could begin to use them, we put into place the expanded testing strategy that the governor announced today."
Hogan vows to rectify unemployment application kinks
Hogan expressed his great frustration with the recently launched Beacon One-Stop online system, which crashed within one hour of its launch on Friday morning due to overwhelming volume and has since been plagued with long delays. Although progress is being made in dealing with the backlog of unemployment claims and the online issues associated with filing those claims, Hogan said, significant progress is still outstanding.
"With all of the economic struggles that people are already going through, they should not have to worry about getting the resources they need and deserve."
Hogan said that more than 245,000 accounts have been activated and that over 100,000 new claims have been filed. The state is handling "an average of 33 new accounts every single minute and an average of  780 claims are successfully filed every hour." But he said the progress "is simply not good enough.
"The IT contractor who developed this site and the [Maryland] Department of Labor have fallen short of the high standards we have set, and the people of Maryland deserve better. And the buck stops with me." He vowed to ensure that "whatever it takes" is done to ensure that "every single Marylander gets every single penny of financial assistance that they deserve."
There were 20,849 confirmed cases of COVID-19 in Maryland as of Wednesday morning, according to the state Department of Health, and 985 people in Maryland have died. Hogan said 4,402 COVID-19 patients have been hospitalized and 1,610 are currently hospitalized, including 586 in intensive care.
Health Care Heroes Day 
Hogan applauded the work done by health care workers, saying they are facing challenges that are "immense, unprecedented and truly inspiring." The governor said he has issued a proclamation to make Saturday a holiday in their honor.
"I am issuing a proclamation declaring this Saturday, May 2nd, as Health Care Heroes Day in the state of Maryland. On Saturday night, we will light up this State House dome blue. We'll be lighting up Camden Yards blue and the M&T Bank Stadium blue. And we are going to have a flyover of the Navy's Blue Angels and the Army's Thunderbirds and we're gonna be asking all Marylanders to join us in lighting up the state of Maryland blue to show our immense gratitude to these men and women."
Regina Holmes contributed to this article.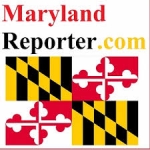 MarylandReporter.com is a daily news website produced by journalists committed to making state government as open, transparent, accountable and responsive as possible – in deed, not just in promise. We believe the people who pay for this government are entitled to have their money spent in an efficient and effective way, and that they are entitled to keep as much of their hard-earned dollars as they possibly can.