High in the Sky: Terrapin Adventures
So the day after it was officially Spring, with that bucket load of snow that hit the ground in Maryland, my son, Harry and I, ventured to Terrapin Adventures for some high wire walking and rock climbing. I anticipated the cold with warm weather gear, but the remaining flurries on the ground did not deter us.
We got a very friendly greeting at the base in Savage Mill, and our instructor Tim did everything necessary to allay Harry's fears (and, er, mine) with some sage advice and instruction. These guys love their job and totally know that they're doing, do you're in ultra fun and super safe hands.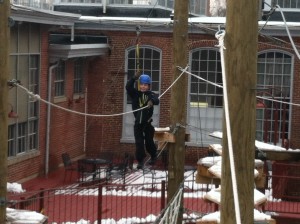 You basically clip in and get climbing and walking on your high top outdoor adventure on the new Explorer Kids' Course for 5-9-year olds. You literally defy gravity as you scale the different routes and heights of the specially made tower. Harry's initial trepidation turned into full-blown superhero action confidence as he weaved his way along wires. over rope walks, climbed nets and flew down ziplines.
The challenge for Harry was to grow in his ability, feel safe and comfortable and skilled, and he rose to this with aplomb. His favorite part of the assault course was the tunnel and the zipline. My least favorite part was the zipline
Harry declared the whole course to be like the most amazing tree house he had ever come across. He's right , it is. And the Terrapin Rangers, who looked after us, were a great bunch of guys – all credit to them and their love of their job.
Kayaking tours, wall climbing, geo-caching, bike tours, guided backpacking trips, caving, kayak fishing trips are also available – a brilliant way to explore the great outdoors!
There were bachelor parties and kids parties lining up to take part – it's a great day out for everyone and I cannot recommend this place enough. It's a Spring Break must – book in advance! We'll be back in the sunshine, and maybe this time I'll smile when I go down the zipline!

Claire Bolden McGill is a British expat who lived in Maryland for three years and moved back to the UK in August 2015. Claire wrote about her life as a British expat on the East Coast and now works in travel and hospitality PR in the UK. She still finds time to blog about her repatriation and the reverse culture shock that ensued – and she still hasn't finished that novel, but she's working on it. You can contact Claire via twitter on @clairebmcgill or via her blog From America to England.