Gospel documentary explores music, faith and family
In the Marrero community of New Orleans, a family struggles to maintain a tradition they have preserved for 47 years: sharing their ministry through gospel music.
The Electrifying Crown Seekers are the fourth oldest traditional gospel quartet in New Orleans. There were 40 such groups before Hurricane Katrina blew through the city. Now there are 15.
Hoping to shoot a documentary about the band, Joe Compton and Matt Bowden followed the family for two years. They implemented their vision in By and By: New Orleans Gospel at the Crossroads.
A fresh sound
The Electrifying Crown Seekers have endured significant changes over the last four decades. James Williams Sr. is the only remaining member from the original nine-person lineup.
Williams pioneered a new breed of gospel music with his Jimmy Reed-style guitar playing. After traveling to Chicago, he complimented that ability by adding a new dynamic to his singing repertoire.
"It was where he got turned on to using high voices," Bowden said. "He had this idea that it was a little different than what everyone else was doing."
Gospel music traditionally incorporates a tenor with low parts and high parts. Williams came to New Orleans in 1961 and brought that high range singing style and blues-based guitar playing with him. Under his guidance the Electrifying Crown Seekers became the first group to fuse the two elements.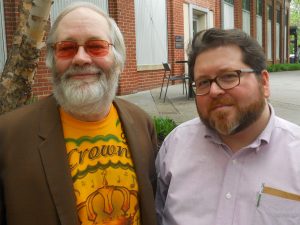 Today, the group is rounded out by Lloyd Fradieu, a lead vocalist, Gregory G. Sanders, the fifth tenor, Randy Patin on bass, Lynn S. Williams on keyboard and vocals, Keith C. Williams on drums, Irvin Hartford, who does lead and background vocals and Walter Bell, a background vocalist.
Bowden said the group is talented enough to go pro but like many groups, they would rather serve their religion and keep their tradition.
"It's a deliberate choice to remain local and not go pro," Bowden said. "They see their work as ministry and a service for the community. They've had chances to join professional music and travel the world."
"There were so many good musicians in this tradition like Chuck Carbo and Johnny Adams," Compton said. "But they kept their allegiance."
Welcome to the Crown Seekers
Compton started going to New Orleans around 1987. Michael P. Smith, a photographer and friend of Compton, introduced him to the culture.
"He was a cultural preservationist in every sense of the word," Bowden said. "He would go to small Indian churches. He was very fearless. He would take his camera and film."
Compton was previously a writer for magazines on folk and culture. He also spent 14 years as a music reviewer for WYPR and had background doing concert promotions in the '60s.
On one of his trips to New Orleans, Compton attended Jazz Fest: the place where gospel is given a place to shine.
"I was utterly amazed by the energy at Jazz Fest in 2004," Compton said. "That's what distinguished them to me.
"I saw this group drive people crazy and two days later they're playing at a nursing home for no money," Compton added. "I found that remarkable given the skill they had."
Compton was able to get the Electrifying Crown Seekers to play in Hanover later that year. It was around this time Compton and Bowden met. Bowden had done some record reviews and was working at Record and Tape Traders. He was a self-described "R&B freak for years."
Compton came looking for a Mavis Staples record and told Bowden about the concert. Bowden could not attend, but the encounter with Compton stuck in his mind.
Decision to film
In 2005, a friend of Compton was shown the 2004 film from the Electrifying Crown Seekers concert in Hanover. Together they decided to film something more.
The friend, who also happened to know Bowden, alerted him of their plans. Bowden decided to join in. Bowden assumed the title of co-director and editor and Compton took handled the duties of co-director and producer.
Compton and Bowden cited the film Say Amen Somebody as an inspiration for the project. The 1982 documentary chronicled the American gospel scene and pioneers Thomas A. Dorsey and Willie Mae Ford.
Four years passed and finding a production team proved to be difficult task. By 2007, the project was written off as a loss. By 2009, Bowden was doing video production as a side hobby and creative writing for Johns Hopkins.
"I wanted to do something more than 30 minute promotional videos for Johns Hopkins," Bowden said.
Getting frustrated, he thought of the Electrifying Crown Seekers. 20 hours of footage was sitting in a little cardboard box in Compton's basement.
Bowden spent two months going through the footage to make a 30-minute trailer. The two men showed it to Jed Dietz, director of the Maryland Film Festival. The feedback was uniformly positive.
"The original concept had been musical, focusing on the origin of rock music," Compton said. "Matt saw it as a mix between music and community."
Bowden and Compton said one of the main things they wanted to demonstrate was how gospel music has talented musicians on par with artists in other genres.
"These people have their own world," Bowden said. "It validates itself."
"Elvis Presley doesn't need to validate it," Compton added.
Gospel at a crossroads
One of the major storylines that presented itself during filming was a shift in philosophy among gospel quartets.
Gospel music has reduced the amount of A Capella singing and added the accompaniment of guitars. Many groups have substituted their bass singer with a bass guitar player.
Keith C. Williams, the son of James Williams Sr., and drummer for the Electrifying Crown Seekers, told Bowden and Compton he sees a change dwelling in the gospel quartet field.
That revelation changed the nature of the film.
"He talked about the need for more theatricality," Bowden said. "The addition of more rhythms, synthesizers and time signatures. These things are a little too worldly for traditional quartets."
"Groups usually end when a key member dies," Bowden continued. "James Williams Sr. wants his son to take over. Keith wants to do different things. The driving conflict is about a son needing to come to terms with what he's willing to keep and what he's willing to let go of."
Compton said the honesty of James and Keith helped make the film something that will resonate with viewers.
"What I'm really proud of is that when you see the interviews, you're seeing honest interactions," Compton said. "The people developed a trust with us."
Holdups in production
A rough version of By and By is complete, but Bowden and Compton have run out of funds. The film needs sound corrections, color corrections and copyright permissions.
They placed their trailer and summary of the documentary on Kickstarter, a fundraising website for creative projects.
So far more than $7,000 has been raised. They need to reach $22,000 by June 2 or the funds will be returned.
"The film will be greatly delayed without Kickstarter funds," Bowden said. "It may turn into 60-minute music documentary and the current form will be altered. It would also lose its Sundance eligibility."
Giving back
Compton and Bowden originally thought the premise of their documentary would focus on Katrina's impact on the Electrifying Crown Seekers. However the family didn't see themselves as victims so the co-directors decided not to force the story.
"To accentuate victimhood was unfair to them," Compton said. "They're not gamblers, but these are the cards they were dealt. It reaffirmed their sense of community."
On their first day of filming, a civilian ran away from the crew and shouted "caucasians with cameras." During their time shadowing the band, Compton and Bowden developed a relationship with the people. The locals got over the nervousness pretty quickly.
Compton said that even though the gospel music is produced in an African-American community, there is a place for all types of listeners.
"It's a world of working class people trying hard to provide for their families, trying to establish a better life," Compton said. "That's different than the public perception. I'd like to honor New Orleans by giving something back."
(Feature photo: Electrifying Crown Seekers featuring James Williams Sr. Photo credit: Carol Ann Ward)
Zach Sparks is an aspiring journalist with interests in a multitude of different areas including news, human interest stories and sports. A student at Towson University, he currently holds an internship at a public relations and advertising firm in Owings Mills where he writes and distributes press releases for several local non-profit organizations among other duties. He hopes to graduate in the fall of 2012 and parlay his experiences and education as a student into a successful writing career.