Golf fans keep pace with the pros at 2018 Quicken Loans National
Way too hot! Caddie Joe LaCava hands Tiger Woods a dry towel on the green of the seventh hole at the 2018 Quicken Loans National. (Anthony C. Hayes)
POTOMAC, MD — There's an old joke that the game of golf combines the challenge of walking with all of the excitement of gardening. That may be the case for the casual onlooker, but one would never know it, given the passion thousands of ardent fans displayed, as they followed the pros at this weekend's Quicken Loans National in Potomac, Maryland.
Leading the pack, with an eventual total score of 21-under par, was tournament winner Francesco Moldinaro. But fourth-place-tied finisher Tiger Woods prevailed as the overall fan favorite, with cheers from his entourage reverberating across the entire course.
James Peebles from Hanover, Maryland, was one of the many amateur duffers who came out just to watch the pros play.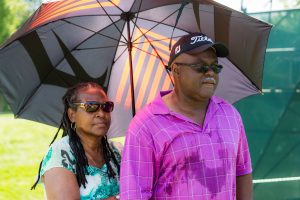 "I took an interest in the game about 27 years ago. Kinda weird how it happened. I was actually at work in the field one day, and guys were hitting golf balls. I said, 'Hey, I could do that. That looks pretty easy – I played baseball.' So they gave me a club and said, 'Alright, then hit it.' And I couldn't hit it! So they showed me how to hold the club in my hand and I did it and saw the ball the jump off the club. I've been hooked ever since."
How often does James play?
"Here lately? Not very much. Maybe a couple of times a month. But when I was a member at the army base where I worked, I was playing 4-5 times a week. I just don't have the time now."
We asked James what he would say to a newcomer who wants to get in the game?
"Have a lot of patience, because this game will make you humble."
James said he had been looking forward to attending the tournament for some time. But St. Mary's County resident Shannon Misner was caught completely off guard.
"A week ago, I was on the west coast on a business trip," explained Shannon. "I flew out last Sunday and returned yesterday, and my beautiful bride surprised me with this event today. This is my first PGA Tournament, and I love it.
"I came to see Tiger, that's for sure, and Fred Couples is a favorite, but my mentor is Ben Hogan. I'm local – I'm a member of the Breton Bay Golf & Country Club. I've been playing for roughly 28 years now, and my best advice to a new golfer is just have fun. Take a few lessons to learn how to play and then get out there and have a good time."
Jennifer Misner called the couple's tournament outing, "A once-in-a-lifetime experience."
"I don't play, but Shannon does – every day of the week! I have clubs, if I'd like to join him. I've just got to practice! Seriously, I'd love to learn. It just looks like a peaceful, serene sport."
Over by the refreshment stand near the seventh hole, spectators paused for a break from the sun. Between sips of ice water or a favorite adult beverage, several fans stopped to speak with us.
Missouri business educator Vicki Howard admitted she was another surprise attendee. Vicki said she had originally come to the Maryland area – not to root for a professional golfer – but to cheer on one of her students at an FBLA school competition in Baltimore.
"My student didn't make it to the final rounds, so I got the opportunity to come here and see Tiger. This is my first tournament, and I would definitely do it again. It's exciting! I watched Tiger tee off on his first two holes, but the crowd around him is crazy. I thought my best option would be to come over here by the seventh hole, sit in the shade with some water, and wait to see him again on the 7th and 8th hole."
Vicki said she does play a little golf and watches the sport on television. The attraction?
"It's a sport that anybody can play – a life skill you can enjoy til you're well into your 80s. It's healthy; it's challenging. It's just a good sport."
Clustered near the base of a towering oak tree, another group was enjoying a refreshing mix of icy beverages.
"I've been to this tournament three years in a row," said D.C. resident Robert Baldwin. "For me, the attraction is the opportunity to see the best do it. I've been playing for 4 years now, and it's a fun sport. You get to hang out with your friends. It's a communal sport – not something that I do alone."
Robert said that, when he is not out on the course, he will check his television once a weekend to see what is happening with the major tournaments. This weekend, he and his friends are following J. J. Spaun."
His best advice to a potential golfer?
"It takes time to get into it, but once you start elevating the ball and getting over the sand and water traps, it becomes fun."
Seve Gonzales – a San Diego native – was also following J. J. Spaun, along with Jamie Lovemark.
"I grew up playing junior golf with Jamie, and I got to play with J. J. in San Diego during our college years. I don't get much of a chance to see them anymore – they're both very busy. So, I try to make it out to the tournaments to see what's up with them."
Seve said that being the son of a golf pro, he has been playing most of his life. And he noted that, while golf tends to be seen as a quiet sport, having a crowd along is "the best."
"You look out at the crowd beyond the ropes and know they have come out just to watch you compete. It helps to raise your game even higher. You tend to focus more. And this week, with having Tiger Woods in the field, that just changes the dynamic of the event. All of the guys out here are really good golfers, but seeing Tiger just makes you giddy. To see him back in a tournament is cool, and if he wins, that would be even cooler. There's nothing more fun than watching Tiger compete."
Andrew McDaniel made a 5-hour drive from his home in New York to attend the tourney.
"I'm here to watch Tiger Woods and Rickie Fowler, and just follow along with the other guys. I'm a big golf fan and have been playing the game for 10 years now. My best advice to any newcomer would be to take your time. If you really want to play, then get professionally fitted for a set of clubs. It's easy to get frustrated because it's a very frustrating sport."
Sweating out the weekend in a velour tiger suit was Virginian Chris Ferrell AKA Tiger Boy.
"I'm a huge Tiger Woods fan, but I am definitely not a stalker. That puts a bad connotation on it. I'm more of a super fan. I've liked Tiger since I got into golf back in 2005. What really hooked me was 2008, when he won that tournament against Rocco (Mediate). I stuck with him during his downfall, and here we are. I'm hoping he comes back to his glory."
Houston resident Darren Hebert jumped into the middle my conversation with Tiger Boy. The urge to get a photo with the tiger-striped superfan was just too great for the cherubic Texan.
"I may be wearing an Astros shirt, but today I'm a Tigers fan. I flew in on Friday and threw a Tiger's jersey in my bag. I didn't want to wear it two days in a row, but if he's in it on Sunday, you bet I'll have that jersey on. This is the first time I've seen him in person, so I'm pretty excited.
"I've followed Tiger on TV for years and even sent him an email letter, urging him to come and play the Shell Houston. I know he never plays the weekend before a major, but I told him if he comes to play the Houston Tournament, he will surely win at Augusta. Maybe he didn't see the email or got offended by my message. But I'm gonna stick with my words. Come to Houston, and I guarantee he will win his next major."
Perhaps some Texas luck rubbed off on Tiger after all, as he finished the tournament in the top five. Other pros did not fare quite as well, but everyone appeared to have a wonderful time – the walking and the gardening and oppressive heat notwithstanding.
Yes – that heat! Spying one of the older caddies perspiring profusely, as his pro labored to keep pace with the pack, one spectator yelled out, "Hey Mack, how's it going out there?"
Dabbing at the river which was crossing his forehead, the laughing caddie wryly replied, "I'm getting paid to sweat today!"

Anthony C. Hayes is an actor, author, raconteur, rapscallion and bon vivant. A one-time newsboy for the Evening Sun and professional presence at the Washington Herald, Tony's poetry, photography, humor, and prose have also been featured in Smile, Hon, You're in Baltimore!, Destination Maryland, Magic Octopus Magazine, Los Angeles Post-Examiner, Voice of Baltimore, SmartCEO, Alvarez Fiction, and Tales of Blood and Roses. If you notice that his work has been purloined, please let him know. As the Good Book says, "Thou shalt not steal."