Florida's hot restaurants: Frankey's Sports Bar and Valentino Cucina Italiana
I didn't of course go to Florida simply to check out the restaurants. This time of year I go for the warmth, sunshine, beach and palm trees. If I should be introduced to an outstanding dining experience, all the better. And what do you know, I was.
When you read further you'll learn about two restaurants, one in Hollywood the other in Ft. Lauderdale. Let's begin with the first one I tried, Frankey's Sports Bar, 900 Silks Run in the Village of Gulfstream Park Hollywood. This village which contains a thoroughbred track, casino and a village has definite ties to Maryland. It is owned by Frank Stronach current owner of Laurel park and Pimlico. Frankey's just opened last December and it has caught on rather quickly with locals and visitors.
It couldn't be in a better location. It is right across from the main entrance to the casino. So after a good or bad day at the track or at the slots, Frankey's is just a short walk away. Of course you don't ever have to step foot at the track since you can place bets in the restaurant. How convenient right?
The name suggests a sports bar, but this isn't your typical burger, nachos and fries sports bar. Yes there are 38 high definition TV's but upon closer inspection, like checking out the furniture, you'll know what I mean. Also the general quality of the food is much better. Menu items for example include N.Y. strip, Portobello ravioli, Caesar salad,
sautéed shrimp, Alaskan king crab, pizza chicken gourmet and sirloin. My sampling included the Caesar salad, spaghettini Bolognese and grilled chicken wings.
It was suggested I try the flourless chocolate cake for dessert, which I did, and which I loved.
A mention about the adena burgers. They are available as an appetizer or entrée. It was also suggested I give that a try. Right now I'll tell you I don't eat much meat but this burger was terrific, moist, tender and at four ounces plenty for me. OK,  can you keep a secret? If it is your first time here tell them and they'll bring you one to taste.
Of course who's to know whether it's your first time or not. Remember, not a word. The steaks and chicken are from their own farm in Ocala. Traditional farming methods are used. No stress for the animals. The animals are born at the farm and spend their entire lives there. Dairy free and gluten items are available.
Frankey's is open seven days, seating for about 360 (it is a big place), 12,00-square feet, entertainment a few nights a week and a 'social hour' from 3 p.m. to 7 p.m. and 11 p.m. to close.
There are also 40 handpicked beers including select local craft beers. And a nice choice of wines, champagne and handcrafted cocktails. In short, I had a great time here.
Go to frankeysbar.com or call 954-464-2333.
Let's go a little further north and drop by Valentino Cucina Italiana, 620 S. Federal Highway Ft. Lauderdale. Right away Manager Christian Licciardo told me it was one of the best restaurants  in the entire area. What else would he say I thought. After tasting the food, he might indeed be right. Okay here comes a brazen statement and you can choose to believe it or not.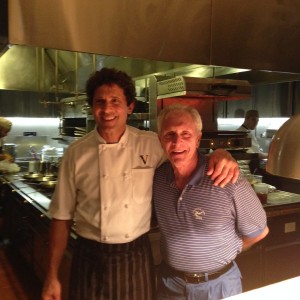 I had the best calamari ever. Yes I said ever. It came on an artichoke of some kind. It didn't matter. Most of the time calamari is chewy. This was moist, tender and excellent. Maybe I can get them to send some up to Baltimore.
This is a family business, run by chef Giovanni Rocchio, Christian is his nephew. I think a family run restaurant is a very good thing. Usually that means paying great attention to all details. Not just what happens in the kitchen. Speaking of the kitchen, there are six seats known as Chefs Bar, very popular and provides a front row seat into the kitchen.
You can even talk with the cooks, that is actually encouraged. You really have to  make reservations well in advance.
The restaurant is closed Sunday, seating for about 90, over 300 choices of wine, it's casual, reservations are a good idea, they use no red sauce, dinner only and it was named after famed silent screen star Rudolph Valentino. The night of my visit the place was bustling with regular diners and a private party. At one point I counted 10 people in the kitchen, which isn't a big area.
This by the way is more than Italian. You can order almost anything, fish, seafood, meat or chicken. Actually two of their more popular items are the roasted duck and veal chop.
As if this one restaurant wasn't enough, come summer they're opening an adjacent restaurant which as I recall will be called 1 Door East. That's because it's located, well you know.
They also offer special wine dinners and cooking classes. Eating good food at a good restaurant certainly enhances any vacation. (954-523-5767)

Eddie Applefeld is a Baltimore native and a graduate of Towson University. He has been in the broadcasting profession for over 30 years. Currently he is the Promotions Director of WCBM radio. Before that, he was part of the Rouse & Company show on WQSR, host of a cable TV show called Dining Out and adjunct instructor at Towson.
His past accomplishments include being named a finalist in Baltimore Tourism's Employee of the Year Program and winner of Toastmaster's Speaker of the Year contest. He was also twice a heartthrob for the American Heart Association's gala fund raiser.