Eternal salvation comes through faith, by grace. Ephesians 2:8-9, "For by grace are ye saved through faith; and that not of yourselves: it is the gift of God: Not of works, lest any man should boast."
The Bible explains that everyone is a sinner, and the washing away of sin can only happen by the sacrifice of God's Son, the Lamb of God, Jesus Christ.
What Christ did on the cross is God's grace. We do not deserve salvation, but God gives it to us through faith.
After salvation, the Christian life is not a life where we sit back and watch the world go by while resting on the fact we are going to heaven someday.
Salvation comes through faith, and the Christian life is to be lived by faith. Romans 1:17, "For therein is the righteousness of God revealed from faith to faith: as it is written, The just shall live by faith" (see also Habakkuk 2:4; Galatians 3:11; Hebrews 10:38).
Christians often stop here and ask, "How can I do that; live by faith?" Others will exclaim that living by faith is so challenging that it is not much closer than a pipe dream – something to strive for while knowing you will never attain it.
Take note of the wording of Romans 1:17 and the other verses listed at the end of that paragraph – none of them read, "the just should live by faith." Each of them says, "the just shall live by faith." In other words, living by faith is something those justified by the blood of Christ will do, not just something we try to attain.
We believe that a man that lived two thousand years ago, died for the sin of the world, and rose again on the third day, can save us for all of eternity, but we live as if He cannot get us through today. Something is terribly wrong with this type of Christian life.
When salvation comes to someone, the Holy Spirit takes residence inside them (Romans 8:9). The Holy Spirit will never leave or forsake us (Hebrews 13:5). While the Holy Spirit does a lot of work in the heart and life of a believer, today, we will concentrate on how He guides us through each day.
The Holy Spirit will guide us in all truth. John 16:13, "Howbeit when he, the Spirit of truth, is come, he will guide you into all truth…"
The truth is the Word of God. The Spirit uses the Word to set us apart for God. John 17:17, "Sanctify them through thy truth: thy word is truth."
The more the Word of God is in our heart, the less sin we will commit. Psalm 119:11, "Thy word have I hid in mine heart, that I might not sin against thee."
How does the Word get into a Christian's heart to the point of affecting how we live? We must study the Scriptures. 2 Timothy 2:15, "Study to shew thyself approved unto God, a workman that needeth not to be ashamed, rightly dividing the word of truth."
Here is where many Christians fail. There is widespread ignorance of God's Word. This lack of Scripture knowledge is because we do not study it. Reading a daily devotion is not studying.
But more than study is needed. We must have faith – "But without faith it is impossible to please him…" (Hebrews 11:6).
We study to be approved, and faith is what pleases Him. Faith and study go hand in hand, and they are essential to living by faith.
Living by faith is living by the truth of God's Word. How can we live by faith in the Word of God when we do not know what it says?
If you do not desire to study the Scripture – ask God for the desire. If life gets in the way and you do not have the time to study the Bible – ask God to clear out your schedule. If you need more faith to live the Christian life – ask God for a more significant portion of faith. We must rely on God for what we need, from our daily bread to the faith we need to get through today.
Living by faith is daily trusting in what God has said to lead us through each day – the regular days and the days of life-changing decisions.
James 1:5-6, "If any of you lack wisdom, let him ask of God, that giveth to all men liberally, and upbraideth not; and it shall be given him. But let him ask in faith, nothing wavering. For he that wavereth is like a wave of the sea driven with the wind and tossed."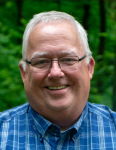 Preacher Tim Johnson is Pastor of Countryside Baptist Church in Parke County, Indiana. His weekly column "Preacher's Point" may be found at: www.preacherspoint.wordpress.com