Some people know them as side part while us here we call it comb over fade. Regardless of the name by which you know them by, the most important thing is to know how to wear them seamlessly. We are here to show you some of the best ways you can rock these hairstyles and be ready for that Friday late night party.
The side part or comb-over fade hairstyles looks great for a wide range of hair types. It can make thick hair look beautiful, boost volume for curly hair or wavy hair and add some vibe and shape to thin hair. Well, take a gander of these beautiful ways to sport comb over fade hairstyles.
1. Taper Fade Comb Over
This standard comb over fade haircut incorporates sleek hair at the top and short trimmed sides that fade all the way to the skin slightly at the hairline. This is another haircut that transforms the taper fade. The shaved area of the sides and clear line shave makes this comb-over stand out from others.
2. High Fade Comb Over
Normally, if you want a more free-spirited skin fade comb-over haircut, you may want to choose a high fade to highlight the length. With minimal room for hair tapering, the high fade changes quickly from shorter sides to the elongated top.
This haircut draws attention to your brow line. And though this haircut looks great on men with short hair, you can also try it on longer.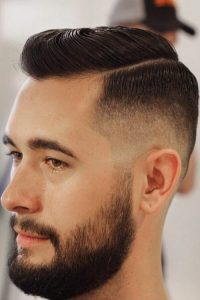 3. Pompadour Comb Over
This is a modern take on the classic fade, which inclusion of the pompadour comb-over and standout side-swept style. It is an edgy haircut which features side-swept hair to one side. The clean shave reveals prominence.
4. Low Fade Comb Over
By incorporating fade into a mix, you can liven up the standard comb-over haircut and give it a new look. A low fade ensures you get a more relaxed, traditional choice. By starting the tapering at the part below your ears, you make it easy for a more subtle change into the long hair at the top.
5. Mid-Fade Combover
With this haircut, the fade starts at a higher level compared to the traditional low fade, yet leaving some room for hair tapering. The buzzed locks start its fade slightly above the ears presenting a bold look that works seamlessly with the length at the top. The mid-fade is suitable for men with straight hair.
6. Short Comb Over
This comb over fade is for guys with kinky hair or those men who simply need to show off a more refined aesthetic. This hairstyle is the better option that looks good with most types of hair and is an excellent haircut to clad with a suit. It is also a great haircut for men who have grown beards.
7. Long Comb Over
This is an ideal cut for guys who want to maintain both lengths on the top and at the sides. This comb over fade is all about keeping the length of your hair while styling it into a polished comb-over.
You can also consider a blow dry to enhance volume at the crown or maintain the volume by utilising a strong pomade. Keep in mind that the top length offers you great versatility to experiment with a variety of styles.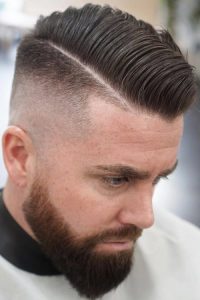 8. Taupe Twist Cut
When it comes to styling twists, the barber creates a long straight hard part to separate the hair on one side while the other side remains with long hair. With this cute comb over cut, the top hair is then brushed to enhance height.
9. Comb Over With Side Angles
This haircut is most common among young boys. The clean and tidy side part matches well with the high fade sides and the back, while the clean and straight shaven line at the front together with the sharp angles finish the edgier look.
10 Side Comb with Sweep
In this hairstyle, the hair is blended from the bottom upwards using a big brush to make the hair look perfect.
See more here https://menshaircuts.com/