Elvis' Birthday Fight Club rumbles into D.C.; Baltimore's Creative Alliance
Candy Del Rio and Rev. Valentine with "Elvis"  (Stereo Vision)
The first rule of fight club is ~ you do not talk about fight club.
The second rule of fight club?
Don't step on my blue suede shoes.
That's as far as this reporter got, when he tried to interview anyone associated with a roving theatrical event called Elvis' Birthday Fight Club.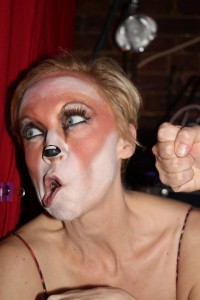 Always popular with the jailhouse rock crowd,  Elvis' Birthday Fight Club (EBFC) returns to the area this weekend with two performances Friday at the GALA Hispanic Theater in Washington D.C. and one on Saturday at the Creative Alliance in Baltimore, Maryland.
Combining canvas-mat commentary, Elvis-inspired burlesque, and the very best in bogus bar-room brawls, EBFC celebrates the late legend's birthday in a way befitting the King.  Co-hosts "Elvis" and Kittie Glitter will call the action on a fight card, which at the time of this writing remains top secret.
As with all other facets of fight club, the cloak-and-dagger doings are by design.  It was with some difficulty that this reporter learned  that one of the participants strongly resembles Barbarella.  And that Elvis was secretly a fan of burlesque (he had an affair with Tempest Storm).  But don't look for Brad Pitt to step into the ring as Kid Galahad.  And if you're thinking Ali versus Frazier, you may have to contend with "Kirstie Alley" vs "Kelsey Grammer."  Past events have included matches featuring Col. Sanders vs. a Chicken, Godzilla vs. Bridezilla, and "Diane Rehm" vs."Steven Hawking."  Congress and a clown have also taken a beating, to say nothing of the fried banana sandwich.
Elvis' Birthday Fight Club is low-brow humor at its best.
Show times on Friday, January 3 are 8:00pm and 10:00pm at the GALA Hispanic Theatre, 3333 14th Street, NW, Washington, D.C.  Tickets may be found online.
The show time on Saturday, January 4, is 8:00pm at Baltimore's Creative Alliance at The Patterson. Tickets are available at the door and at the Creative Alliance website.
Please note that this is a 21 and over event.  Spandex jumpsuits and sideburns are encouraged.

Anthony C. Hayes is an actor, author, raconteur, rapscallion and bon vivant. A one-time newsboy for the Evening Sun and professional presence at the Washington Herald, Tony's poetry, photography, humor, and prose have also been featured in Smile, Hon, You're in Baltimore!, Destination Maryland, Magic Octopus Magazine, Los Angeles Post-Examiner, Voice of Baltimore, SmartCEO, Alvarez Fiction, and Tales of Blood and Roses. If you notice that his work has been purloined, please let him know. As the Good Book says, "Thou shalt not steal."