Don't see this movie, save your money
2 ½ out of 4 stars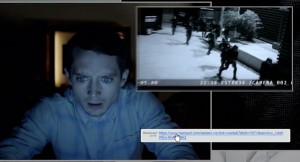 Nick Chambers thought he was in for the time of his life.
He had arrived in hotel room and was preparing to go on the date with his favorite actress, which he had won through an online competition. Chambers (Elijah Wood) was going to meet the girl of his dreams, Jill Goddard – played by Sasha Grey – after creating a website devoted to posting pictures of her every move.
But Chambers' world changes when a menacing voice starts talking to him through his computer, convincing Chambers to use his video camera to spy on Goddard when she arrives at the hotel for a fling with her agent.
Of course, things don't go as planned. Chambers is spotted and in an instant, Chambers goes from voyeur to assailant when accosted by Goddard's agent. Chambers is now a slave to the cryptic voice of Chord (Neil Maskell), who has videotaped his every move and threatens to turn the footage over to police if Chambers doesn't do exactly what he's told.
The storyline is bland, but the way it's told is visually stunning. Every scene is shot through laptop, Smartphone, tablet or hidden camera, as a traditional movie camera is absent. Open Windows is a neo-Hitchcockian suspense thriller that uses today's technology to force people to do things they don't want to do.
Is Open Windows scary? Not really. But what's scary is something like this could – repeat could – happen in reality.
Is it possible for a hacker to commandeer your computer and tell you to do things you don't want to do – or else? Yes. Is it possible for a hacker to use the camera atop your monitor to spy on you? Could a hacker take control of your cellphone and render it useless?
Think about it: If a hacker sent a direct feed of someone you love being tortured to your computer, disabled your cell phone and told you to start showing some skin or there'd be a price to pay, what choice do you have?
Fortunately for the audience, Grey sees it that way so she does as she's told.
Director and writer Nacho Vigalondo's cinematography keeps your eyes on the screen throughout the film's 100 minutes as he weaves the movie through a series of screens on Chambers' computer, which is how Open Windows gets its name.
Chambers is a sympathetic character. Sure, he's pathetic, but he doesn't come off as a creepy stalker until Chord convinces him to do things he doesn't want to do until there's no turning back. Chambers tries to be the hero by rescuing Goddard, using Chord's technology against him, all the way until the end.
There's nothing remarkable about the performances by Wood, Grey or Maskell. But Open Windows was never about them.
It's about a computer – from the first screen to the last.
For another take on Open Windows, check out Mark McCarver's review.

Jon Gallo is an award-winning journalist and editor with 19 years of experience, including stints as a staff writer at The Washington Post and sports editor at The Baltimore Examiner. He also believes the government should declare federal holidays in honor of the following: the Round of 64 of the NCAA men's basketball tournament; the Friday of the Sweet 16; the Monday after the Super Bowl; and of course, the day after the release of the latest Madden NFL video game.