Welcome to Dispatches from DelFest, a running blog of short features and pictures produced by Chris and Costa Swanson, who are spending four days partying in Western Maryland.
Please check back throughout the weekend for the latest posts and pictures from Cumberland!
Have a question for Chris? Please write it in the comment section and he'll do his best to answer it.
DelFest Dispatches Part IV: More than music
Let's take look around, some scenes from The Scene.  DelFest is more than the music onstage, from involvement to artists to characters to experiences – there's a lot to discover.
Dispatches from Del Fest Part III: Mipso, Bruce Hornsby, Railroad Earth and more make for a great Friday and Saturday.
Friday and Saturday were amazing days of music at Delfest, with so many artists playing we raced from stage to stage trying to take it all in.
North Carolina's Mipso got the day to rollicking start, with a 10:15 breakfast set on the Potomac stage.
The first-time Delfesters joked of serving musical pancakes, talked about the honor of having previously opened for The Del McCoury Band and put together a one hour set of beautiful Americana music filled with solid, three-part vocal harmonies.
The band introduced a brand new song, Hurt So Good, to the early risers.
"We're hoping to record a new album this summer, so we've been working up some songs," Libby Rodenbough, Mipso's violinist, said. " By the time you're playing a song from an album you've made, the song's often like a year or two old.  We've had a lot of time since the last album to be writing, and we're chomping at the bit to polish songs, singing them onstage, so we were really excited to have one that's still fresh."
Fruition had an afternoon show on the Grandstand stage, a follow up to its Thursday Late night show in DelFest's indoor Music Hall stage, where the band shared the bill with The Infamous Stringdusters featuring Nicki Bluhm.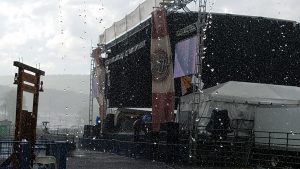 We caught the Grandstand set, which was really good and had the crowd engaged even though a pretty heavy rain had moved in during the performance. With about 15 minutes left in their time slot the storm whipped up strong and started blowing the rain sideways onto the stage, the band tried moving back to keep playing, but eventually the set had to be cut short when the drenched stage became a safety concern.  A tough break, but that the risk of playing outdoors.
"This album was kind of a work in progress for like two years because we were funding it all ourselves.  We did it in a studio in Portland called Cloud City Studios. The engineer Justin Phelps, he's amazing. We connected with him doing some mastering stuff. Our drummers crazy into recording like and engineering geek, a sound geek, and he hit it off with Justin. So we just started booking time, going down in the studio, and we narrowed down our songs to about twenty we thought were good. With our band we have three different songwirters, Mimi (Naja), Kellen (Asebroek) and I, everyone came to the table with a lot of songs, and we narrowed it to twenty, then we narrowed that down and we recorded like 17. We used some of the tracks to record an EP and the rest to record this LP"
Delfest Part II: Del McCoury takes the stage for an impromptu jam
The music Thursday at DelFest kicked off with The Del McCoury Soundcheck, a more or less informal jam session led by Del and his band, and continued through the evening with Elephant Revival, The Wood Brothers, and was capped off by Yonder Mountain String Band.
The Del McCoury Band opened the festival Thursday with some traditional bluegrass music. Ron McCoury, Del's son, joined in the fun on mandolin.  The set included a marriage proposal between two audience members. (She said yes)
The Wood Brothers – Chris on bass and Oliver on guitar – with percussionist Jano Rix, tore it up onstage Thursday night, with a high intensity show of jazz and blues infused folk rock. The Wood Brothers are on tour promoting their latest release Paradise.
Yonder Mountain String Band, who headlines the first night, is doing two sets – one Thursday night and another on Friday.  Yonder's banjo player, Dave Johnston, has performed at Del Fest six times.
"I remember being a young and impressionable banjoist, and seeing the Del McCoury Band, and really loving it. And over the years we've established a kind of relationship with them, and we're friends, so coming here to the festival is sort of like a family reunion, or like a really cool get together to mark the beginning of summer with some really great folks."
DelFest is one of three festivals Yonder is performing at this weekend. The band travels from DelFest to The Dark Star Jubilee, then on to Summercamp festival.
"This particular weekend we're going to get to hang out a bit, we have a late night show tonight here, then a late-late show tomorrow, so we're going to be in and around, doing stuff and hanging," Johnston added.  "It will be fun. Then after that, its sort of like kinda power through, we got to power to Ohio, then to Illinois.  We spend a lot of time traveling and its good, we're used to it by now.  Memorial Day never used to be like a real working weekend, when we started playing, you know. it didn't get started until June, now there's' a good party on Memorial Day everywhere, so its nice."
Yonder Mountain String Band will be back in the area for the Merryland Music Fest July on 9-10, at Columbia's Merriweather Post Pavillion.
Delfest Part I: We're here!
Our squad of three has ventured out from Baltimore this Memorial Day Weekend to Cumberland for DelFest, a four-day festival featuring some of the country's top bluegrass, Americana and jam bands.
Hosted by bluegrass legend Del McCoury, the ninth edition boasts three stages with rotating musical performances, daily yoga, hooping, arts and crafts, and a slew of other activities to keep the fun times flowing.
Based at the Allegany County Fairgrounds, the picturesque surroundings of western Maryland make a fantastic backdrop to music that sprung from the mountains. The hills echo with the sounds of fiddles, banjos, mandolins and guitars.
Our Thursday festival experience began with the off-site check in, where everyone receives an admission wristband and festival handbook. The lot was overflowing with early birds, eager to get in a stake out a good camping spot. With a line that extended around the building, I guessed we'd end up waiting until sundown just to get in, but the staff there was pretty efficient, and we were through and on our way to the camping lot in under an hour.
General admission camping at DelFest, and most music festivals for that matter, is a scattershot of tents, tarps and canopies. The chaos factor can be part of the charm or a gut-punch to personal serenity depending on your point of view.
We've managed to get a spot on the edge of the parking lot that allows us to park the car right next to the tent, a lucky score since I saw dozens of folks humping their gear to the distant camping areas. I wondered why this section didn't fill up before we got there, and found out later that night when the rail line about 30 feet behind us came alive with the chug, creaks, and horns of a freight train.
Rookie mistake on my part, but we're here now – deal and press on.
My first real surprise of day came when the Master of Ceremonies, Del himself, came putting down the lane in a golf cart, stopping to greet his weekend guest personally. That's such a classy move, and one of the things I enjoy about this type of music. There just seems to be a sense of humility in so many of the artists.
Ok, so tent's up gear's unpacked, hellos given to our new neighbors, time to go check out some music.
To be continued…