Dinosaur Bar-B-Que: A place you'll want to sink your teeth into
I guess I am a creature of habit, more so than I am willing to admit, sadly to say.
When I go out to eat, and that is often, somehow I usually wind up at the same five restaurants.  Of course one can argue, "hey you like what you like so why go anywhere else?"
Well stop the presses – I recently went to a new restaurant, one that's new for me and new in town.  But I went because I had an invite, not because I decided.  But the result was the same: a good meal in a nice restaurant.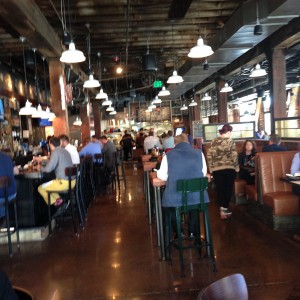 It is Dinosaur Bar-B-Que, 1401 Fleet Street, in that neat part of town known as Harbor East.  Which I can now say is my favorite area in the city.  But that is another discussion.  OK, here's one reason: After eating, you can walk throughout and enjoy the shops and the waterfront.
This is the 10th location of Dinosaur.  They are owned by a group in Dallas, the Good Smoke Holding Company.  It just opened in September and it appears, based on the crowds I saw, it has been accepted into the dining community.
It's open seven days for lunch and dinner.  I was surprised when I first walked in on the size.  It seats over 250 and that includes a bar area, where there are TV's and serving 20 local drafts.
I was told by managing partner, Mark Pearson, you must try the brisket, chicken wings, pulled pork and ribs.
I decided to try them all.
All good, but I needed the jaws of life to get me out of my chair.  Most of the menu items are made in house.  As Mark put it, "from pit to plate."
The restaurant is so new, they are still adding parts.  For example, in January there will be live entertainment Friday and Saturday evening, a Happy Hour and catering.
By the way, if you like to see what's going on in the kitchen, there's an open one.
I asked if there was anything I could do and they said "yes."
Just sit down and be quiet.
To reach them call 443-708-9070 or go to dinosaurbbq.com.

Eddie Applefeld is a Baltimore native and a graduate of Towson University. He has been in the broadcasting profession for over 30 years. Currently he is the Promotions Director of WCBM radio. Before that, he was part of the Rouse & Company show on WQSR, host of a cable TV show called Dining Out and adjunct instructor at Towson.
His past accomplishments include being named a finalist in Baltimore Tourism's Employee of the Year Program and winner of Toastmaster's Speaker of the Year contest. He was also twice a heartthrob for the American Heart Association's gala fund raiser.