Delfest 10 closes with emotional doubleheader
Sunday night's grand finale on the Grandstand Stage featured two Delfest alumni legends back for the family reunion, Leftover Salmon, making their fifth Delfest appearance, and Warren
Haynes, who appeared solo in 2011, this time with his band, Gov't Mule.
It was an emotional night that celebrated life – with birthday festivities for Salmon's Vince Herman – and mourned the passing of Herring's close friend and former Allman Brothers Band mate Gregg Allman, who died Saturday after suffering a long illness.
Leftover Salmon went on first, performing a tribute to tribute to Neil Young that included a playing of the 1972 classic Harvest, plus a pair from both Comes a Time and Everybody Knows This Is Nowhere.
When asked what inspired the tribute, Herman joked "Drew (Emmitt) and I are celebrating our birthday's this week, and we wanted to be (young)er than ever."
The performance had a brief interruption mid set for an onstage birthday party with cake, a singing of Happy Birthday, and in keeping with the Harvest theme, a gift of a few dozen ears of corn, which Herman tossed out to the fans.
Guest drop-ins are as common as muddy shoes at Delfest, and following this tradition, Salmon welcomed Warren Haynes to a huge ovation for the set's closing song Down By the River.
Leftover Salmon returns to the Baltimore area July 22, performing with Greensky Bluegrass at the new Chrysalis-Merriweather Park at Symphony Woods in Columbia.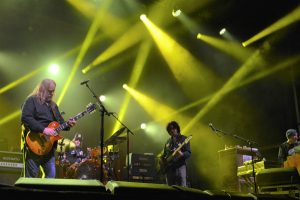 When Warren Haynes took the stage with Gov't Mule to close out Delfest 10, I immediately doubled the amount of courage and heart I credited to a man I already admire greatly.
Haynes has suffered so much loss in 2017. From the loss of drummer and band mate Butch Trucks to suicide in January, to the death of Jam icon Col. Bruce Hampton, who collapsed onstage during his 70th birthday celebration concert while Herring and several other musicians from the jam community were performing with him. Now, Allman died the day before Haynes' Delfest appearance, I was astounded a man could function under such a weight of grief.
The news of Allman's death was a hard slap in the middle of such a fun weekend for myself and many at the festival, but my sadness is far removed from that of a close friend.
I've lost best friends and I understand those emotions.
No one in good conscience would have faulted him for cancelling the gig in such circumstances.
But Haynes mustered some great personal inner strength, and though at times visibly working through the pain of loss, he performed for us there, not speaking too directly on the subject of Allman's death, other than to acknowledge it had been a rough couple of days.
I know music has the power to heal, it's not just a sentiment, but sometimes there's a lot of pain to pass before we get to that point.
He played some Allman Brothers' songs, and he played some new stuff, but this was a show where the setlist didn't matter to me at all.
I didn't bother to track it. I suppose I can dig it up if I feel the need.
I've been seeing live music for about 35 years now. I've witnessed so many great musical moments, but seeing Haynes come out and do his thing was the most selfless and courageous thing I have ever seen by any artist, and probably ever will.
What he gave was beyond even the power of music.
God's peace to you Warren, and thank you.

Chris Swanson is a live music and sports fanatic and a long-time Maryland resident. He holds tightly to what some consider an unreasonable affection for the Baltimore Orioles and older music venues. Chris has a Communications Degree from the Franciscan University of Steubenville.