'Veterans for Peace' confront President Trump about endless wars
A contingent of antiwar protesters in the hundreds, gathered Tuesday for a rally, at 11 a.m., at the Lincoln Memorial in Washington, D.C. They were led by the president of the Veterans for Peace, Barry Ladendorf. They demanded a "stop to the endless war," and a start to a genuine "peace-building movement."
A coalition of about ten other antiwar, peace and justice organizations joined with the Veterans for Peace in the spirited demonstration. Nine speakers participated in the two-hour program, along with music provided by Pat Scanlon, the Fugs and others.
The speakers raised their voices about the endless U.S. related conflicts around the globe in Afghanistan, Iraq and in Syria. They put emphasis on the war drums beating daily for a conflict with North Korea, and also, thanks to the hawkish Neocons and our influential Military-Industrial Complex, a possible U.S. war, starting in 2017, with Iran.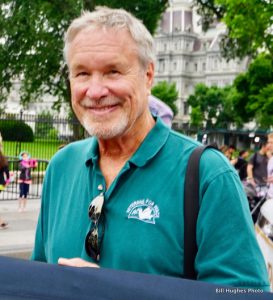 After the demonstration at the Memorial, the protesters marched, around 2 p.m., to the White House to confront President Trump. There, they demanded a meeting – as soon as possible with him – to discuss his "military policy" and to re-direct government spending to issues closer to home. A letter that  Ladendorf had written to President Trump was read by one of his colleagues in front of the White House fence. To learn more, check out the Facebook page.
According to the authoritative "Cost of National Security," the American taxpayers have been paying $8.36 million an hour, since 2001, to cover the expenses of our endless wars. To check out more details about this important issue. 
Speaking at the White House rally was Veterans for Peace activist, Bruce Gagnon. He's also the coordinator of the "Global Network Against Weapons & Nuclear Power in Space." He blasted the U.S./ NATO War Machine and referenced the White House as an often "black, dark, evil" house.
A link to my other photos can be found on Facebook. 

Bill Hughes is an attorney, author, actor and photographer. His latest book is "Byline Baltimore." It can be found at: https://www.amazon.com/William-Hughes/e/B00N7MGPXO/ref=dp_byline_cont_book_1