Danish Almond Puff: Slice and serve
Danish Almond Puff: The scent of almonds and pastry baking makes this breakfast/desert recipe a favorite right out of the oven. The custardy center gives this puff a soft texture while the crust adds a crispness to the taste. Sugarless, the pastry's sweetness comes from the glaze or frosting. Easy to slice and serve, share the extra pieces with the office or neighbors.
I found several variations of this recipe in my vintage recipe boxes, but not one with complete instructions. So I turned to my vintage cook books and found a recipe from a Betty Crocker's 1960s recipe book.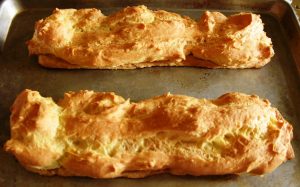 Danish Puff, 1960s
½ cup margarine or butter
1 cup all-purpose flour
2 tablespoons water
½ cup margarine or butter
1 cup water
1 teaspoon almond extract
1 cup all-purpose flour
3 eggs
Powdered sugar glaze or confectioners' sugar icing
Chopped nuts (my preference, sliced almonds)
Heat oven to 350 degrees. Cut ½ cup margarine (or butter) into one cup flour until particles are the size of small peas (use a pastry blender or use 2 table knives, cutting through mixture in opposite directions). Sprinkle 2 tablespoons of water over flour mixture; mix. Gather pastry into a ball; divide into halves. Pat each half into a rectangle, 12 x 13 inches, on ungreased cookie sheet. Rectangles should be about 3 inches apart.
Heat ½ cup margarine (or butter) and 1 cup water to rolling boil; remove from heat. Quickly stir in almond extract and 1 cup of flour. Stir vigorously over low heat until mixture forms a ball, about 1 minute; remove from heat. Add eggs, beat until smooth and glossy. Spread half of the topping over each rectangle. Bake until topping is crisp and brown, about 1 hour (Check after 45 minutes.) Cool. (Topping will shrink and fall, forming the custardy top.) Spread with powdered sugar glaze; sprinkle with nuts.
Powdered Sugar glaze: Mix 1 ½ cups powdered sugar, 2 tablespoons margarine (or butter), softened and 1 ½ teaspoons vanilla. Stir in 1-2 tablespoons water, one teaspoon at a time, until glaze is of desired consistency.
"Perfect to take along when dropping in on folks." Betty Crocker's New Picture Cookbook, 1968
At the time this recipe book was published, it was perfectly acceptable to stop by someone's house unannounced. In today's world I suggest texting ahead.
Thoughts from the Kitchen circuit.
Life has been divided into five stages:
At 5- Daddy I know everything.
At 20-What I don't know isn't worth knowing.
At 35-Well, anyway, I know my trade.
At 50-There a few things I'm really sure about
At 65-I've learned a little but not much!
Someone worse than a quitter is someone who finishes something he should never have started.
He who plants trees loves others besides himself.
Bethel Temples Cookbook, 1914-1964

Ann Marie Bezayiff received her BA and MEd from the University of Washington in Seattle. She is an author, blogger, columnist and speaker. Her columns, "From the Olive Orchard" and "Recycled Recipes from Vintage Boxes", appear in newspapers, newsletters and on Internet sites. Ann Marie has also demonstrated her recipes on local television. Currently she divides her time between Western Maryland and Texas.