1966 World Series winning Orioles honored 
 Brooks Robinson still has it.
Hey, it's only been a half of century! The year was 1966, when the Baltimore Orioles won their very first World Series championship. They were playing their games then at yee ole Memorial Stadium on 33rd Street. And, the ticket price, well, try $8. For tonight's game, Friday, July 8, 2016, against the Los Angeles Dodgers, $75 got me a seat in section 58. Ouch!
It was only appropriate that on this evening, a pre-game ceremony was held at Camden Yards to honor that celebrated team of yesteryear. It was a special time to applaud the 1966 winners – one more time – for the good times.
I recall going to at least one of those series' games. The National League champs were the LA Dodgers, led by southpaw great, Sandy Koufax. My seat was in the upper deck behind home plate. The Orioles shocked the baseball world by sweeping the series 4-0.
Hank Bauer, a former New York Yankee legend, was the coach for the Birds and he did a terrific job. Bauer was a complete baseball professional in every respect. A WWII Veteran, he played for the Yankees from 1948 to 1959. Bauer died in 2007. I believe he was one of main reasons the 1966 team was so successful.
Some of the stars of that classy team were still easy to recognize on the field tonight. There was big "Boog" Powell, Jim Palmer, Davey Johnson and, of course, Brooks Robinson. Ten others also showed-up for the event before a large, welcoming crowd.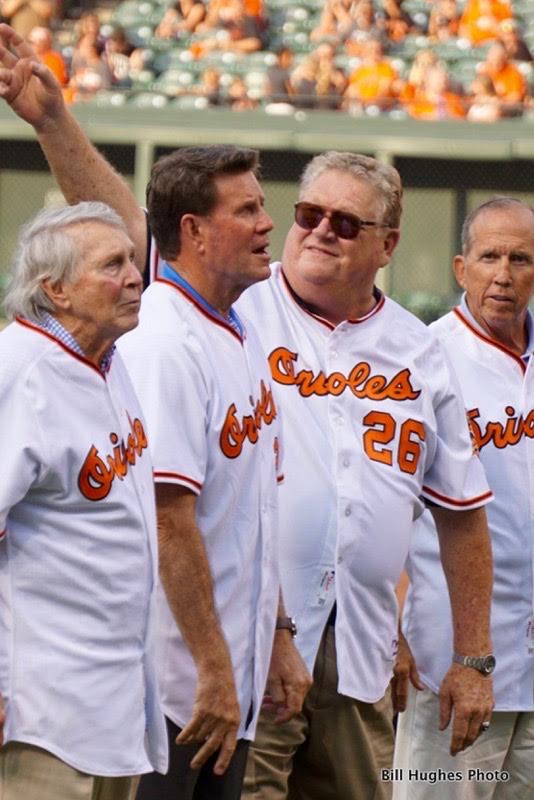 A number of the outstanding members from the 1966 team, however, have gone on to their final reward, (RIP), such as: Paul Blair, Curt Blefary and Dave McNally.
The Orioles of 1966 were also blessed with a wonderful team owner – the late Jerry Hoffberger. He was the same person who owned the National Brewery. Its headquarters in Highlandtown was known to the locals at "Natty Boh." Unfortunately, Orioles stop serving Mr. Boh.
Bottom line: A final tip of the hat and cheers for a truly remarkable Orioles team of 1966! Check out more photos on my Facebook page.

Bill Hughes is an attorney, author, actor and photographer. His latest book is "Byline Baltimore." It can be found at: https://www.amazon.com/William-Hughes/e/B00N7MGPXO/ref=dp_byline_cont_book_1