Cunninghams in Towson: Select your wine from the house iPad
I felt a bit like I was dining in San Francisco or Chicago or any one of those top notch restaurant towns. But I was sure I didn't leave the state but merely drove to the Mile One Building in Towson.
I was actually in Cunningham's, whose address is 1 Olympic Place. It's in that high rise adjoining the Towson traffic circle.
It is locally owned and since its opening has become quite the popular spot. It is open seven days for dinner only. The name is derived from the maiden name of the owners mother.
There's seating for about 250 and that includes the outside patio and lounge. Neither most likely open now. Inside there's an open kitchen, for those who like to see their meal being prepared. As I've stated before, I assume the chef and cooks know what they're doing so I don't bother to watch. I figure if they need my help, they'll ask. And if a chef ever asks for my help in the kitchen, you need to leave immediately.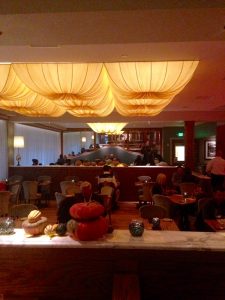 Once seated, and by the way, a reservation on weekends and holidays is a good idea, you'll be handed a menu and an iPad. The menu I understand but what was that tablet designed to do? Proving that my technology is on par with the transistor, I was informed it is where you'll find the wine list and how it is possible I didn't know that?
The daily specials change about every one to two days and you might think about their Prix Fixe menu. With that you get three courses (appetizer, entree, dessert) for $39.99. The menu changes every 2 to 3 months. Most of the selections are seasonal items. If you add wine it's an additional $19.99. If you're wondering, they don't offer a kids menu.
Cunningham's is part of a restaurant group (five of them) that has three farms in Baltimore County. From there they get most of the vegetables along with the pork and lamb.
You can listen to live jazz entertainment on the second and fourth Thursday of the month. Carry out is available as is valet parking. Simply pull into the garage located on Olympic Place and an attendant will park it. Take the elevator to the lobby and there you are.
If you enjoy your meal, walk by the kitchen and thank the chef Jay Rohlfing. And if he's not there, any of the cooks. Incidentally, Cunningham's also operates a cafe on the lower level from 6:30 a.m. to 5 p.m.
You can reach Cunningham's at 410-337-7730 or go to cunninghams.com. Private party rooms are available. One other note, I don't suggest jeans. This is a nice place, so dress like you've been out in public before.

Eddie Applefeld is a Baltimore native and a graduate of Towson University. He has been in the broadcasting profession for over 30 years. Currently he is the Promotions Director of WCBM radio. Before that, he was part of the Rouse & Company show on WQSR, host of a cable TV show called Dining Out and adjunct instructor at Towson.
His past accomplishments include being named a finalist in Baltimore Tourism's Employee of the Year Program and winner of Toastmaster's Speaker of the Year contest. He was also twice a heartthrob for the American Heart Association's gala fund raiser.