Christmas Menu: Cranberry Pistachio Biscotti
In Time for Christmas. Cranberry Pistachio Biscotti: a colorful, crunchy, not-so-sweet cookie. Twice baked gives this cookie a dry texture, excellent for dipping into coffee, cappuccinos, lattes, black tea or traditionally into a sweet dessert wine. Need more sweetness? After baking, dip the biscotti into a white or dark chocolate glaze.
This is one of my favorite Biscotti recipes. Dried cranberries give the cookie a red color and the pistachios provide a slight hint of green to the dough. The dough calls for olive oil which is a healthy plus. Easy to store. Great recipe for Christmas gifts.
Cranberry Pistachio Biscotti, 1990s. From Cooking Live Primetime, courtesy of Sharon H.
¼ cup extra virgin olive oil
¾ cup sugar
2 teaspoons vanilla extract
1 teaspoon almond extract, optional
2 eggs
1 ¾ cup all-purpose flour
¼ teaspoon salt
1 teaspoon baking powder
¾ cup dried cranberries
1 cup unsalted pistachi
Heat oven to 325 degrees. Mix together olive oil and sugar. Add vanilla and almond extract and eggs. Beat until well blended. In a separate bowl, mix together flour, salt, and baking powder. With the motor of an electric mixer running, slowly incorporate the dry ingredients into the egg mixture. Fold in cranberries and pistachios. The dough will be sticky. Wet hands and turn the dough out onto a work surface. Shape into 2 logs, 2 by 12 by 1 ½ inches. Bake in the center of the oven for 35 minutes or until light brown. Remove from the oven, cool slightly, and cut the logs on the bias. Place the cookies on a baking sheet and bake in 250 degree oven for 8 minutes on each side or until dry.
For helpful hints on making Biscotti, log on to Italian Food Forever, November19, 2011.This site also has a wide variety of Biscotti recipes.
Biscotti, also called Twice Baked Cookies, Italian Cookies and Wine Dunkers
The following are two basic, traditional recipes. The first one has the makings of a wonderful recipe but the directions are confusing. A good example of why some recycled recipes need adjusting and patience.
Biscotti, Nut Cookies, 1966-1970's, submitted by Minnie, Martha, Madeline, and Maria
For each cup of sifted flour used, add:
1 teaspoon baking powder
¼ teaspoon salt
1 egg
1/3 cube of butter
1/3 teaspoon vanilla
1/3 cup sugar
Nuts, raisins and candied fruit, if desired.
Sift flour, baking powder and salt. Beat eggs; add flour, butter and sugar which have been melted together. Add vanilla and blend well. Add nuts, raisins, or candied fruit. Roll into 1-inch wide rolls. Bake 25 minutes at 350 degrees. Remove from pan; cut diagonally. Put back into over for a few minutes to dry out.
Variations: There are many variations to this recipe, such as anise flavoring, anise seed, a little milk, jigger of whiskey or lemon extract.
Other names for Biscotti: Twice-baked cookies, wine dunkers.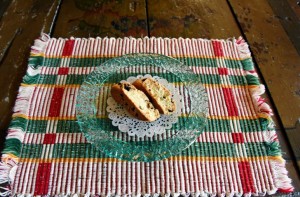 Biscotto, 1961, Happiness is Italian Cooking, Sons of Italy, Hanford Lodge. Norma Kranenburg
1 cup of sugar
3 eggs
2 teaspoons baking powder
1 teaspoon almond extract
1 cup nuts, chopped fine
½ cup butter
2 cups flour, sifted
½ teaspoon salt
1 Tablespoon anise seed
Cream butter and sugar. Add eggs, one at a time, beating well after each addition. Add dry ingredients and almond extract. Beat at low speed until blended. Last, add nuts and anise seed. Bake 30 minutes in greased pan (or use parchment paper), 350 degrees (pan size 9 x 12). Remove from oven, cut in 1 inch slices. Turn each on its side. Bake 10 to 15 minutes or until lightly brown. Remove slices to wire rack and cool completely.
Good Advice, 1914-1964, Jubilee Cook Book
Do more than exist: Live
Do more than touch: Feel
Do more than look: Observe
Do more than hear: Listen
Do more than listen: Understand
Do more than think: Ponder
Do more than talk: Say something.
Success comes in cans…Failures in can'ts.
Worry give small things big shadows
Looking ahead is a good way to keep from falling behind.

Ann Marie Bezayiff received her BA and MEd from the University of Washington in Seattle. She is an author, blogger, columnist and speaker. Her columns, "From the Olive Orchard" and "Recycled Recipes from Vintage Boxes", appear in newspapers, newsletters and on Internet sites. Ann Marie has also demonstrated her recipes on local television. Currently she divides her time between Western Maryland and Texas.