Chris Cornell rocks the Strathmore
Chris Cornell held his audience in rapture at the Strathmore Music Centre in Bethesda for over two hours on Oct. 14, regaling fans with music from his extensive song catalog.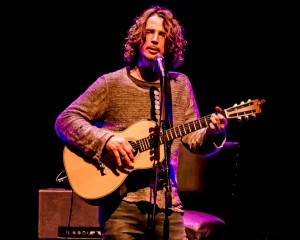 The all-acoustic sellout performance began with him strolling casually onstage, waving and greeting the audience as if he'd known all of them for as many years as they'd known him.
His voice was stronger than ever, effortlessly filling the hall with its bluesy rock tenor.
Barely a cellphone screen was to be seen in the darkness all evening, a testament to his engaging performance – people were listening, and thrilled to be carried along in the moment by him.
Cornell performed hits from his days with Soundgarden, Temple of the Dog, and Audio Slave, as well many songs from his first solo venture, Euphoria Morning.
Music from his newest album, Higher Truth, opened and closed the show.
The show's highlights included his notable cover of Michael Jackson's Billie Jean; Hunger Strike from Temple of the Dog; and You Know My Name – his contribution to the James Bond film Casino Royale.
Cornell shows no signs of slowing down after nearly 30 years in the spotlight, as he's fit and healthy and roaring forward into the future.

Victoria Persephone is a concert/sports photographer & graphic designer, and owner of Persephone Productions. She has photographed artists and sports teams all over the country and has created an extensive line of t-shirts and hoodies in her online store. Sports teams include the Yankees, Orioles, Reds, and Diamondbacks, and musical artists include Billy Idol, U2, Sting, and Scott Weiland.
Prior to her photography career, Victoria was a professional ballet dancer and instructor, having trained with Princeton Ballet/American Repertory Ballet, NYC Ballet, American Ballet Theatre, and the Joffrey Ballet. Her instructors included many renowned artists from those companies as well as international instructors from the Kirov Ballet, Bolshoi Ballet, and Paris Opera Ballet. She co-choreographed and directed "sullen," a short dance film featuring 5 of Fiona Apple's songs, produced under special arrangement with Sony Music. She can be seen in a variety of current and past television shows in a range of background and small acting roles. Victoria is currently semi-retired from ballet while pursuing her photography career.