Check out Staunton and its historic places
Last time around I told you a few things located within the town of Staunton Virginia. This time, a little more information on the town itself.
It was first settled in 1732 by John Lewis and family, but actually founded in 1747 and named Staunton in honor of Lady Rebecca Staunton. By 1760 it was a major remote trading center in the backcountry transporting grains and tobacco.
It played a crucial role in the mid-18th-century expansion of the economies of the American colonies. The original land was owned by William Beverly. Most of the buildings you see today date from the years 1870 to 1920. Downtown Staunton is listed in the National Register of Historic Places. Mr. Beverly is honored with a street.
It is located in Augusta County Virginia. The current population is about 23,800 with a land mass of about 20 square miles.  It is nicely situated between the Blue Ridge and the Shenandoah Mountains. In 1891 Thomas Jaspar Collins moved here and in 20 years designed or remodeled over 200 buildings.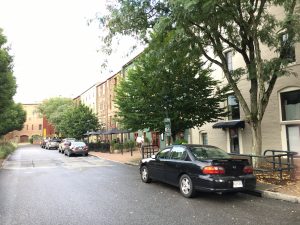 Staunton's Main Street was included on Fodor's List of 25 Cutest Main Streets in America. It was highlighted for its Victorian architecture and variety of shops and restaurants. Fodor's also mentioned the Blackfriar's Playhouse and the Stonewall Jackson Hotel, both of which I wrote about in the last article.
One of the best ways to see the town is to hop aboard the Green trolley. Styled like a streetcar of the 19th century, it's a good way to see many sites. Another trolley to use is known as the Downtown Loop. Look for the orange signs. I will offer this, Staunton is a good walking city. Within a relatively short distance, you see visit many shops, restaurants, and museums.
The following is a short list of recommended museums and attractions, in no particular order. A popular one is the Frontier Culture Museum, where you can take self-guided tours of the 11 permanent exhibits and enjoy costumed interpreters; Thornrose Cemetery, considered by some to be the most beautiful and historic cemeteries in the country and the Trinity Episcopal Church, with 12 Tiffany windows completed in 1857 with a neo-gothic design.
Take a stroll to the nearby Wharf area. Here you'll find restaurants, like the Depot Grille, a former train station. Also, check out Sun Spots Studios, an artisan glass blowing store. I did venture in, got a quick tour but the glass blowing was done for the day. During my walks in town, I discovered many beautiful and old homes, especially on Frederick Street. Perhaps I should say historic rather than old. Either way, they were magnificent.
The city does, after all, have six historic districts.
This time of year you can take advantage of the Saturday morning architectural walking tour, the Staunton Farmers' Market, Staunton Braves Baseball, the Festival of Concerts, the Music Festival and Gypsy Hill Park.
Other attractions include R.R. Smith Center for History and Art, the Mary Baldwin University and don't miss the Civil War Attractions. The Shenandoah Valley is often referred to as the 'Breadbasket of the Confederacy.'
My visit here was brief. That's why I had to keep moving during my stay. That's easy to do here because, as I said, many of the things you want to see are close by. Besides a little walking will do you good.
For dining, I'll suggest Zynodoa, 115 East Beverly. Locally owned serving dinner seven days along with a Sunday Brunch, I had a very tasty farm grilled NY strip.
The chef prepares a Chef Tasting Menu nightly featuring four small plates. Two house specialties are the River Fried Oysters and the Cast Iron Cornbread. Reach them at zynodoa.com.
For more information on the town of Staunton go to www.visitstaunton.com.

Eddie Applefeld is a Baltimore native and a graduate of Towson University. He has been in the broadcasting profession for over 30 years. Currently he is the Promotions Director of WCBM radio. Before that, he was part of the Rouse & Company show on WQSR, host of a cable TV show called Dining Out and adjunct instructor at Towson.
His past accomplishments include being named a finalist in Baltimore Tourism's Employee of the Year Program and winner of Toastmaster's Speaker of the Year contest. He was also twice a heartthrob for the American Heart Association's gala fund raiser.