Celebrating National Maritime Day in Baltimore
Pier 13, at the Canton Marine Terminal, is about as far southeast as you can go and still be within the jurisdiction of Baltimore City. On Sunday the harbor's edge was the site for marking the annual celebration of "National Maritime Day."
Indeed, the sponsor of the event, the Baltimore Port Alliance, couldn't have picked a better location. Docked at Pier 13 Canton, under a light rain, and available for boarding by visitors, were the: "N.S. Savannah," "USTS Golden Bear," "Reynolds," "The Pride of Baltimore II" and the "Bay Hydro II," along with other vessels.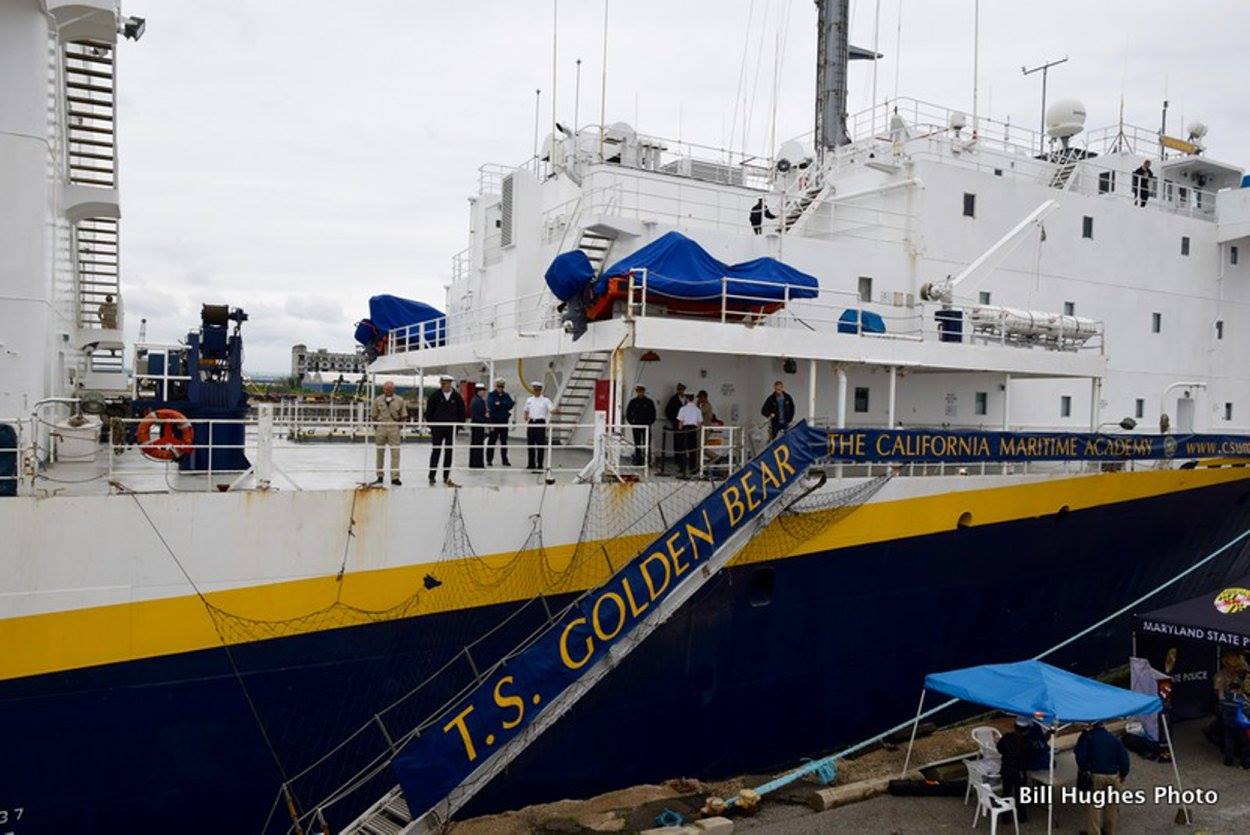 The "Savannah" is a nuclear-powered ship. Some of its space was utilized to hold the colorful program for the event. Singing our "National Anthem" at the onset of the (Port Expo) program, was vocalist, Ms. Katrina Jones.
Serving as emcee for the program was – Alan Walden. Yes, he's that same guy, who is the Republican Party's nominee for mayor of Baltimore! I know little about Mr. Walden's politics, but what I do know is this: he has a terrific speaking voice. You can't say that about all politicos who dare to run for office in Baltimore City.
Speakers on the program were a who's who of Baltimore Port officials. Representing the International Longshoremen Association (ILA) at the ceremony was my former Locust Point neighbor, John Shade Jr. He is the Business Agent for Local 953. As an ex-member of ILA Locals 829 and 1429, I was very pleased to see him at the event.
One of the speakers who couldn't make the event, is also one of my favorite people, the Hon. Helen Delich Bentley. Unfortunately, she hasn't been feeling well lately. I remember her from her salad day as the Maritime Reporter for the Baltimore Sun.
Trust me, when I say this: Bentley was a feminist icon, long before that term became fashionable. Besides writing a highly-respected column for "The Sun," she also hosted an award-winning TV show, entitled: "The Port that Built the City and State." Later, Bentley served five terms in the House of Representatives fighting for the port while representing Baltimore County.
I couldn't stay for the whole program because of a scheduling conflict, but I did get a chance to hear from Rep. "Dutch" Ruppersberger (D-2nd). He's the former Baltimore County Executive, who grew up in the Waverly neighborhood of Baltimore and attended City College High School, on 33rd Street. Ruppersberger, highly respected by his constituents and his fellow lawmakers, said the port is in top shape, and very competitive. He added that he and others are working very hard to keep in that way.
National Maritime Day has been celebrated in this country, since May 22, 1933.
Check out more photos at my Facebook page.

Bill Hughes is an attorney, author, actor and photographer. His latest book is "Byline Baltimore." It can be found at: https://www.amazon.com/William-Hughes/e/B00N7MGPXO/ref=dp_byline_cont_book_1