BRD is the word – Now open in Federal Hill
Slightly different than the Trashmen's song 1963  Bird is the Word, this BRD is becoming the word in Baltimore with their creative fried chicken sandwiches (sandos in BRD language ), wings and BRD bites. BRD is committed to sourcing the highest quality chicken; they use boneless chicken thighs that never received hormones, antibiotics and are fried in 100% peanut oil.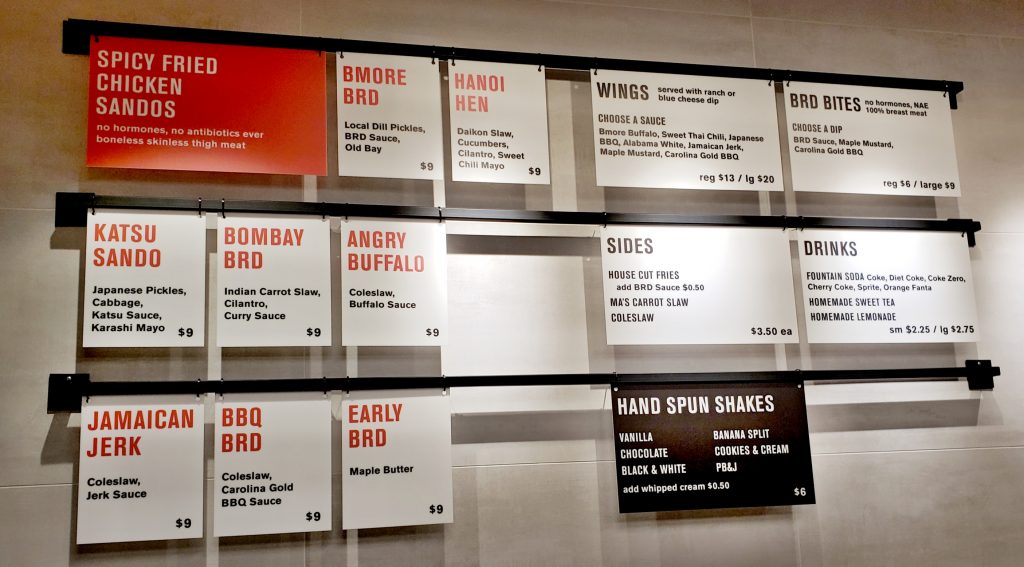 Before Popeyes Chicken Sandwich rush of 2019, BRD's first location had been well established and landed in 2016 at the R House food hall in Remington.  My first BRD sando was at R House, it was the Hanoi Hen dressed with pickled daikon and carrots, cilantro, cucumber and chili mayo – their take on a bahn mi. I have a solid memory licking my fingers after I had devoured the large sandwich – not wanting to miss every last morsel. In total there are 6 BRD sandos with the new Bombay BRD and BBQ BRD making it seven and eight sandos offerings at their newly opened 2nd location in the Federal Hill. Tempt your taste buds with Bmore BRD, Angry Buffalo, Katsu Sando, or Early BRD.
Anthony Bourdain keeps crossing my mind and how he would find those food haunts opened late at night, searching for food after an evening of bar hopping and binge boozing.  Federal Hill is ladened with bars and an ideal location for BRD and their "opened late" Friday and Saturday hours, way into the wee hours, till 3 a.m.
Let me interject, their fries are possibly the best I've had in eons, not ages, eons.  The Federal Hill location being a standalone restaurant versus the R House food stall, has a greater selection like their hand-spun shakes, BRD bites, ice tea and those additional sando and wing selections.
BRD
Remington: 301 W. 29th Street – Baltimore 21211   443-681-1905
Federal Hill:  1104 Sourth Charles Street – Baltimore 21230  667-210-2222
www.eatbrd.com @eatbrd

For Dara Bunjon if it is food, Dara Does It, in fact, that is the name of her company which offers creative solutions for the food industry the likes of public relations, marketing, social media, cookbook compilations, food styling, culinary events, networking and freelance writing. You will now find Dara applying her broad range of culinary skills as a food stylist for television chefs/cookbook authors the likes of Steven Raichlen, Sara Moulton, Nick Malgieri, and Nathalie Dupree. Dara Bunjon lives, eats, dreams and writes about food and isn't hesitant to share her views and experiences about restaurants, culinary trends, recipes, cookbooks or even her childhood food memories. She has been on the food scene for too many years to mention. Known both in Baltimore and nationally, Dara Bunjon is a former member of Women Chefs and Restaurateurs' national public relations committee.
In the past, she has written for Style Magazine, Foodservice Monthly, Mid-Atlantic Restaurant Digest, Urbanite and other sundry publications. Since 2004 she has maintained an award-winning food-related blog called Dining Dish. She co-authored her first cookbook Yum! Tasty Recipes from Culinary Greats in association with Studio Spear. And has written Baltimore restaurant reviews for Gayot.com
Dara believes food is subjective; everyone's taste is different and she enjoys bringing you to her table to commiserate and enjoy lively discourse.
Considered one of Baltimore's food influencers, you can follow her on Twitter and Instagram @daracooks.