Billy Strings transcends bluegrass at DC's Wharf
Photo by Gary Jared
Fans of bluegrass, Americana, rock n' roll, and live music, in general, have most likely heard about or directly contributed to the hype surrounding rising star Billy Strings by now.
Last Saturday, the 29-year-old prodigy flatpicker from Michigan proved his right to every ounce of that hype to a packed house at the Anthem on DC's Wharf. Six thousand shivering fans impatiently trudged through staggering lines along the dock to provide proof of COVID-19 vaccination before entering the venue but remained undeterred. Despite the wait, anxious excitement filled the brisk air as the crowd anticipated Strings's first return to the District since his November 2019 show at the 9:30 Club, another I.M.P. concert venue.
Inside the Anthem, flannel-clad bluegrass afficionados interspersed with jam band fans in tie-dye reflected Strings's unique take on the genre. Dancing began immediately as the quartet launched into the breakneck bluegrass standard "White House Blues", an appropriate nod to locals, at 9:00 PM sharp. "Hide And Seek", from Strings's 2021 Billboard Bluegrass Albums chart-topper "Renewal", dispelled any thoughts that Strings and company were just another acoustic folk band from Nashville, their current base. Clocking in over ten minutes, the second song of the evening demonstrated Strings's aptitude for infusing complex compositions with elements of prog-rock, psychedelia, and spacey ambient jams.
Strings's touring band, rounded out by Billy Failing (banjo/vocals), Jarrod Walker (mandolin/vocals), and Royal Masat (bass/vocals), had ample opportunity to demonstrate musical prowess both individually and as a unit throughout the two-and-a-half-hour show. Failing, Walker, and Masat supported Strings's soulfully twangy vocals with immaculate harmonies in most, if not all, songs. While Strings's lead guitar playing commands immediate attention, he frequently played rhythm while Walker and Failing took the spotlight for both composed and improvised solos. While the band plays under the Billy Strings name, the performance itself came across as a true collective with each member sharing equal prominence.
The hour-long first set showcased the band's ability to electrify studio versions of originals and covers alike while remaining in the pocket so consistently that a listener would not miss the absence of a drummer or any percussion. The Anthem's excellent acoustics combined with a well-balanced sound mix ensured clarity for every note from each instrument, especially during passages heavy with interspersed riffing.
Strings brings charisma and showmanship to the stage in a way that many others in the "jamgrass" scene do not. He danced around the entire stage during solos without flubbing a note, engaging all sections of the crowd, headbanged while his bandmates took the spotlight, and rarely stopped moving as long as music was playing. Strings addressed the audience numerous times, praising the venue, expressing gratitude, and dropping one-liners: "Thank you so much, you beautiful people, we love this space. Now, we're going to play a little bluegrass to cleanse the palate".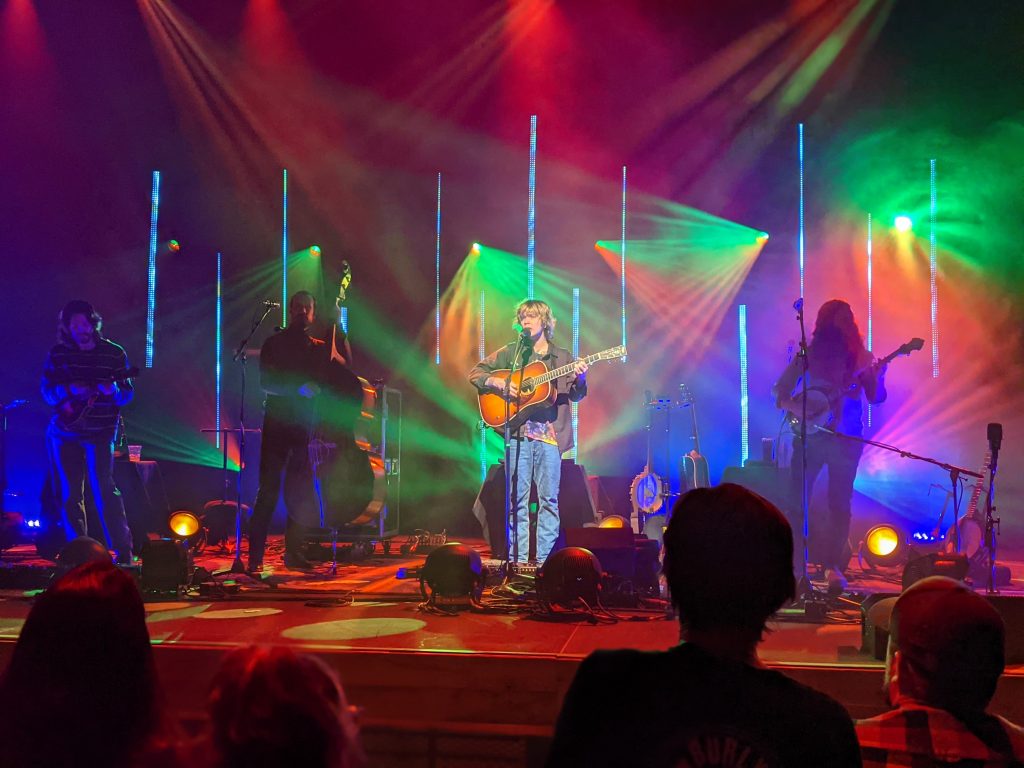 After a short break, the band returned to the stage for a mindbending second set. The final half of the show notably consisted of more instrumental segments, extended improvisation, and experimentation. "Highway Hypnosis", from Strings's 2019 Grammy-winning album "Home", featured ambient jamming, vocal delay, and droning swells that escalated into a proper psychedelic freakout. Strings delivered bar after bar of psychedelic shredding on "So Many Miles", applying distortion to his acoustic guitar while Failing guest starred on lead vocals. Strings differentiates himself from other flatpickers with tasteful integration of scales and modes found much more commonly in jazz than in bluegrass. An impressive lightshow punctuated the spacey nature of the second set and appeared to be improvisational in its own right, synchronizing perfectly with the band's transitions during jams.
Strings treated jam band fans to back-to-back covers of "Me and My Uncle" and "The Old Home Place", live staples frequently played by the Grateful Dead and Phish, respectively, while the crowd sang along exuberantly. The band capped the evening with encore song "Freedom", sharing a single microphone and delivering barbershop-quartet style harmonies supported by Strings's strumming and mandolin licks from Walker. Billy Strings's virtuosic playing and powerful stage presence is best appreciated in person, where he visibly feeds off of the audience's energy. He and his band play with a sense of urgency indicative of a group at the height of their powers, and the elaborate lightshow visuals round out an excellently produced live experience.
Upcoming acts at the Anthem include John Fogerty, the Flaming Lips, Mastodon/Opeth, and CHVRCHES.
Set 1
White House Blues (Bill Monroe cover)
Hide And Seek
A Good Woman's Love (Bill Monroe cover)
Home of the Red Fox (Bill Emerson cover)
Must Be Seven
Watch It Fall
Red Daisy
Love & Regret
West Dakota Rose (Chris Henry cover)
This Heart of Mine (New Grass Revival cover)
Everything's the Same
Set 2
Pretty Daughter (Danny Barnes cover)
This Old World
The Train That Carried My Girl From Town (Doc Watson cover)
Black Mountain Rag (traditional cover)
Hellbender
Highway Hypnosis
So Many Miles
Running the Route
Long Forgotten Dream
Me and My Uncle (John Phillips cover)
The Old Home Place (The Dillards cover)
Meet Me at the Creek
Ride Me High (J.J. Cale cover)
Meet Me at the Creek (reprise)
Encore
Freedom

Alex May has been attending concerts in the DMV for his entire life. He was born and raised in Maryland, attended college and graduate school in Virginia, and lives in DC with his girlfriend and dog. He believes all music sounds best live, and he never misses a Sunday show.