Believe in Yourself Project boosts young women self esteem
Since the beginning of time society has always been a voice in what the perfect woman should look like.
Whether it's a socio-economic status, bodying shaming, or cyber bulling being a tween or teenage girl is a lot harder today, than when I was growing up. Young girls can easily lose their self-esteem when faced with certain negative adversities in their lives, that in today's society there aren't too many non-profit charity programs such as the 'Believe in Yourself Project' that focus on promoting positive self – image within young girls. '
Believe in Yourself Project is an American nonprofit charity organization whose mission and purpose is to give young women a self-worth and help rebuild their self -esteem. By implementing this mission it provides new, and unused designer dresses to young women who are unable to afford dresses to certain school functions, such as proms/homecomings, father and daughter dances, and weddings. For example just in November 2016 as the holidays were approaching many dresses were donated to the Boys and Girls Club of Washington DC.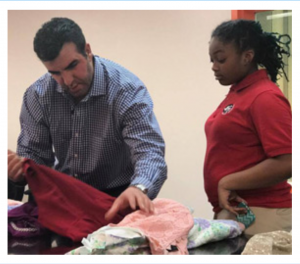 Founded by UsTrendy founder Sam Sisakhti, this Boston native was able to observe and focus on the epidemic in how cyber bullying, body shaming, and trying to fit in portrays a huge impact in many young women lives. It was during this observation Sam came up with the 'Believe in Yourself Project.' Realizing the type of innovator Sam is, his concept and mission is to help promote positive body image for underprivledged females starting at a very young age.
Some may ask who is Sam Sisakhti? Considered one of the Social Power Shakers under 30 by Boston Magazine, Sam Sisakhti is a 2007 graduate of Brandeis University. It was watching his friends who were struggling fashion designers that Sam founded his first business venture which happens to be the largest independent global market fashion site in the world
UsTrendy  allows aspiring fashion designers to upload their portfolio and sell their fashion on the website. Featured in Boston Magazine as one of the Most Promising innovator, Forbes, Vogue UK, as well as BizJournals.com, Stuff Magazine for Indie Fashion just to name a few, it is easy to tell that Sam is an entrepreneur on a huge mission and making a huge impact in society.
The goal of 'Believe in Yourself Project' as of December 31, 2016 is to be able to donate between 5000 to 10,000 dresses this year. Providing positive images and feedback for young women, Mr. Sisakhti has incorporated both UsTrendy and the Believe in Yourself Project to work hand in hand. By doing so it will allow independent designers to donate dresses to young females who are faced with adversity. With UsTrendy and the Believe in Yourself Project it is clearly easy to tell that Sam is an entrepreneur who really has a passion not just for fashion but helping people.

When it comes to fashion, fitness and fun, Maryland's hottest new go-to girl, is Alabama native, Christy Corley. Christy relocated to Maryland eight years ago, while working for a media marketing company for more than nine years. It was in her employment in media-client relations, she recognized her passion for writing. Likewise, as one of Nordstrom's former personal shoppers, Christy's talent for wardrobe selection made her a premiere and sought after stylist. Currently this mother of two, who works in the Occupational Therapy world, enjoys reading, running, traveling, and working out in her spare time. Her upcoming blogs on trends in the fashion industry, fitness tips, and fun are certainly what we can expect from Christy. Follow her on Twitter: @ccorley9606