Baltimore's Nickel Taphouse: Craft beers, oysters, mussels and Elvis flapjacks – What else could you ask for?
I might have written this before, but I do enjoy going to new restaurants.  And by new I mean ones I have yet to try.  That was the case recently as I ventured into the tony community of Mt. Washington to experience The Nickel Taphouse.
It opened in late 2013 and what I have heard about the place was that it was an immediate hit.  Not really surprising since the owner is Robbin Haas, who also owns the Birroteca restaurants in Belair and Hampden. In other words, the guy knows his way around a restaurant.
This one is open for dinner only during the week and does open for brunch, lunch and dinner on weekends.  I was there for brunch and observed diners around me enjoying the challah french toast, the bagel & lox, the Tower of Babel and the Elvis flapjacks.
The restaurant is definitely casual and I guess it really is a neighborhood place to go.  I know one thing, the bar area does a brisk business almost every night.  People also can partake in the weekday happy hour from 4 p.m.  to 7 p.m.
Restaurants always like to tell me reservations are a good idea, especially on weekends.  I imagine this is to give me the illusion their restaurant is crowded all the time.  In this case, I do think it's a good idea.  While I was having brunch I did notice many people in line.
Robbin told me the most popular items are the mussels, oysters, burgers and an entree called Beef on Weck.  This is roasted rare roast beef on a kaiser roll with caraway seeds topped with horseradish.  To satisfy that seafood craving the menu does offer a raw bar with oysters, lobster ceviche, tuna poke, salmon tartare and shrimp cocktail.
Care for a beer once in awhile?  Well then by all means come on in and enjoy one of the nearly 100 craft beers. I recommend Maryland based Evolution Craft brewing lot 3 or 6 or Primal Ale to pair with your meal and try their Rise Up Coffee Stout with dessert. Evolution also offers many seasonal options so be sure to ask your server for new recommendations.  Others include the Flying Dog Easy Flying Dog Easy, Ballast Point Grunion, Sixpoint Gorilla Warfare, Sixpoint Abigale and Left Hand Piercing Pils.  All are listed with their IBU (international bitter unit) listed.
Bottom line: Nickel Taphouse would be a good place for a fine meal.  And while there, check out the many Baltimore pictures decorating the walls. And by the way, there is valet parking on weekends.
The exact address is 1604 Kelly Avenue in Mt. Washington.  So when you're finished eating take a stroll and checkout the shops.  For more information call 443-869-6240 or go to nickeltaphouse.com.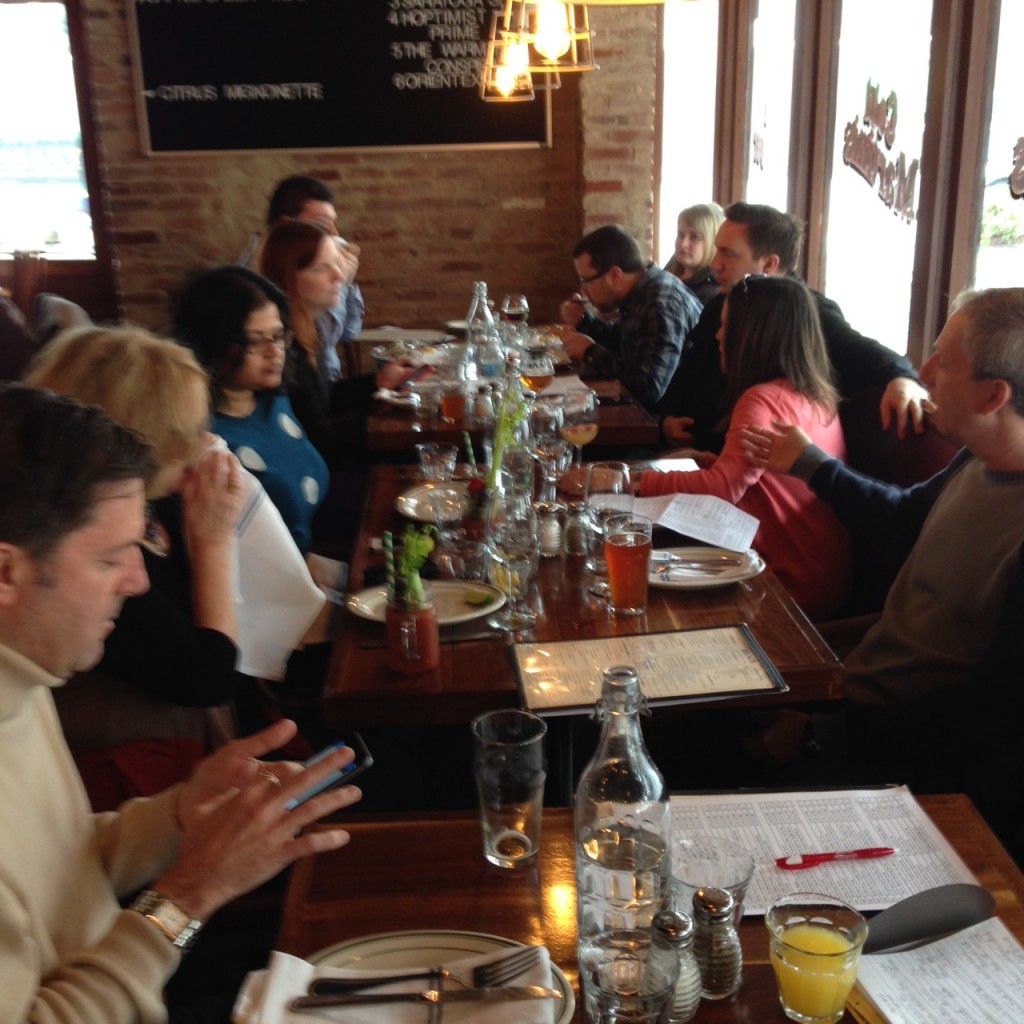 Eddie Applefeld is a Baltimore native and a graduate of Towson University. He has been in the broadcasting profession for over 30 years. Currently he is the Promotions Director of WCBM radio. Before that, he was part of the Rouse & Company show on WQSR, host of a cable TV show called Dining Out and adjunct instructor at Towson.
His past accomplishments include being named a finalist in Baltimore Tourism's Employee of the Year Program and winner of Toastmaster's Speaker of the Year contest. He was also twice a heartthrob for the American Heart Association's gala fund raiser.