Driving around the city and its neighboring suburbs I realized there are many attractions that most people don't know about.  So here I am to help correct that.
I'll begin this time with the Cylburn Arboretum, 4915 Greenspring Avenue, just off Northern parkway.  This is indeed an urban oasis just waiting for your visit.  It consists of about 200 acres, many of which are cultivated gardens.  There are over three and a half miles of walking trails.  I was surprised to learn there are also bike trails.  All this walking makes for excellent bird watching.  I saw some beautiful cardinals, blue jays and yes a hawk making lazy circles in the sky.
Baltimore City manages the park  and gets about 40,000 visitors a year.  But there should be more.  It is free and the location is good.  Begin your visit at the Vollmer Center, the first building you'll see.  Stop in and get a map, then simply start off in any direction.  Best to stay on the paths however.
Some of the staff are doing great work in water conservation and other things helpful to the environment.  Some of these areas however are off limits to the public, but very important none the less.  I was taken into one building with live fish.  I wish I could remember what this was all about, but it was good stuff.
One thing you cant miss is the Mansion.  This was many things along the way, one being a home to the Tyson family.  They made their fortune by the production and exporting of chrome.  Baltimore Chrome Works, which later began Allied Chemical, was opened in Fells Point in 1845.  In 1863 Jesse Tyson began construction of the mansion and it served as a summer home.  The home was put up for auction in 1942 and eventually bought by the city.
The park is open year round but summer hours are 8 to 8, closed Mondays.  Did I mention it's free.  For more information go to cylburn.org.  One final thought, this is an excellent place to simply relax.  Bring along a book, find a bench and let the world go by.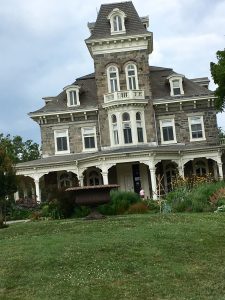 For my next stop I'm giving 10 to 1 odds you never heard of it. Let's bet on it.
It's Historic London Town and Gardens, 839 Londontown Road in Edgewater.  Not far off Solomons Island Road at Mayo.  This is basically a lost colonial town established around 1683.  At its height there were about 400 people here, most of them working class and servants.
There are two areas of interest.  The first is the gardens.  Here you can leisurely walk through them and enjoy the many plants, flowers and trees.  One of those is the Sound and Sensory Garden mainly for kids.  You can do yoga in the gardens in October and Living History weekends most 2nd Saturdays and Sundays.
The absolute peak time however is in the spring.  The trees are not the kind that show off their autumn foliage.  In the summer you'll find many educational programs for school age children.  There are 23 acres here, 12 of which are cultivated.  Before venturing out however stop by the Visitors Center for brochures and your ticket.
The second area is the Historic one.  Here are many reconstructed buildings that were there during the years London Town was a working colony.  You'll find a tobacco barn, a carpenter shop, the rope walk and the Lord Mayor's Tenement.
The largest house is the William Brown House, which served as his house and a tavern.  It is a Historic Landmark and was built between 1758 and 1764.  This is the original building.  Brown was a tavern keeper and a cabinet maker.  On one side of the house is a beautiful view of the South River.  Actually there are several locations within London Town that provides great views of the river.  You can imagine how important that river was for food.
Historic London Town is open Wednesday through Sunday from 10 to 4:30 with tours offered Wednesday through Friday from 10:30 to 11:30 and 1 to 2.  Adult admission is $12.00, seniors $10.00, children 7 to 17 $7.00. and from 4 to 6 $3.00.  You can reach them at 410-222-1919 or historiclondontown.org.  There is a pavilion for a social or business event.
Ok, did I win the bet?