Edinburgh, Scotland, August, 2018– The Baltimore Symphony Orchestra landed here with 6,800 pounds of brass and strings, woodwinds, harps, drums and a closet full of musical scores.
No music without instruments, of course. The players made their way singly and in small groups.
And there was yet another critical contingent.
Some thought of it as Team Baltimore, a highly motivated, 50-member cheering squad. Veteran concertgoers from Maryland arrived to  provide what musicians always insist is essential to their best performance:
There has to be audience.
No problem. Is the BSO the only major orchestra with a traveling audience?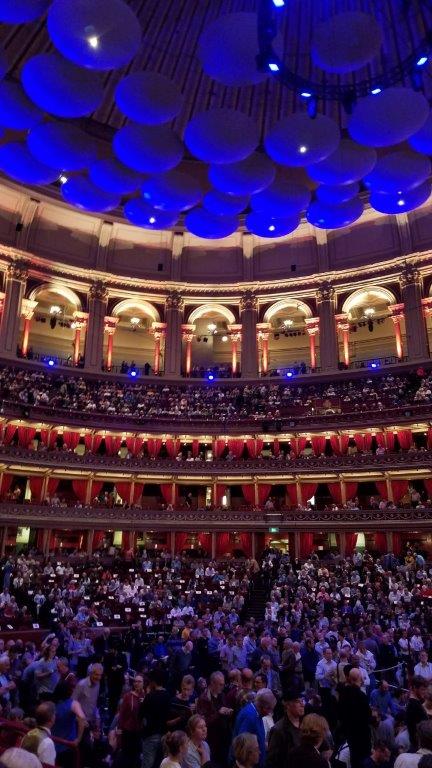 Maybe you think we weren't needed. Every hall was sold out in advance, even the 5,200-seat Royal Albert Hall in London.
But Baltimore Strong brought something unavailable in the UK. This group knew how to pronounce Baltimore – and how to say the O in BSO. Had to be comforting, right? (We paid our own way, btw.)
According to the plan, the whole contingent would move from Edinburgh (pronounced Ed'n-ber-a) to London and then Dublin. Our supremely proficient and adventurous musicians could have managed this schedule on their own. But we wanted to see them living up to their glowing advance notices.
We wanted these countries see Baltimore famous for something other than The Wire: a world class orchestra
The international tour was part of a summer-long salute to conductor/composer Leonard Bernstein, on the 100thanniversary of his birth. As we all knew, Maestra Marin Alsop earned her conducting chops with Bernstein as mentor.
In London, she would be taking her symphony to the Royal Albert, one of the world's most famous music venues. In all, Alsop had conducted there 13 times. She became the first female conductor to lead the last night of the Proms, London's annual eight-week summer orchestral season.
But this would be the orchestra's first visit – experienced players, rookies and patrons alike looked forward intently to that moment as the tour's high point.
The Proms' publicity team intensified the excitement.
"Marin Alsop returns to the Proms with one of the great American symphony orchestras to perform a programme that includes Shostakovich's Fifth Symphony alongside Bernstein's own Second Symphony."
All of this remained in the back of our minds as we began our pre-concert cultural and history tours in Edinburgh. (We had a full schedule of visits to distilleries, posh department stores and, in London, Churchill's underground war room
In Edinburgh, a sprightly-kilted guide, Ian MacDonald, regaled us with a time travel monologue. He introduced us to the fabled Edinburgh Castle. Perched imposingly on a rocky promontory, the fortress dates to the 12thcentury and earlier.
Sleep-deprived but game, we climbed toward the summit. We were a polite audience for the garrulous Ian until the Scottish constant – rain – drove us to shelter.
After lunch we walked down High Street to Holyrood Castle, Queen Elizabeth's local quarters, passing the Scots' relatively new parliament building; carved into an outer wall was the whimsical assertion that, were there ballads enough, there would be no need for laws. (Apparently, the Scotts are still working on that one…)
A good night's sleep got us ready for more cultural exposure.
With Ian declaiming, we rode to Rosslyn Chapel, crown jewel of Roslin, a town built to house the masons who built the chapel in 1446. These men were sculptors, creating what one admirer called "music carved in stone." A minstrel in priestly costume played outside on a dozen stringed instruments.
After a rest and dinner, we walked proudly to Usher Hall for the first of our BSO's four concerts.  Something about the first notes   brought a tear to the eye of several in our company. These were our players. We knew many of them personally. We knew of their devotion to craft and music — and to us. And now a wider world would know.
The next day, off to London. We stopped first at the famous Fortnum & Mason department store, founded 1707, for tea. The name came from two royal workers, who left Queen Mary's employ to find their fortune. They sold groceries to start. Let it be said simply that the provender has since been upwardly diversified.
Tea, we heard from Jose', our server, has been making a comeback. (We thought tea had been holding its own.) Many more of work-a-day people do tea now at upwards of $75 a person from 11am to 7pm every day.
That evening, off to Queen Victoria's shrine to her husband, Albert, who died in his forties. She never seemed to accept the fact, laying out his clothes every day for the rest of her life (or perhaps having one of the servants do the honor,)
Albert's wondrous venue seats 5,200 (not including those in a  mosh pit near the stage). Inside, one stares up transfixed. The royal blue bubbled ceiling imposes as if it were an attempt to improve on the real thing. A hundred or so entrance ways on the many floors are outlined top and side in royal red light. Shimmering bands of colorful, flowing, shawl-like accents lay along an open area behind the stage.
The BSO and Team Baltimore gawked and smiled to themselves. Were we really here?  Like being inside a grand indoor coliseum. Nothing overhyped here. Several players – a cellist, a pianist, a contra-bassoonist, others — came out early to take it all in and to be photographed.
They played exceedingly well, of course. After an encore, Maestra Alsop was handed a selfie stick. She arranged a shot of herself and the applauding crowd. Then she did the same with herself and her players. This may have set yet another record for Alsop. Name another conductor who would dare to take selfies from the rostrum at Royal Albert.
We Baltimoreans stood to show, once again, that we were there – Baltimore Strong! (The Brits, we learned, don't usually stand to applaud. Two hundred or so did in this case because they were in that standing-room-only pit in front of the stage.)
After another bravura performance in writer-rich Dublin, Team BSO headed home, mission more than accomplished.