Baltimore Firefighters, Families Honored in NFFF Tribute at Dover Motor Speedway
DOVER, DE. – In winning the pole position in the final qualifying round for last Sunday's NASCAR race at the Dover Motor Speedway, Chris Buescher cranked his Ford Mustang up to a blistering 160.149 MPH. That's considerably faster than the top end for a diesel-powered fire truck. But on Sunday, the slower pace of fire apparatus was perfectly fine for the three Baltimore families whose heroes made the ultimate sacrifice while fighting a two-alarm fire last winter on South Stricker Street.
The pace was also perfect for the loved ones of a Clayton, Delaware Fire Chief; and for the parents of a fallen firefighter from Mt. Holly Springs, Pennsylvania.
Lt. Paul Butrim, firefighter/paramedic Kelsey Sadler, and EMT/firefighter Kenny Lacayo of the Baltimore City Fire Dept. were all killed in the collapse of a rowhouse during a Jan. 24 blaze.
Volunteer Fire Chief John Pridemore was injured and later died in March of this year, after a 25-foot fall from a scissor lift.
Firefighter Jerome Guise lost his life, when the front porch of a house collapsed on top of him while battling a fire in March 2020.
The connection of heroes Butrim, Sadler, Lacayo, Pridemore, and Guise to Dover Motor Speedway is an annual memorial lap around the track – aboard fire trucks – for the families of recently deceased first responders.
The memorial ride – which is coordinated by the Emmitsburg, Maryland-based National Fallen Firefighters Foundation (NFFF) – preceded the NASCAR Cup Series DuraMAX Drydene 400.
Sunday's 400-mile contest was the first full-fan-capacity-allowed NASCAR race since October 2019. Proceeds from special tickets for the race support the mission of the NFFF.
"Our mission is to honor and remember America's fallen fire heroes, to provide resources to assist their families in rebuilding their lives, and work within the Fire Service Community to reduce firefighter deaths and injuries." (NFFF Misson Statement)
Bill Hinton – Program Manager for the NFFF – started volunteering for the foundation in 2001.
"The non-profit National Fallen Firefighters Foundation was created by Congress in 1992 to honor all firefighters that are killed in the line of duty, and then assist their families in rebuilding their lives," explained Hinton.
The Foundation receives funding through private donations from caring individuals, organizations, corporations, and foundations.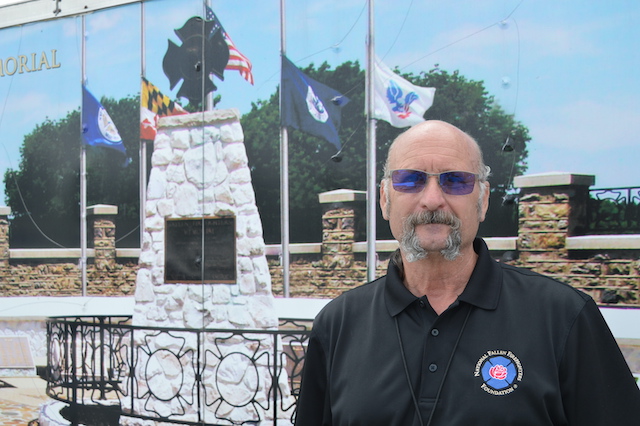 Hinton told us about 100 American firefighters die in the line of duty every year.
"What's going to happen today here at Dover is that photos of those three firefighters from Baltimore City and the chief from Clayton will be on the Jumbotron. And there's a pre-race lap where the families of those deceased firefighters will do a lap around the track on fire trucks. They've all just arrived, and I can tell you they are extremely excited about this event.
"They're so happy that we're here supporting them and remembering their fallen firefighter," said Hinton. "We've been doing Dover's race for the last 13 years, and the Dover Speedway has been very generous over that time."
Local fire companies have also been generous with their time and equipment throughout the years, supplying apparatus for static displays and demonstrations, as well as supplying the trucks for the memorial lap.
For this year's NFFF event, there was an array of fire and rescue equipment from Dover companies on display in the Fan Zone.
For the memorial lap, the apparatus hailed from:
Station 82 – Lewes, DE. Fire Dept.
Engine 78-4 from Station 78 – Greenwood, DE.
Engine 12 from North Beach in Calvert Co., MD.
Rescue 45 from the Clayton, DE. Fire Co. No.1 Inc.
The Delaware State Fire School.
Engine 201 – a now-restored donation to the NFFF from the Marlboro Vol. Fire Dept. – was also on call to lead the memorial lap.
Hinton suggested that those who would like to pay tribute to fallen firefighters – but were unable to attend the race – consider making a visit to bucolic Emmitsburg, MD.
"It's beautiful drive from Baltimore, and you can see the memorial on the campus of The National Fire Academy."
* * * * *
Robert McCurdy – a retired lieutenant from the Baltimore City Fire Department – spent 31 years fighting fires. Last Sunday, he answered another call to honor his fallen comrades with the piping of Amazing Grace.
"This means a lot to me, especially this year," explained McCurdy, who was appearing at Dover with the The Delaware Pipes and Drums band. "I've been representing the Baltimore City Fire Department for 16-17 years now, as a piper as part of their honor guard. And I've been involved with the (NFFF) foundation for almost as long.
"I've come up with this event before, but for me personally, it's more important that I'm honoring these three heroes we lost on Stricker Street back in January – Kelsey, Kenny, and Paul. Kelsey's brother-in-law was actually a piper in the band I used to belong to, so I've known them (Kelsey and Todd Marino) for quite a while.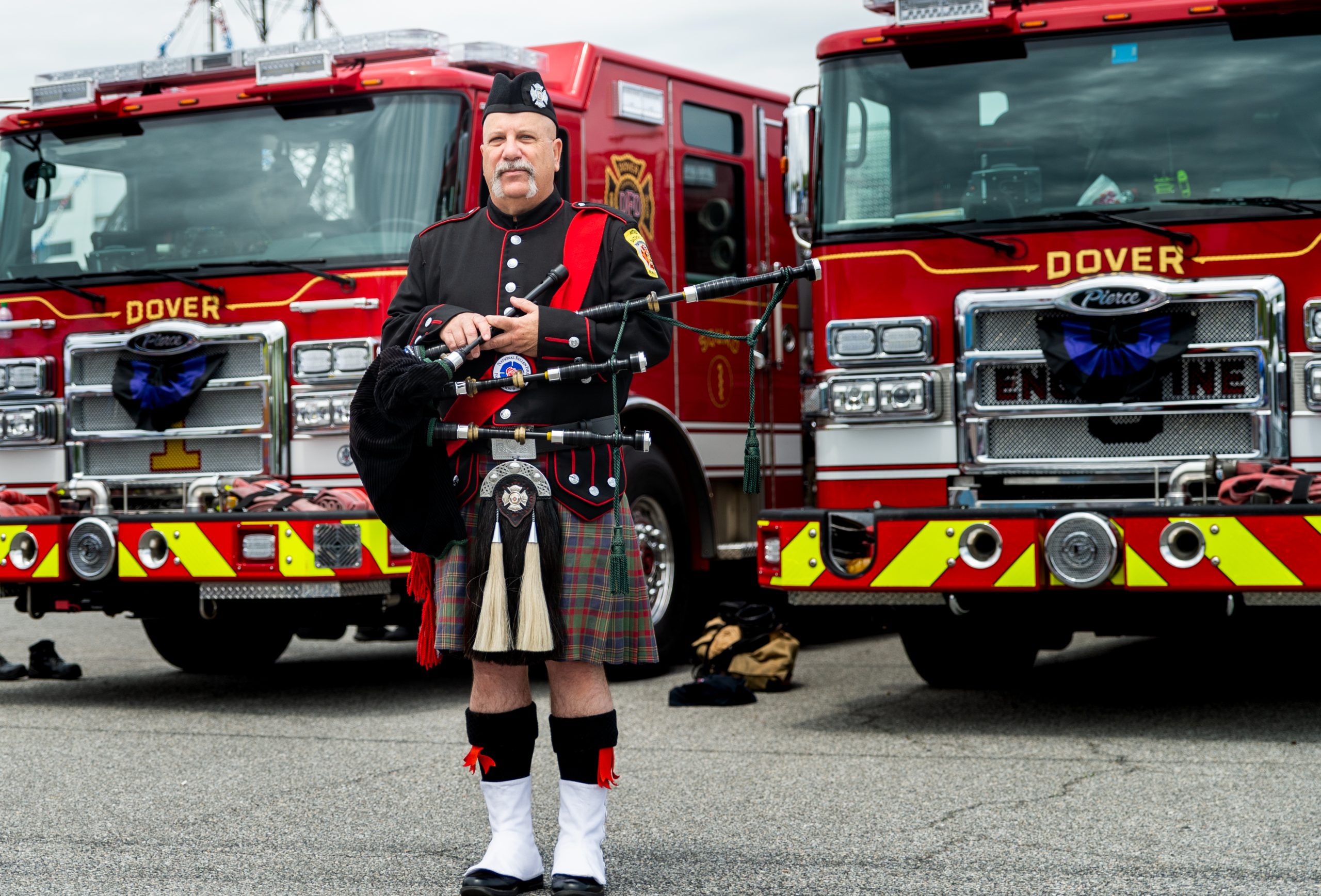 * * * * *
Firefighter Jerome Guise of Mt. Holly, PA. was not officially memorialized this past Sunday, since his untimely death occurred two years ago and a memorial service was held during the pandemic. Still, his proud parents were on hand at the NFFF tent to lend some support to the special guests, and father Randy Guise shared his beloved son's story.
"Jerome was a member of the Citizens Fire Company of Mount Holly Springs. He was a live-in volunteer at Station 2, which is in Boiling Springs, Pennsylvania. They were literally just a mile away from the fire when the alarm went out, so they were first on the scene. When they arrived, the house was well-involved. There was a lady trapped in the house. Jerome was on the porch, cooling everything down, because the lady was just above him on the stairs, and the porch roof collapsed on him.
"That's when the mayday went out.
"Admittedly, they had him out as fast as they could, but it was just too much.
"It was just too much.
"Jerome was a 17 year veteran.
"He was 34 years old.
"He's been in the fire department since he was old enough (to join). He was fourth generation. My grandfather, my father, both my brothers and I, and then Jerome. And his daughter just joined. There's a fifth generation."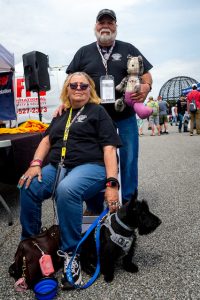 In the aftermath of his son's sudden death, Randy Guise said that he and his wife have experienced nothing but kindness from the greater firefighting community.
"It's so hard to even express how grateful we are. Everybody has been so wonderful, from the local fire department to the National Fallen Firefighters Foundation. What they've done for us – even the quiet ceremony at Emmitsburg – was just so phenomenal.
"We are gonna go back there again, and we're gonna volunteer to try and help them out. But I don't want my story to take anything away from the folks here from Baltimore. We felt so much for the Baltimore Fire Department with what they're going through. So we want everyone in Baltimore to know they're in our thoughts and prayers."
Randy added that an upcoming sprint race (June 11) at the Lincoln Speedway in Hanover will honor Jerome Guise and another fallen firefighter from Pennsylvania – Brandon Little.
"It'll be the Guise-Little Memorial on June 11. I don't want to plug it too much, but we want everybody to know because it also benefits The National Firefighters Foundation."
*  *  *  *  *
Our Fan Zone interviews completed, we joined the pipers, the families, and invited guests of the NFFF for the short walk from the south-western side of the Dover Speedway to the infield of the track. There, wistful family members of the fallen firefighters were escorted to a sequestered staging area, where they boarded the gleaming engines for their one mile long memorial lap.
Those guests who remained gathered around the portable platform situated at the finish line.
Prior to the memorial lap, Michael Tatoian – President and General manager of Dover Motor Speedway – presented Bill Hinton with a "Thank You" check made payable to the NFFF for $46,570.
The check's memo simply noted: 13 Years – $1.1 Million!
Chris Buescher's Ford Mustang was clocked at a blistering 160 MPH as he nabbed the pole position for last Sunday's race at Dover. But from this reporter's perch near the pits, it appeared that the biggest cheers from the crowd were for six fire trucks that circled the track at 20 MPH.
© Copyright 2022 Baltimore Post-Examiner. All Rights Reserved

Anthony C. Hayes is an actor, author, raconteur, rapscallion and bon vivant. A one-time newsboy for the Evening Sun and professional presence at the Washington Herald, Tony's poetry, photography, humor, and prose have also been featured in Smile, Hon, You're in Baltimore!, Destination Maryland, Magic Octopus Magazine, Los Angeles Post-Examiner, Voice of Baltimore, SmartCEO, Alvarez Fiction, and Tales of Blood and Roses. If you notice that his work has been purloined, please let him know. As the Good Book says, "Thou shalt not steal."