Mass-casualty exercise equips first responders for emergency events
A Pimlico Race Course security officer stops to help the victim of a mock mass-casualty exercise. (Anthony C. Hayes)
BALTIMORE, MD: In an era where classrooms, churches, and concert venues can no longer be considered completely safe, it behooves all of us to keep a watchful eye out – and prepare for the worst. This is especially true for police officers and medical personnel. Knowing this reality, preparation was the goal of about a dozen local private and governmental entities that took part in yesterday's full scale mass-casualty exercise at the Pimlico Race Course.
The exercise, organized by Sinai Hospital, in cooperation with the track and local police and fire departments, offered first responders the opportunity to enter the scene of a mock mass-casualty event. Once on the ground, their skills were put to the test, as they encountered nearly 100 "injured" volunteer actors with an assortment of bloody stage-makeup wounds – desperately crying for help.
Martha Hill – Emergency Preparadeness Coordinator for Sinai Hospital – said the exercise has been in the works for about six months.
"It is a collaboration between the Baltimore City Fire Department, Baltimore County Fire Department, and several private agencies, organizations, local businesses and law enforcement agencies. We come together to leverage our training exercises to get some practice on how we would work together in a large scale event.
"This event is based on a mass-casualty incident. So we chose a large venue that would (host) a large number of people. For this particular exercise, we chose a dance festival theme with thousands of people in attendance just blocks away from a trauma center. The scenarios involve two disgruntled employees who come back. One of them takes a van and rams the crowd. The second would be an active shooter firing while people try to escape. The police have to respond and negotiate a safe (path) for the medical responders to commence life-saving procedures."
Police and paramedics were already awaiting a signal to go when the exercise started with a bang at 9 a.m. But for accuracy's sake, Pimlico Race Course security personnel were the first to enter the scene.
On any normal spring day at Pimlico, the cries in the air are for a favorite horse. But today, Old Hilltop reverberated with desperate cries for help.
"There's a man with a gun over there!!!"
"I have terrible pain in my chest!!!"
"Where are my kids? Where are my kids?"
"Please help my friend. She was shot in the head, but she's still alive."
As in any real-life mass-casualty attack, the security officers were quickly overwhelmed. Dazed victims pulled them in different directions, even as they tried to help people laying on the ground. In one instance, the officers encountered a desperate family argument, as a father screamed "My daughter can't breathe," while she replied, "I can breathe – help my dad. He's confused."
The police soon followed, but they too were forced to work outside of their comfort zone. Some spread out to man the perimeter, while others gently tended to the writhing wounded. Medics arrived and set to work under the direction of the police. For all they knew, there could still be a deranged individual ready to open fire on the emergency teams.
To the casual observer, it was difficult to see any major faux-pas with the actions of the first responders. But seasoned evaluators were quick to step in and offer guidance where they thought an action could have been executed better. A small all-terrain truck, for example, was a great way to evacuate the wounded. But moving a woman, who was still somewhat mobile, into the seat next to the driver cleared a much-needed place in the truck's bed for a severely injured man on a stretcher.
We asked Hill if she sees this sort of exercise becoming an annual event?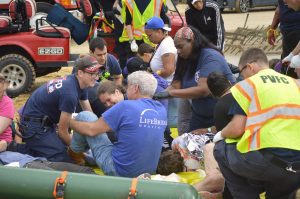 "We would love to do this annually, but this is a huge undertaking, so it's not likely to happen as an annual event. But we'll do some smaller exercises in between which will focus on the specific lessons we have learned from this exercise. Any gaps that we identify will be addressed over the next year or so, and then we'll come together again in a few years – specifically looking at any changes that we've made to see if there is an improvement."
Captain Scott Goldstein of the Pikesville Volunteer Fire Company explained the protocol for the first responders.
"Today we're running a multi-jurisdictional drill simulating a mass-casualty incident. We're coming in here assessing, triaging and transporting patients to Sinai Hospital, as we would in a normal live-fire scenario.
"In order to give a more realistic simulation, we went out of our way to have lots of (stage) blood and other life-like effects. When providers see this, it steps up their adrenaline; it steps up their level of decision making. It really throws them off a bit, so it's our goal to build muscle memory and throw as much realism into this as we can so they walk away with something useful."
With dozens of blood-drenched actors moaning off to our right, I asked Goldstein how he thought the exercise was going?
"It's running exactly the way it is supposed to. Absolute chaos and pandemonium until we get enough people here to make organization out of it. Now we're gonna bring our half (the victims in ambulances) over to Sinai Hospital and see what they do with it."
Having personally visited the Sinai emergency room on more than one occasion, I wondered how many patients the hospital could handle had this been an actual emergency?
"I'd rather refer that question to them, but I can tell you, in a scenario like this, I would not take any patients to Sinai, knowing that they would get overwhelmed by the walk-in injured. We would actually have our patients transported to other area hospitals depending on the priority. That's part of a pre-determined plan of how we operate."
In the triage area, situated near Pimlico's northernmost gates, medical teams applied bandages to gaping wounds while questioning the actor/patients about their injuries. Assessing priorities, some immobile patients were laid on backboard stretchers and then placed in compartments aboard an emergency service bus from Anne Arundel County.
"Anne Arundel and Howard County both operate mass-casualty buses – ambulance buses," explained Goldstein. "They can carry thirty patients at a time on backboards, so we are able to transport a large number of critically injured patients very quickly."
Goldstein said that, in addition to the emergency services bus and the assorted ambulances on site, fire officials could call on the MTA. Transit buses could then be used to take some of the less critically injured patients to area hospitals.
An hour into the exercise, the Pimlico infield had been successfully cleared. The most critically injured were on their way to Sinai Hospital. But a few actors remained to take part in an unscheduled exercise which paired paramilitary police officers with a smal group of body armor-clad medics.
"We're just going to do a walk-thru of our rapid deployment team which works to put fire and police together to enter what we call a warm zone," said Event Evaluator Dan Uddeme. "(This is) where we have an active threat which may have emerged or be in a different area of the building. We're going to use the (Pimlico infield) tunnel to treat victims and stop the bleeding before they hemorrhage out. EMS personnel are going to enter with ballistic vests and other protection, and they will go in with a police escort."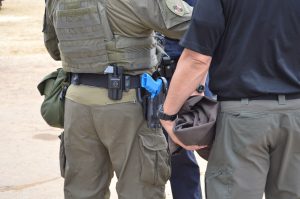 Once the actors were in place, two phantom-rifle-toting officers in olive drab fatigues carefully walked the length of the tunnel to secure the area for the medical teams. Hand signals were used to beckon a cluster of black-helmeted medics and their ever-vigilant police escorts.
Carting out the wounded, the rapid deployment teams repaired to the parking lot triage area. In their wake, they left behind pools of gooey stage blood and two inflatable fatalities.
Post-exercise observations amongst the first responders were openly shared with the event evaluators. One policeman expressed concern about tending to the gravely wounded when they are not medically trained for such an event.
"You guys shouldn't have to touch a single person," said Goldstein. "If this goes the way it's supposed to, you guys set up a 360-degree perimeter and tell me when it's safe. I bring my (medical) team in behind you. I then gather my people at a collection point, and you guys escort us out. So you guys shouldn't be involved in patient care unless we find a weapon on somebody. But otherwise, we should just be in there to apply a tourniquet, chest seal and then drag them out. That's the concept we are trying to put in place. You guys have your hands full already."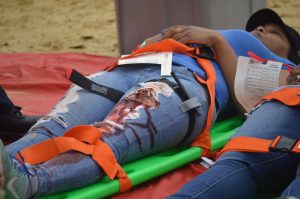 But what of the wounded? For two-plus hours the volunteer actors had played their parts to the hilt. Their final instructions were in creative ways to remove the stubborn stage makeup.
"They had us come in and put fake injuries on us and sent us out into Pimlico, said Nadia Nehme. "They simulated the disaster events and had the EMTs come in afterward and triage and treat us as if it were real. I didn't have a bad injury, so they treated me (on the infield). But my friend was badly injured, so they had me help walk her out to the triage area. While I was there, they had me help other people."
The syrupy stage blood notwithstanding, Nehme said she impressed with what she saw in the attention to detail offered by the first responders.
"I'm in the medical field. I'm a scientist in a microbiology lab. With what I do, I never see the patients, so it was cool to see the patient care side of it."
Was she scared?
"No, actually it was a good experience. Stuff happens all of the time, so it was cool to see how (the response) works. If it were to happen, you'd already know what the plan is in a sense, so I did like that part."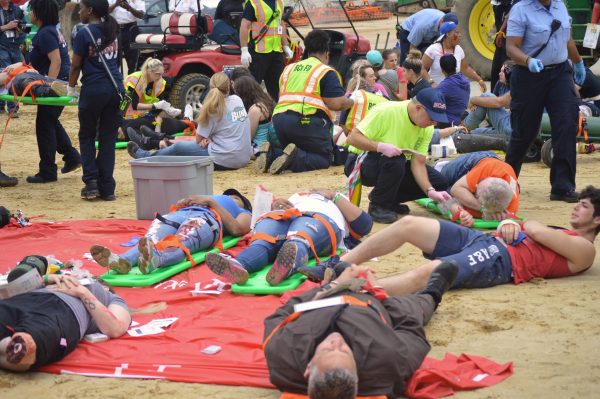 Anthony C. Hayes is an actor, author, raconteur, rapscallion and bon vivant. A one-time newsboy for the Evening Sun and professional presence at the Washington Herald, Tony's poetry, photography, humor, and prose have also been featured in Smile, Hon, You're in Baltimore!, Destination Maryland, Magic Octopus Magazine, Los Angeles Post-Examiner, Voice of Baltimore, SmartCEO, Alvarez Fiction, and Tales of Blood and Roses. If you notice that his work has been purloined, please let him know. As the Good Book says, "Thou shalt not steal."