Atomic Era Jazz Cocktail Party mushrooms over Maryland Historical Society
Atomic era hats once owned by Congresswoman Helen Delich Bentley. (Anthony C. Hayes)
When America dropped the atomic bombs which effectively ended World War II, no one could have predicted that pop culture, entertainment and style would soon reverberate with its own earth-shattering explosion – a societal shift remembered today as the Atomic Era. Gone was the Great Depression and the rationing necessitated by the war. In was French fashion, cars with fins, tiki bars, beatniks and bebop. Also in was lilting lounge music and cocktail parties where mellow jazz set the mood.
On May 19, The Young Defenders of the Maryland Historical Society will be celebrating the more entertaining parts of the ever-expanding nuclear equation, with an Atomic Era Jazz Cocktail Party. The party will be held in the garden of the Maryland Historical Society at 201 West Monument Street in Baltimore.
Baltimoreans love to dress up, but not every woman in Charm City has a closet full of flowing Grace Kelly gowns. For that matter, how many men are set with the swagger of a Frank Sinatra, or prepared to pull off the rockabilly or beatnik look?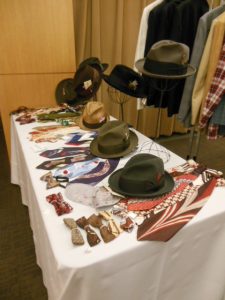 To ready party-goers for a pleasant cruise about town in a pristine Packard Patrician, the society hosted a pop-up vintage trunk show last Wednesday night. The show featured a flea market full of clothing and accessories culled from attics far and wide, along with an informative lecture on Atomic Age fashion, by Alexandra Deutsch – Chief Curator of the Maryland Historical Society (MHS). There was also a silent auction of vintage hats, courtesy of the Honorable Helen Delich Bentley. The society will unveil a new exhibit honoring the remarkable legacy of Mrs. Bentley in June of this year.
Laura Rodini, Marketing Director for the MHS, told the Baltimore Post-Examiner the society is becoming known as a great destination for vintage finds.
"This is the second trunk show we've had this year, and tonight's theme is the 1950s. We're hoping people will go shopping, support great causes, find cool clothes to wear, and then come back for our Jazz Cocktail Party on May 19. Baltimore Jazz pianist Lafayette Gilchrist will be playing for the event. We'll also be giving people a sneak peek at one of the Eubie Blake practice pianos we've just received."
We asked Rodini if the Atomic Age Jazz Party was an outgrowth of the Young Defenders' recent WWII-themed event?
"Yes, that was in a similar vein to our upcoming Atomic Jazz party. We know there are a lot of people who are interested in our fashion collection and we thought, 'Why not have an interactive component?'. We used to have an annual antique show which was extremely popular. We're hoping to revive that tradition with these pop-up parties once a season and get more people to visit the museum.
"Our 1940s WWII-themed show a few months ago featured a gala 'Victory Bash' at the Masonic Temple. That did very well, with almost 400 people in attendance. We're hoping this is a new tradition for us, and we'll be having more events such as these.
"Our vintage dealers tell us they have tons of clothing and accessories from the 1980s, so that could be in the works. And our curator is especially interested in the 1970s. Maybe we'll feature each decade and just go through the rotation."
Walking around an exhibition space teeming with excited shoppers was somewhat reminiscent of Jack Benny's Christmas shopping trip to a department store. Racks of vintage clothing were interspersed between tables of hats, hand bags and stilettos. Here and there were displays of girdles, garter belts, stockings, cuff links and colorful ties.
Clothing dealers included:
> Luna Blue Vintage
> Retropolitan Fine Antiques & Vintage
> Tea Street Vintage
> The Johns Hopkins Women's Board, with selections of their 1950s clothing from the Semi-Annual Best Dressed Sale
Vendor Cindi Ryland of Retropolitan Fine Antiques & Vintage told one curious customer that a tie he admired was designed by the legendary Don Loper.
"Don Loper was a Hollywood costumer and a necktie designer. He designed many of the things you see Lucille Ball and Desi Arnez wear in 'I Love Lucy'. He even appeared in an episode of I Love Lucy (aptly titled, "The Fashion Show")."
Ryland turned to her crowded clothing racks to show this reporter one of Loper's stylish dresses, but it was gone – carried off, we suspected, to the dressing room by a savvy customer.
Curator Alexandra Deutsch assured potential customers, "Everything on the floor of our pop-up is period correct. Buyers don't have to wonder if their purchase is right for the time they want to portray. It's a great opportunity to buy."
Deutsch opened her Atomic Era fashion primer by splitting the nucleus of the decades most noted designers.
"1947 was a landmark year for fashion, as the designs of Christian Dior ushered in what became known as the 'New Look'. The world was coming out of the war, where everything including fabric was rationed. Christian Dior's collection burst upon the scene, and it was all about excess. The most luxurious fabrics; the biggest skirts. It was a return to opulence and a turning away from the deprivation of the war. Voluminous skirts with the nipped waists; this new look just seizes fashion. Women today who are wearing that style are actually showcasing the New Look.
"Shortly after that, Coco Chanel, who had been hiding out in Switzerland during the war, reemerged. Coco absolutely hates Christian Dior because prior to the war, she had ruled couture. Her look was always the revolutionary look. Coco scorned Dior's designs as clothes, 'Made by a man who doesn't know women, never had one, and dreams of being one.'
"Coco planned her return in 1954, not only by holding a show where the old House of Chanel was, but by negotiating to have knock-offs of her designs, along with a full retail line, pour into the American market. This was genius. While the Parisians scorned what she is doing, the Americans absolutely eat it up. If you don't like the full skirted look of Dior which lasts well into the 1950s, you can do the antitheses of that and go with Chanel.
"The sleek lines of Chanel would come to dominate the rest of the decade and even influenced men's fashion. Chanel did not believe in the foundation garments, which she said just tortured women. Instead, she believed in no food, lots of cigarettes and drinking champagne. If that's all you're consuming, you don't really need a girdle. The interesting thing about Chanel was she didn't care that her designs were being knocked-off. She loved the mass distribution of her look, because she was the ultimate egomaniac."
Deutsch rounded out her brief history of the pace-setting designers with a few words about Marylander Claire McCardell.
"Claire McCardell was a revolutionary in fashion. She did things that no one was doing in the 30s and 40s. She looked at clothing from, 'How does it feel on your body? How do you live in these garments?'. Her classic quote is, 'I always designed the things I needed for myself. It turns out, other people needed them too.' In 1940 she designed something called the pop over dress which gives rise to the shirtwaist dress. They are easy to wear, lightweight cotton designs. These are dresses that many women would do housework in in the 1950s and yet still looking elegant. And that was the concept behind the designs of Claire McCardell. She became the ultimate American designer – so much so that, in 1955, a year after Coco Chanel comes back on the scene, Claire McCardell is on the cover of Time Magazine."
"This was a wonderful era, and it's one us modern ladies can embrace, because it was a time when hips and actual figures were celebrated in clothing."
Deutsch quickly touched on the beatnik look as sometimes expressed in the wear of Audrey Hepburn and Elvis Presley.  Black berets and horizontal striped shirts are considered synonymous with the beats, though the real look is best remembered today by Bob Denver's characterization of the disheveled Maynard G. Krebs on the 50s sit-com Dobie Gillis.
Deutsch also stressed the importance of foundation garments in ladies fashion. "Trust me – they will change your life."
A girdle may change a woman's life, but not nearly as much the reality of the changes in sizing since the Atomic Era. Addressing these vanity inspired variations, the curator noted that a 1950s size 12 may be today's size 4. "Don't be discouraged," she said. "Look at the clothing and not just the size. The tailoring is beautiful and the clothes from that era are very well made – certainly better than anything that is made today."
For the gentleman, the changes were more subtle but no less important. Deutsch said the early 50s were somewhat somber with greys and browns dominating men's clothing. Hats were still in and they covered a crown of slicked back hair. Dress jackets would become less boxy, as the decade progressed, but a suit was still the mainstay for cocktail wear. (Unfortunately, suits would eventually give way to more casual sports wear.)
Duetsch concluded her presentation by pointing out a display of hats once owned by Helen Bentley.
"Helen asserted herself in what was traditionally a man's world, and she believed that hats conveyed power; that they made people pay attention to her. Given the tremendous success she had over a very long, distinguished career, it would be hard to argue that point."
* * * * *
The Young Defenders of the Maryland Historical Society will host their first ever Jazz Cocktail Party on Thursday, May 19 from 6:30-9:00 PM in the Monument Street Garden of the Maryland Historical Society. The MHS is located at 201 West Monument Street, Baltimore, MD 21201.
Immerse yourself in the era of the smoky jazz joint with vintage cocktails and the smooth sounds of Lafayette Gilchrist. Dress in 1950s inspired attire for the possibility to win fabulous vintage prizes. A preview of newly acquired Eubie Blake materials will be on display this evening, including his practice piano. Lite fare and vintage cocktails will be served. Tickets: $30/members; $35/nonmembers. Registration is encouraged. To reserve your space please call 410-685-3750 x399 or visit www.mdhs.org/events.

Anthony C. Hayes is an actor, author, raconteur, rapscallion and bon vivant. A one-time newsboy for the Evening Sun and professional presence at the Washington Herald, Tony's poetry, photography, humor, and prose have also been featured in Smile, Hon, You're in Baltimore!, Destination Maryland, Magic Octopus Magazine, Los Angeles Post-Examiner, Voice of Baltimore, SmartCEO, Alvarez Fiction, and Tales of Blood and Roses. If you notice that his work has been purloined, please let him know. As the Good Book says, "Thou shalt not steal."