An influencer on a quest to make everyone medicine friendly, Doctor Ethan
Very few people would proactively want to visit a hospital. The mere thought of visiting one can send shivers down the spines. Though we are grateful to have access to modernized hospitals, amenities, and medicine, we have been conditioned to harbor a certain degree of aversion towards doctors and hospitals. Ethan Smallwood, a brilliant medical student, soon to be doctor, and a medical influencer has made it his mission to help bring about a change in people's mindset and help them become more medicine friendly.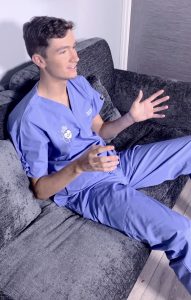 Though Ethan is merely 21 years old, he has amassed over 100k followers online with his strong presence on various social media platforms, especially Instagram. His burning desire as a medical influencer is to leverage his online reach to make medicine less intimidating for both medical students and regular people. To help take things to the next level, 'Doctor Ethan' will be launching his YouTube channel, where he aims to share his journey, experiences, and insights about life in the medical field. The point is to help spread awareness by making the topic fun and approachable, while also dismissing the myths and baseless notions often associated with medicine. Ethan explained further, "I want to share my journey with the world and help them understand how truly amazing the medical field is. Not only are there innumerable options for aspiring students, but there are also so many ground-breaking discoveries in medicine, which can potentially change the way we live, forever."
Whether it's an aspiring medical student or a potential patient, medicine as a field has always been a very sensitive topic. While there are many patients who would much rather choose to postpone a vital surgery, there are also those who decide against pursuing medicine because they feel it is too difficult. It is precisely this unwarranted fear that the young medical student wishes to address.
Ethan Smallwood is slated to complete his medical degree in 2021, from Nottingham University in the UK (BMBS – Bachelor of Medicine Bachelor of Surgery). He has already made waves in his early years, having won two scholarships to attend Solihull School, one of the top independent schools in the UK. When asked what made him choose medicine, Ethan said, "I've always excelled at sciences and been fascinated by how complex the human body is. Furthermore, becoming a doctor is such a rewarding profession. I am privileged to do my part in helping vulnerable and sick patients to improve their quality of life."
When Ethan is not busy studying, he does his best to reach out to people through Facebook and Instagram to help alleviate their misconceptions and foster an interest in medicine. Drawing inspiration from the likes of Doctor Mike, he is confident that he will be able to help make medicine popular, interactive, and interesting to one and all. Doctor Ethan looks forward to commencing his own practice in 2021, and until then, he will continue to strive to help people realize the true allure of the wondrous field called medicine.