Abby Roberge: Why Are Fans Wild About Him?
He's a Down to Earth and Chill Guy
Abby connects with the average citizen. Thanks to his Canadian roots and later immersion in the US society, he has an easy-going down to earth style which makes his brand of humor relatable to pretty much everyone. Having grown up in what he confesses to be a 'hippie-style commune in Vancouver BC Canada, Roberge knows what it is like to exist in a simple and group-oriented setting, something he isn't afraid to poke fun at during his shows. His foray into the westernized world of California USA also helped him to develop observe and poke fun at attitudes and norms in this other world. And the fact that he has experienced these two worlds first-hand helps with his frank and hilarious depiction of them without coming off as offensive.
He is Freakin' Hillarious
Nothing beats raw talent that has been honed to perfection and that is exactly what Roberge has. When he gets up on stage he is completely at home and the audience is able to feel his energy instantaneously.  And because he delivers with such ease his jokes aren't forced, which makes his brand of humor even more appealing to all. Each Abby Roberge joke packs a powerfully hilarious punch that sends audiences reeling and keeling over in laughter. His delivery is simply superb with the perfect facial expressions and gestures to complement and enhance the jokes he delivers. It is no wonder he has such a huge and rapidly growing following.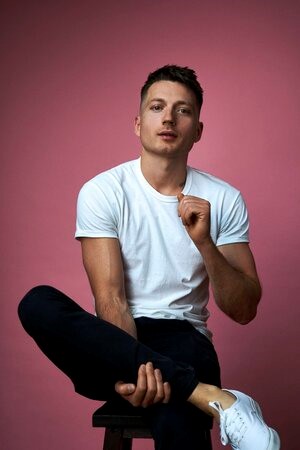 He is Flexible
Roberge is the epitome of the ideal modern entertainer. He delivers his hilarious jokes and entertaining performances through various media proving that he is flexible and adaptable. Fans appreciate him because he uses multiple avenues to reach them.
He is able to fit into traditional spheres as the packed venues at which he has presented live performances reveal. Roberge has kept audiences howling in laughter at The Laugh Factory as well as the Comedy Club.  Additionally, he has shared the comedy stage with industry legends such as Bill Birr, Russell Peters, and Bob Saget. This alone indicates that the man is a legendary comedian in the making himself.  His comedy tours have been remarkably successful as well, pulling fans from all over the continent and world. The thousands of fans that have laughed nonstop during his tours can attest to the remarkable talent of this comedy genius.
He has also filled millions with mirth through his online appearances. With millions of views online, Roberge has attracted a fan base that defies geographical and socio-economic boundaries. People of both genders and all ages can digest and appreciate his humor.  In addition to his many high-profile live, online, and television appearances, Roberge has wowed audiences at corporate and social events proving that he is a very flexible entertainer.
He is flexible in the topics he tackles in his sketches and standup bits. From gender equality to religion and intimacy the comedian puts it all on the table and invites the audience to see the humorous side of life.
Currently, Roberge keeps his fans satisfied by posting content regularly especially through his YouTube page and his most recent business venture, Melrose Podcasts
A Multi-Faceted Comedian
Who wouldn't love an entertainer that is multifaceted? This is another reason behind Roberge's ever-growing fame. He is a multi-dimensional entertainer. He writes, directs, and does business without detracting from his comedy brand.
Undoubtedly Roberge is a heavyweight in comedy. It is only a matter of time before he fully dominates the industry.