Yes, Toto turn back the clock at Pier Six Pavilion
Classic rock both crunchy and trippy poured out at Pier Six Pavilion on Wednesday as two of the genre's legends – Toto and Yes – shared the bill in a two-for-one gig on a gorgeous summer night in Baltimore.
The scene was bittersweet as both bands have moved on from recent losses of band members.  Toto bassist Michael Porcaro, brother of bandmates Jeff, who died in 1992, and Steve Porcaro, who was with the band from 1982-2007, died in March from ALS (Lou Gehrig's Disease).
Yes co-founder and bassist Chris Squire lost his battle with leukemia on June 27.  This was just the fifth show in the band's history without Squire, the other four shows being the previous dates on the current tour.
Both bands paid tribute to their fallen mates.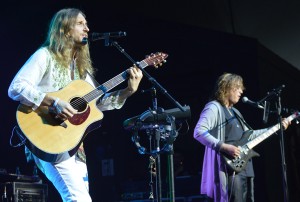 Toto's lead singer Joseph Williams dedicated the show to Mike and Chris, and gave a shout out "This one's for you, Chris!" before performing Great Expectations from their latest album Toto XIV.
Yes began its set with a video montage tribute to Squire set to the song Onward, and displayed one of Squire's basses on its stand at his normal spot onstage.
The crowd was respectfully subdued for the moment and gave a huge round of applause at its conclusion.
Toto performed first, bring a heavy sounding set of 15 songs to their first Baltimore appearance in 22 years, the last time being at Hammerjacks, the legendary rock-joint-turned-stadium-parking-lot. This show would have fit well into the Hammerjacks vibe, very guitar-centered with a smooth keyboard to hold the songs together combined with percussive, powerful vocals and enough hits to keep the casual fan satisfied and enough power to satisfy the rockers.
Guitarist Steve Lukather got some extended solo time in on a cover of Jimi Hendrix's Little Wing, and keyboardist David Piach shows off his skills in an extended solo following Pamela.
They finished with their mega-hit Africa, which was performed closely to the studio version at first and went nicely off-script to an extended ending jam that included an audience call-response sing along that wrapped their night up on a high note.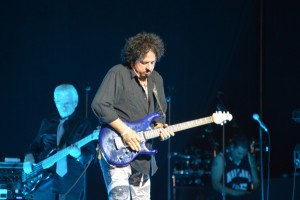 Yes' set was a distinct contrast in musical style and demeanor from Toto, a lot more jammy and lyrically lilting.
While Toto singer Joseph Williams had the look of a man on a Harley, Yes' current vocalist Jon Davison had the look of a man on mushrooms. With long flowing hair, flowery shirt and a joy-filled smile that never disappeared, he danced and flashed peace signs like a hippie roaming the new Eden. His style matched the music beautifully, and he sang with a sense of wonder at the stories the songs told.
High points of the show included a beautiful Time and a Word, I've Seen All Good People and a cover of Simon & Garfunkel's America.
The band was very in tune with the recent passing of Squire, and brought his memory to the forefront at several places in the show.
In addition to the pre-show montage, Davison led the audience in a collective "Hello Christopher Squire" after the second song, and declared "Christopher Squire, You will never be forgotten" to tremendous cheers.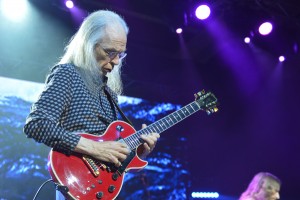 Squires replacement, Billy Sherwood, had enormous shoes to fill, and gave a solid performance, handling the complex bass riffs well, while carrying a stage presence that seemed relaxed and one with the rest of the band.
I listened for mistakes in the signature bass intro to Runaround, but he pulled it off really well – the guy's OK in my book.
Overall, the show was about what I expected from two veteran bands with lineups that have shifted much over the years, no huge surprises, but a good night of solid music under the tent.
Toto's Setlist: Running Out of Time. I'll Supply the Love, Hydra, Never Enough, Hold the Line, Georgy Porgy, Pamela, Keyboard Solo, Great Expectations, Without Your Love, Little Wing, On the Run / Goodbye Elenore, Orphan, Rosanna, Africa
Yes' Setlist: Don't Kill the Whale, Tempus Fugit, America, Going for the One, Time and a Word, Clap, I've Seen All Good People, Siberian Khatru, Owner of a Lonely Heart, Roundabout, Encore: Starship Trooper

Chris Swanson is a live music and sports fanatic and a long-time Maryland resident. He holds tightly to what some consider an unreasonable affection for the Baltimore Orioles and older music venues. Chris has a Communications Degree from the Franciscan University of Steubenville.