Wreath laying ceremony opens weekend of events honoring WWI veterans, Armistice Day
Wreaths representing the United States and its territories were placed near the General John J. Pershing statue in Pershing Park in Washington, D.C. as part of the Centennial Commemoration of Armistice Day and the end of World War I. (Anthony C. Hayes)
Washington, D.C.: One hundred years ago this week, a war-weary world nervously looked on as negotiations for an armistice of the bloodiest fighting in history was coming to fruition. More than forty million people had become casualties of World War I. Amongst the 9-11 million deaths of military personnel were more than 117,700 Americans.
On Thursday, the United States World War I Commission, in partnership with such entities as the American Legion, VFW, the Pritzker Military Museum, Pershing's Own Brass Quintet, and the 369th Experience Band, welcomed representatives from all fifty states, the U.S. Territories and Washington D.C. to Pershing Park, for "The Nation Served: Wreath Laying Tribute to the States and Territories."
The ceremony launched a series of commemorative events, giving the public a first look at the National World War l Memorial, Washington, D.C. and marking the Centennial of the Armistice that ended World War I.
Visitors to Pershing Park could also get a first look at a model of the proposed World War I monument. The "First Look" pavilion will remain open throughout the weekend.
What does the new memorial mean to the grandson of Sgt. Alvin York, one of the most decorated United States Army soldiers of World War I?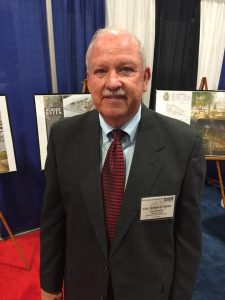 "Oh, it's an honor, said Gerald York. "One, to be associated with it; and two, to have something that commemorates what the country went through a hundred years ago.
"Especially for our family.
"To honor the service of many, many Americans, but particularly my grandfather.
"The country doesn't forget. There are no living veterans from the war around, but the country is still building a memorial to honor them. So, I think it says a lot for the country and it says a lot to veterans – I'm a veteran myself – to know that your service will not be forgotten."
Representing Maryland at the wreath-laying ceremony was David R. Craig – Executive Director of Maryland's World War I Centennial Commission.
"The major reason we are here today is for the wreath laying. Those wreaths will eventually be moved to Arlington.
"The Maryland Commission is also offering a separate wreath. If you look at it, you'll see the four colors of the Maryland flag, so it's a little bit different."
Craig spoke briefly about the importance of erecting a National World War I Monument in Pershing Park, then talked how Marylanders answered their country's call in 1917.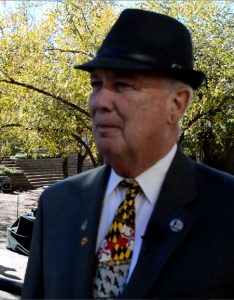 "Maryland played a major part in the execution of the U.S. war effort.
"Maryland had two different roles during WWI. One, as we say, was 'over there,' because we had 62,000 Marylanders who enlisted in the Army, the Navy and the Marines. We'd like people today to appreciate the diversity of those numbers. 11,000 were African-Americans and 5,000 were women.
"But also here on the home front, we had businesses which contributed to the war effort. We sent 100,000 horses to France. We also had a change in how chicken was sold here. Less was sold in Maryland, so that it could be taken to France."
"In Baltimore, there were businesses that made arms and ammunition. So much so, that the Germans actually sent a submarine to Baltimore in July of 1916 to try to get stuff."
The United States entered the war in April 1917 and continued the fight until the Armistice in November of 1918.
Craig said that two Baltimoreans are sad but significant bookends to America's involvement in World War I.
"Our very first Maryland casualty of the war was Lt. George Redwood, from Baltimore. He was killed on May 29, 1918. In September of that year, the Baltimore City Council voted to change the name of a street in Baltimore to honor Redwood. The previous name was German Street.
"The other significant casualty was the last man to be killed in the war was Henry Gunther, who was also from Baltimore. He was killed one minute before the war was over. All four of his grandparents were from Germany, but his parents were both born here in Maryland.
"Johns Hopkins doctors and nurses treated the wounded both overseas and here, but there is also a story about a fellow, and I believe his name was Dr. Kelly, who bought 150 acres in Anne Arundel County, along the waterfront, and created a tent hospital for "shell-shocked" soldiers. These were people who hadn't been physically wounded but were suffering from mental distress. They could come and stay as long as they needed, and I believe the place was operational for more than four years.
* * * * *
Redwood and Gunther are remembered today for their battlefield deaths. Sgt. Alvin York returned to America whole and a living hero. We asked Gerald York if his famous grandfather shared any memories of the war?
"He didn't really talk about the war – not with the family. We watched the movie – he had a copy, so we watched that. I'm the Chairman of the Sgt. York Patriotic Foundation, and we're restoring the original school building that he built in Jamestown, Tenn., to make it a research center for peace and valor. I've been going over a lot of his speeches and looking at his diary. I'm learning a lot, but not from him telling us, because he didn't talk about it.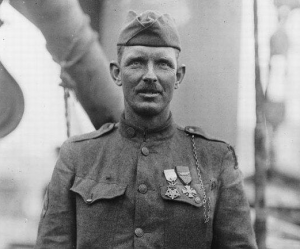 "It always bothered him that he done what he did.
"He wasn't proud of the fact that he had taken lives. But he was thankful that he was able to save a lot of his buddies' lives."
Was the 1941 film about Sgt. York's life accurate?
"It was very accurate. They used his diary, and he actually went to Hollywood for two weeks while they were filming, to make sure, in his words, that they didn't "Hollywoodize" his story."
We asked York about his thoughts on the proposed memorial?
"Oh, I think it's beautiful. I think it's a great portrayal of what individuals went through. Its a timeline of an individual, from leaving his family, going into war – especially some of the figures going into battle. I think those are very telling. It gives young people an appreciation for what people went through. For us to enjoy the freedom and democracy and peace that we have. People were sacrificing their careers and lives. I think it's a great portrayal."
Has the US WWI Commission's outreach been effective?
"I think it has, because it's not taught much in schools anymore. I think they've gone a long way to educate the public about – and bring attention – to Word War I.
"It's high time, and this memorial is well overdue."
Efforts continue to raise funds for completion of the memorial.
* * * * *
A full list of this weekend's events in D.C., as well as information about this Sunday's Bells of Peace program and other WWI-related topics may be found by visiting the U.S. World War I Centennial Commission, or by reading the Special Reports – World War I section of the Baltimore Post-Examiner.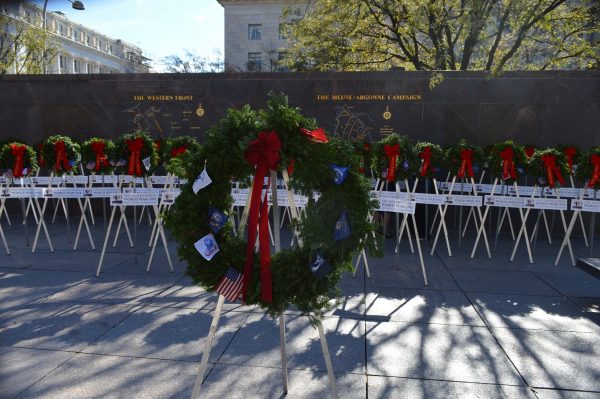 Anthony C. Hayes is an actor, author, raconteur, rapscallion and bon vivant. A one-time newsboy for the Evening Sun and professional presence at the Washington Herald, Tony's poetry, photography, humor, and prose have also been featured in Smile, Hon, You're in Baltimore!, Destination Maryland, Magic Octopus Magazine, Los Angeles Post-Examiner, Voice of Baltimore, SmartCEO, Alvarez Fiction, and Tales of Blood and Roses. If you notice that his work has been purloined, please let him know. As the Good Book says, "Thou shalt not steal."