Exactly five weeks from the worst mass shooting in United States modern history in Las Vegas, 26 people were shot to death by a lone gunman in the worst mass shooting in a house of worship in United States history and the worst mass shooting in Texas.
At about 11:30 a.m. on Sunday worshippers at the First Baptist Church in Sutherland Springs, Texas a rural community east of San Antonio came under attack from a man firing an AR-15 platform type rifle killing 26 people ranging from ages 5 thru 72 years old. 20 others were wounded.
A neighbor who lived near the church heard the gunshots and grabbed his own rifle and then engaged the gunman exchanging gunfire with the gunman.
Witnesses said the gunman dropped his rifle and ran into his vehicle, with the neighbor chasing him.
Police said they located the vehicle near the county line and the gunman was dead of an apparent gunshot wound. Multiple weapons were found in the vehicle. Authorities have not determined if he died by his own hand or by the gunfire of the neighbor who engaged him.
The name of the neighbor who engaged the gunman has not been released at the time of this story. He is being hailed as a hero by police who said that his actions may have prevented further loss of life by the gunman.
The gunman has been identified as Devin Patrick Kelley, a 26-year-old Air Force Veteran who was court martialed in 2012 for assaulting his wife and son.
Witnesses to the shooting said that Kelley was dressed in black tactical clothing and wearing a tactical ballistic vest as he walked up to the church and fired into the church from the outside, then went into the church and continued firing.
Kelley's Facebook page was taken down immediately, but not before some material was downloaded from his page.
Kelley shared a photograph on Facebook on October 1 and from comments made by friends he must have shaved off his beard at some point.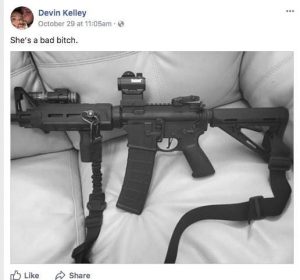 On Oct. 29 Kelley shared a photograph on his Facebook page of an AR-15 platform type rifle with the caption, 'She's a bad bitch.' It is unknown if the weapon in the photograph was the weapon that was used in the shooting.
Kelley's Facebook "Likes" included four Atheist sites: Atheism (Nonprofit Organization), Atheist (Community Organization), Friendly Atheist (Personal Blog) and Atheist Republic (Nonprofit Organization).
Hemant Mehta of the blog, Friendly Atheist, posted two comments on his Facebook page about the shooting.
"Reports say the Texas shooter "Liked" this Facebook page. It should go without saying that his actions go against everything I stand for."
"When you're sending thoughts and prayers for a tragedy that took place where people were actively praying, you should reconsider its effectiveness. Instead, contact your local representatives and urge them to get serious about gun control and making mental health care more accessible."
Other Likes on Kelley's Facebook page included LA Police Gear, (an online dealer of tactical clothing and police equipment), BAM Body Armor Megastore (online dealer of ballistic vests), Hill Country Truck Store and Firearms in Canyon Lake, Texas which is near Kelley's home in New Braunfels, and Nancy Fortier – Psychic Medium based out of Ontario, Canada.
Kelley also liked CNN, ABC News and CBS affiliate KENS 5 in San Antonio.
Sutherland Springs, the sight of the massacre is 40 miles from Kelley's' home in New Braunfels, Texas.