LAS VEGAS — Jennifer Howe Hendrex, the wife of Las Vegas Metropolitan Police Department Officer Cordell Hendrex who failed to confront gunman Stephen Paddock on October 1, 2017, called her husband a hero in several Facebook posts shortly after the Las Vegas Massacre.
In his report Hendrex said that on October 1, 2017 he and his day-2 trainee, Officer Elif Varsin, along with armed Mandalay Bay security personnel were on the 31stfloor of the Mandalay Bay Hotel hearing the gunshots emanating from the 32ndfloor as Paddock was actively killing and wounding helpless concert attendees at the Route 91 Music Festival.
No action was taken to stop Paddock.
"Once we were near the end of the hall we heard a volley of automatic rifle fire start,"Hendrex said.  "The sound of the shots were so very loud and reverberated through the hall around and above us.  Above us! I could tell that it was coming from the floor above us on 32.  I then told everyone to get back and we retreated a few doors down from the end of the hall.  I know I hesitated and remember being terrified with fear and I think I froze right there in the middle of the hall for how long I can't say. I do know that at 2212 hours I got on the radio and told dispatch that I was inside the Mandalay Bay on the 31stfloor and that I could hear the automatic fire coming from the floor above us."
"I once again hesitated as the shots were still being fired from the 32ndfloor and I remember saying another prayer for God to keep us safe. I did not know what to do next."  
Hendrex's wife takes to Facebook after the Massacre
On October 2, 2017, Jennifer Hendrex wrote on her Facebook page: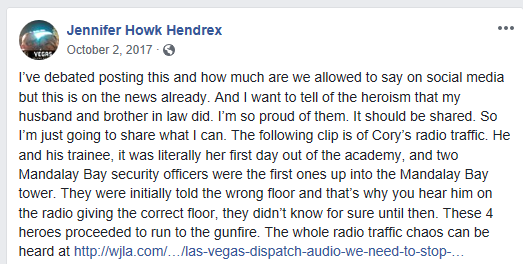 The gunfire was coming from the 32nd floor, when did they "run to the gunfire."
Also, on October 2 Jennifer Hendrex posts a picture of a pink heart with the words, "I get to close my eyes now, my hero is home and closing his eyes with me."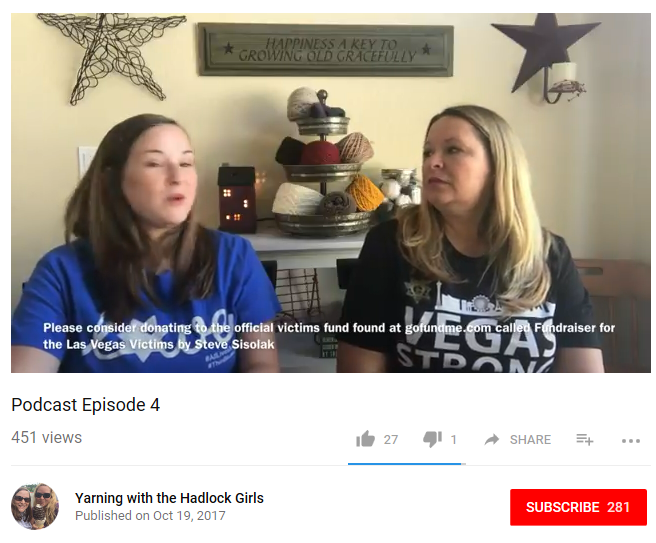 On October 6 she writes two posts on her Facebook page:
"A small portion of Cory's, his trainee and those 3 security guards story was told on Lou Dobbs tonight as well as Sean Hannity's radio show yesterday. They start talking about it at 10:52 on the video.  I'm so grateful these brave men and women are starting to be talked about. Cory would prefer to not be referred to as hero, but he is all for letting the heroism of his trainee and those 3 security guards (who haven't been talked about at all before now) be talked about.  They equally ran toward the gunfire without hesitation.  I'm so grateful that they stayed by his side and never left him alone.  I hope the public starts to hear about them." 
"Sean Hannity's radio show yesterday, starting at about 32:30.  Thank you Ret. Lt. Randy Sutton for always trying too get the law enforcement message out there.  Honestly Cory doesn't want his name mentioned, he is not seeking glory of any kind and he would prefer if no one knew his part but there were other heroes with him that night too.  And as much as Cory doesn't want to be seen as a hero, he will gladly tell you about the heroes he was with.  I can't imagine how hard it is for the families of these 3 security guards to not even hear mention of their loved ones and what they did that night in the news.  They ran to that gunfire without body armor and gave incredible support to Cory and his trainee.  They deserve to be talked about !!!  They deserve to have the public thank them !!!  Please share their story."
Apparently, Jennifer Hendrex was not fully aware of all the facts as stated in her husband's report.  She never mentions terrified with fear, froze in the hall for how long he can't say, hesitated again and did not know what to do next.  All the while people were being slaughtered across the street.
On October 19, 2017 Jennifer Hendrex along with another LVMPD police officer's wife posted a YouTube video titled 'Podcast Episode 4' where both women talk about what their husbands did the night of October 1.  At 17:06 minutes into the video Jennifer Hendrex starts to talk about her husband, Cory.  Obviously, it's hearsay and yet again Jennifer Hendrex leaves out some rather telling details.  But as the women say at the start of their YouTube video, "All we know is their truth." 
Lou Dobbs Tonight show for October 6
I reviewed the video of the Lou Dobbs Tonight show on the Fox Business Channel for Oct. 6, 2017 as Hendrex's wife referenced that in her YouTube post.  That night Dobbs had Ret. LVMPD Lt. Randy Sutton on his show discussing the October 1 mass shooting.  Sutton said that he had spoken to his police sources and then stated:
"The police were actually on the premises of Mandalay Bay taking a crime report and when the initial call came out, the call came out as an active shooter at the concert venue.  So, those two officers along with several security people from the Mandalay Bay began to run across the street where they thought the shooter was from. Well at the same time this was taking place, the suspect was breaking out, had broken out the glass and it fell down into the Valet area.  The valets looked up, they saw, they heard the gunfire and they reported the approximate location of the shooter.  Now at this point, these, the two officers, one of them is a brand-new police officer, ran back into the building, went up to the 31stfloor, and at that point the other security officer had gotten separated, gone up to the 32ndfloor and was shot.  The other officer, the Metro officer at that point, the shooting had stopped.  They went into the stairway and they isolated the room, isolated the hallway preventing any type of escape, also being cognizant of any other shooters because remember during all this madness, came out there were other shooters taking place as well.  So, these officers secured that hallway making sure that no one came or entered until the SWAT team could get there.  Now the reason for that time period, they were back on the scene in about 12 or 13 minutes, but the shooting had stopped.  He was apparently, from my time reference here, right after the security guard was shot, I think that Paddock turned the .357 on himself and took his own life."  [Note: There are several inaccuracies in Sutton's account].
I also reviewed the Sean Hannity Radio Show for October 5, 2017.  Sutton was also a guest on that show.  He related the same information as he did on Lou Dobbs the following day.
On October 2, 2017 Ret. LVMPD Lt. Randy Sutton was a guest on another Fox News show.  He said, "It's spirit, it's the warrior spirit that is so important in police work."  I agree, however when lives are being taken by an active shooter a true warrior would not retreat, freeze, hesitate and then say that he didn't know what to do.  You do what you must do to protect lives, you jeopardize your own life if necessary to save others.
On October 8, 2017 on CBS' 60 Minutes, three of the LVMPD officers who breached Paddock'ssuite on the night of October 1, appeared on the show.  During the interview, K-9 Officer Dave Newton said, "…His plan might have been to shoot it out with us, because there was a rifle on a bipod near the door and just the amount of ammunition and weapons he had, he could have held us off for hours."
LVMPD K-9 Sgt. Joshua Bitsko said, "But at least if he [Paddock] was shooting at us, he wasn't shooting at Casey and all the victims down there at the concert."  Well said, Sgt. Bitsko, that is the warrior spirit.
Eight months out and we still don't know the truth.
Sheriff Joe Lombardo isn't it about time the public hears from you on this matter or are you going to continue to cover-up the true details of what happened with Officer Hendrex.  You have done that for eight months; times up.
What's also wrong with the Hendrex incident is that when the Mandalay Bay armed security personnel were being interviewed during October 2017 by the LVMPD detective and the FBI, the interviewers must have known that something was amiss.  One Mandalay Bay security manager said Hendrex was on the 32nd floor with him while Paddock was firing.  Police protocol would dictate that the detective had to notify his superiors of the result of the interviews and they must have read Hendrex's report.
And what about the FBI? Did they participate in this cover-up also?
Let us never forget the 58 people who died the night of October 1, 2017, and the more than 400 others who were wounded during Paddock's gunfire.