Whitehall Mill's True Chesapeake Oyster Co. Restaurant opens
There is so much good to say about the True Chesapeake Oyster Co.: their location, décor, partnerships, drinks, food and dare I say oysters!
Oysters are at the crux and heart of this restaurant; they are at the center of this friendship/partnership of oyster farmer Patrick Hudson of True Chesapeake Oyster Co. from St. Jerome Creek in Southern Maryland, award-winning Executive Chef Zack Mills, and Nick Schauman – founder of The Local Oyster.  True Chesapeake Oyster Co. is the first Maryland oyster farm to open a restaurant. Bring in another award-winner, Chelsea Gregoire, the general manager and beverage director to round out an already outstanding hospitality team.  Everyone mentioned above is a story unto themselves and deserves more than this mere mention.
The True Chesapeake Oyster Co. restaurant reclaimed 4,500 square feet in a corner of the former Jones Falls' Whitehall Mill Sailcloth factory. When you step into the restaurant you have a choice of the bi-level dining rooms, a wraparound bar made of crushed True Chesapeake oyster shells, and last, but not least, a raised trough of stainless steel and copper for a showplace raw bar on the casual upper-level lounge dining area.
Patrons can step down to the formal dining room and take in its open kitchen window were foodie voyeurs can sneak glimpses, mirrored banquettes that reflect the surroundings, and the soft glow of the large drop-down pearl-globe lights from the 30-foot ceilings.
Oysters, yes, please!  Indulge in the True Chesapeake's own Skinny Dippers or Huckleberry oysters or neighboring Chesapeake oysters from Maryland and Virginia – each with their unique flavor profiles. Slurping is highly suggested, oyster brine and all!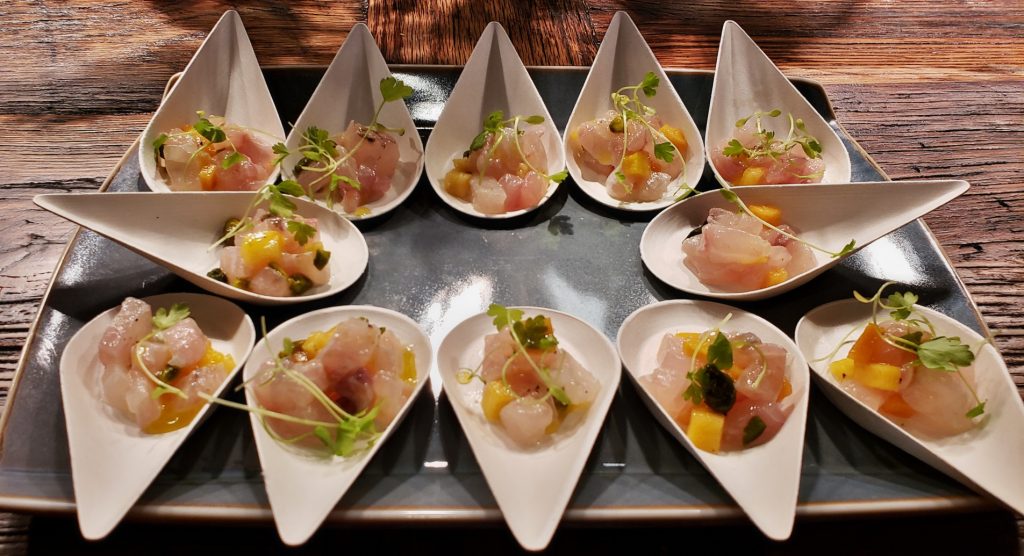 The True Chesapeake Oyster Co.'s menu is seafood forward: oysters raw and gussied up, steamed seafood, blue crab in varying inviting preparations, and the fresh catch-of-the-day. The marinated flounder crudo with pickled peach and microgreens took my breath away and made my taste buds do a tap dance. The crudo selection changes seasonally as do all of the dishes.  Don't get me wrong about it being seafood forward; the carnivore will not starve with selections like the tomahawk rib-eye steak, Zack's burger, fried chicken, and short ribs.
Personally, I can live at the raw bar, although there are so many temptations like the handmade spaghetti/ middle neck clams/butternut squash/bacon small plate, the spicy crab stew and of course, the flounder crudo.
True Chesapeake Oyster Co. – Historic Whitehall Mill – 3300 Clipper Mill Road – Baltimore – 410.913.6374  www.truechesapeake.com/pages/restaurant @truechesapeake
Closed on Mondays
Tuesday – Thurs: 4:30 to 10:30 (Kitchen Closes at 9:30; Oysters and Bar till close)
Friday & Saturday: 4:30 to 11:30 (Kitchen Closes at 10:30; Oysters and Bar till close)
Sunday: 4:30 to 10:30 (Kitchen Closes at 9:30; Oysters and Bar till close)
Free Parking

For Dara Bunjon if it is food, Dara Does It, in fact, that is the name of her company which offers creative solutions for the food industry the likes of public relations, marketing, social media, cookbook compilations, food styling, culinary events, networking and freelance writing. You will now find Dara applying her broad range of culinary skills as a food stylist for television chefs/cookbook authors the likes of Steven Raichlen, Sara Moulton, Nick Malgieri, and Nathalie Dupree. Dara Bunjon lives, eats, dreams and writes about food and isn't hesitant to share her views and experiences about restaurants, culinary trends, recipes, cookbooks or even her childhood food memories. She has been on the food scene for too many years to mention. Known both in Baltimore and nationally, Dara Bunjon is a former member of Women Chefs and Restaurateurs' national public relations committee.
In the past, she has written for Style Magazine, Foodservice Monthly, Mid-Atlantic Restaurant Digest, Urbanite and other sundry publications. Since 2004 she has maintained an award-winning food-related blog called Dining Dish. She co-authored her first cookbook Yum! Tasty Recipes from Culinary Greats in association with Studio Spear. And has written Baltimore restaurant reviews for Gayot.com
Dara believes food is subjective; everyone's taste is different and she enjoys bringing you to her table to commiserate and enjoy lively discourse.
Considered one of Baltimore's food influencers, you can follow her on Twitter and Instagram @daracooks.