The Valley Inn: Check out its signature dish grilled lobster burrito
The Valley Inn in Lutherville has been in business for many years.  Not too very long ago it was sold and the new owner spent lots of time and money renovating it.  He happens to be the owner of another restaurant in Baltimore County, the Oregon Grill.
I made my first visit there recently to see what all the fuss was about.
Open seven days for lunch and dinner the restaurant seats about 250 with room for lots more on the outside patio. On a beautiful day it is an ideal place for a meal.  There is also an enclosed deck that is enjoyable.  Inside you can select either the main dining room or the bar.  The bar is spacious with plenty of seating.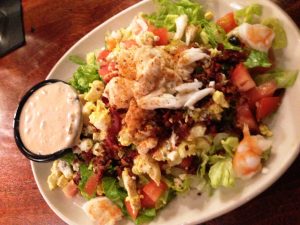 The menu, both lunch and dinner, is broken up into four categories.  We begin with the To Start, with items like crab soup ($11.00), Greens with a seafood cobb salad ($18.00), Lite with a suggested item of the 10 ounce burger ($13.00) and finally Large Plates where you can order a grilled chicken pot pie ($16.00).  All of these items are from the lunch menu and there are more items in each category than I listed here.
One of the signature menu items is the grilled lobster burrito.  They also have something listed as The Inn Trouble, a  drink.  The restaurant has three bars, it's casual, plenty of parking on their lot, reservations strongly recommended on weekends and holidays.  The dining public seems to have taken to the Valley Inn, they do a brisk business everyday.
The bar area is popular.  Besides the usual array of beer, wine and cocktails I saw listed margaritas, craft cocktails, drinks with mint, cosmos and ice cream drinks.  A room on the right side as you enter is the oyster bar.  It opens at 5.
The address is 10501 Falls Road in an area known as Brooklandville.   They can be reached at 410-828-0002 or by going to thevalleyinn.us.

Eddie Applefeld is a Baltimore native and a graduate of Towson University. He has been in the broadcasting profession for over 30 years. Currently he is the Promotions Director of WCBM radio. Before that, he was part of the Rouse & Company show on WQSR, host of a cable TV show called Dining Out and adjunct instructor at Towson.
His past accomplishments include being named a finalist in Baltimore Tourism's Employee of the Year Program and winner of Toastmaster's Speaker of the Year contest. He was also twice a heartthrob for the American Heart Association's gala fund raiser.