Typewriter purchase is letter perfect for local writer
"Please do not even divulge the fact that I own a machine. I have entirely stopped using the Type-Writer, for the reason that I never could write a letter with it to anybody without receiving a request by return mail that I would not only describe the machine but state what progress I had made in the use of it, etc., etc. I don't like to write letters, and so I don't want people to know that I own this curiosity-breeding little joker."
Mark Twain – Letter, 19 March 1875
Contrary to the curmudgeonly air of his letter, Mark Twain was an early and ardent enthusiast of the typewriter. It is believed that his book, Life on the Mississippi, was the very first novel to be submitted in typewritten form. Twain was not alone in embracing the newfangled machine, and for the next hundred years, the typewriter enjoyed near universal acceptance. But with the advent of word processors and computers, the ubiquitous typewriter began to fade from the American experience. Today, they are mostly relegated to the tents of third world countries and to the desks of a growing number of collectors like actor Tom Hanks and young wordsmiths like busking poet Abi Mott.
Earlier this summer, writer Kat Malone decided it was time to return to her writing roots by going old school with the purchase of a classic typewriter. Searching craigslist, she found an intriguing listing by hobbyist/vendor John Moore of Flying Monkey Studio. Being a very good friend (and someone with wheels), this reporter accompanied Malone to Moore's Catonsville area shop.
"The act of typing is cathartic to me," Malone said as we were driving through town. "I have always liked the sound and feel. It's personal."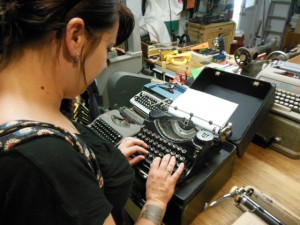 "I have been writing for as long as I can remember, most of it in my head. It finally occurred to me, around the age of 8, to start putting words on paper. Growing up, I had two typewriters I learned on: an old 1930's Smith Corona that was my Uncle's (he was a writer too) and a Fisher Price typewriter my mother bought for me on my second birthday. If I'm not mistaken, my first real typewriter was a Brother SX-4000."
Arriving at the Pleasant Valley address, we were greeted by John Moore. Stepping into his shop – a converted garage – we were at once surrounded by shelves of old machines.
Moore's collection is impressive. His typewriter stock ranges from machines manufactured in the early 1900's through the 1970's. The oldest on display is an Oliver No. 5 – recognizable by it's distinct downstroke typerbar towers. "Some of the ones from the 70's are really funky," he said. His current prize? A Kelly green Remington Porto-Rite from the early 1930's.
Moore said he has been selling typewriters for about two years. He also sells vintage sewing machines – a consolation he made early on to his wife.
"We've been here for 3½ years. We both grew up in San Diego and for a while lived in Idaho. My wife said, 'I'm thinking of taking this job on the east coast.' I asked where, and she said, 'Columbia, Maryland. It's between Washington and Baltimore.' I said, 'Oh, Yeah, that's where I want to live. Let's see – the old murder capitol and the new murder capitol.' Until we got here. It took a little while, but I've fallen in love with the Mid-Atlantic area. I find the people to be really friendly here."
Moore primarily sells his wares online but occasionally will venture into the public square.
"I've tried doing flea markets and may do some more this fall. Takoma Park has something called the Grant Street Flea Market. I took some typewriters there, along with some sewing machines, a few cameras and some old telephones. I sold a few things there, but the real fun is just talking to people. Seeing the kids play on the typewriters is just awesome. The kids will pick up the old phones and push their fingers in the holes and say, 'How does this work?'"
Writers Love the Feel
"Almost everybody that's bought them are writers, and most are younger than me. I sold two last week to a couple who were going to be separated for a while. She's moving to Philadelphia. They want to be able to send real letters back and forth to each other."
Like Malone, Moore's interest in typewriters stemmed from his desire to return to his roots.
"I wanted a typewriter, because I wanted to get back into writing, and I realized that I didn't like writing in front of my computer. There is always a distraction. Unless you have a computer that isn't connected to the internet, something always pops up. Plus, I grew up with typewriters. I missed that physical feel and sound. So I set up a separate room just for typing, and the next thing you know I have sixty typewriters."
"I sell them on craigslist, now. I sold a few of the really nicer ones on Etsy. Those went for a couple of hundred bucks. Some of the typewriters are much more popular, like the Sears version of the Littera. It was designed by Olivetti back in the 60's and made into the 70's. The Littera 22 was a really nice machine. Olivetti, Smith-Corona, Royal, Adler was German. They all made nice typewriters during that period. Remington was older. It was folded into Underwood, which was folded into Olivetti. By the 70's there were really only 3-4 big companies from the old days. There were new companies like Brother. IBM of course introduced the Selectric."
Charles Bukowski wrote a poem about his IBM Selectric. John Irving owns six Selectrics but no computer. And Hunter. S. Thompson owned a reddish colored model – perfect for absorbing the occasional spill from a teetering bottle of Wild Turkey.
Buying a typewriter from John Moore is an educational experience. The prices vary according to the age, manufacturer and condition of the machines. One machine, an Underwood Universal, was selling for less than normal because of a cracked knob on the carriage.
As Moore explained the functional sides of each unit, we quickly learned that two sheets of paper fed through the roller are better on older typewriters. That erasers and white-out were the bane of typewriters (both would effectively gum up the mechanism.) Repair tools were set at an angle which allowed the old units to be gently tweaked. And you can use brake fluid to renew the rubber on the roller, but it's not advised.
"You're much better off getting a replacement roller. There are two companies who do that." Also available are typewriter ribbons, ink cartridges, even the curious balls from the old IBM Selectrics. And literature may be found at sites such as the Classic Typewriter Page and  Machines of Loving Grace.
"I always clean with a vacuum and small brush. I use very little oil, because there really aren't that many parts which need to be oiled. I don't do a whole lot of refurbishing on my typewriters – I haven't taken them apart and refinished them mostly because the pebble finish is nearly impossible to recreate. I have one that somebody tried to paint and it's horrible."
Moore pointed out that on many machines there are adjustments for touch control. He then talked about the difference between segment shift vs carriage shift (how the machine adjusts for upper and lower case letters). "All of the smaller machines will be a carriage shift because of the engineering needed to create the segment shift."
Every Machine Has A Story
Moore had already set out several sensible selections for Malone to consider. Then, one by one, he pulled out an astonishing array of classic typewriters, filling his work bench with a veritable museum's worth of memory makers.
"This is one of the first ones that I spent a lot of time typing on. It's a Smith-Corona Electra 110. They were made from the late 60's into the 70's – primarily as a home model – but small businesses also used them. You could purchase a longer carriage so that you could turn the paper sideways and type that way if you needed to. That would be used for ledgers and keeping track of accounting."
It was strange to picture a Nixon-era accountant in the business district of Baltimore employing the same kind of Smith-Corona used by beat poet Allen Ginsberg.
"Another really cool one is this Smith-Corona Silent Super. It has a really good action with adjustments for how hard you have to press the keys."
"The Hermes was the favorite of war correspondents. It's a tight little machine, perfect for correspondence, but if you were gonna sit down and try to write on it all day it would drive you nuts. They're cute and that's where it started with me. I wouldn't buy anything that was over 3½" tall because I wanted all of the really small typewriters. The next thing ya know, more."
Hearing the term, "war correspondent" made this reporter think about Ernie Pyle – killed in action in France in 1945. Pyle owned the very popular Corona No. 3, a machine whose platten could be folded over to fit in the case. Ernest Hemingway also owned a Corona No. 3 – a gift from his first wife Hadley. The No. 3 was the machine he took when he returned to France after WWI. It has long been alleged that Hemingway once said, "The only psychiatrist I would ever submit to is the Corona 3."
As for the little Hermes, William S. Burroughs owned one. So did Marguerite Higgins, the ground-breaking reporter who covered the Nuremberg Trials for the New York Herald Tribune. The Hermes is also the machine John Steinbeck packed as a correspondent during WWII.
"Speaking of journalists," Moore continued, "I have one that used to belong to someone who wrote for The Baltimore Sun."
Finding The Perfect Typewriter
Pulling out a pristine Smith-Corona Clipper, Malone exclaimed, "Oh, that's gorgeous!"
"I think it was left to his nephew," Moore explained. "Unfortunately, since I didn't grow up around here, I didn't recognize the name, but I believe he was a sports writer. There was no provenance. Sometimes, you will find a registration with the person's name on it. Sometimes the early models included a manual with the machine. Sometimes you will even find some correspondence. I have even found original bills of sale, but that's pretty rare."
Even as Moore was saying, "This one is a bit more expensive", I could see Malone justifying the purchase in her head.
Up to that moment, Malone had been leaning toward buying an olive green Smith-Corona Sterling. But the more she considered the Clipper, the more she was hooked.
With a shake of the hand, Malone and Moore made a deal. The Clipper still needed a cleaning, so we returned the following Friday to pick it up.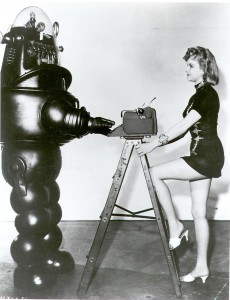 Malone admitted that, in addition to the intriguing history and ease of use when she tried the machine, the appearance of the sleek Smith-Corona was a contributing factor in the decision to make her purchase. Moore noted, "That's the reason they made them look so interesting."
Riding back across town with the vintage Clipper on her lap, Malone vowed to somehow learn the name of the Sun sports writer who had once owned the handsome Smith-Corona. The first stop, of course would be lunch with The Aging Newspapermen's Club, where Malone grilled retired Evening Sun horse racing reporter Joseph Chalmes in search of a moniker to pair with her new machine.
"My search for a typewriter yielded more than just a beautiful piece of equipment," she later said. "I gained knowledge, good stories and a great piece of Baltimore Sun history."
Malone also gained a brand new friend who knows a lot about vintage typewriters.
Not bad for an engaging young writer who now possesses her own curiosity-breeding little joker.

Anthony C. Hayes is an actor, author, raconteur, rapscallion and bon vivant. A one-time newsboy for the Evening Sun and professional presence at the Washington Herald, Tony's poetry, photography, humor, and prose have also been featured in Smile, Hon, You're in Baltimore!, Destination Maryland, Magic Octopus Magazine, Los Angeles Post-Examiner, Voice of Baltimore, SmartCEO, Alvarez Fiction, and Tales of Blood and Roses. If you notice that his work has been purloined, please let him know. As the Good Book says, "Thou shalt not steal."