Tuna Casserole: Ultimate comfort food revisited
With the appearance of canned and packaged foods on grocery shelves in the 1950s, the American housewife quickly discovered the casserole. The combination of canned soup, noodles or rice, leftover chicken or canned tuna, baked in the oven, and served with a sprinkling of bread crumbs or crushed potato chips on top, made for an inexpensive, but hearty meal. It still does today.
Though meat or fowl was the centerpiece of meals in the day, tuna casseroles became an accepted alternative for church and family potlucks and meatless Fridays.
From Pam, one of our readers : "M​y mom used to boil egg noodles until done then drain, add canned tuna and cream of mushroom soup (not sure if she added milk too or not), mix all and put in casserole dish and sprinkle crushed potato chips on top. bake until hot through."
From Today's All Purpose Cookbook, Favorite Recipes of Home Economics Teachers, 1982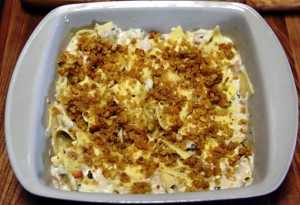 Company Tuna Bake, Margaret B., Wilkesboro, North Carolina
1 cup elbow macaroni*
1 3 oz. package cream cheese, softened
1 can cream of mushroom soup
1 can tuna, drained, flaked
1 tablespoon pimento (optional)
1 tablespoon chopped onion
1 teaspoon prepared mustard
1/3 cup milk
½ cup bread crumbs
2 tablespoon butter
Cook macaroni using package directions.
Beat cream cheese and soup in a bowl until smooth.
Add next five ingredients and macaroni, mixing well.
Pour into 1 ½ quart casserole.
Combine bread crumbs and butter in a bowl.
Sprinkle over tuna mixture.
Bake at 375 degrees for 20 minutes.
Yield 4 servings, 435 calories each.
*My home tasters liked the wider egg noodles over elbow macaroni and definitely didn't want to try the pimentos.
Additions and add-ons: rice instead of noodles, any variety of noodles, peas or an assortment of leftover vegetables, pimentos, and/or a layer of spinach or corn.
Kitchen Tricks for Utensils from Today's All Purpose Cookbook.
Use a pizza cutter slice warm brownies easier.
When your rubber spatula gets battered, trim the edges and continue using. Even as it narrows in size, it's ideal for scraping the contents of narrow-necked bottles.
To freshen a sponge, soak overnight in water mixed with a small amount of salt or baking soda or place in the washing machine with your next load of clothes.
Tuna Casserole, California recipe box, 1970s
1 can Chow Mein noodles
1 can condensed mushroom soup
1/2 cup water
1 -6 oz. can chunk tuna (or chicken)
½ cup broken cashew nuts-sautéed
1 cup diced celery
½ cup minced onion
 Mix all, except ½ of noodles
Place in casserole
Top with remaining noodles and bake at 325 degrees for 25-30 minutes.
Kitchen Tricks for Cooking, from Today's All Purpose Cookbook:
Scoop out a stray piece of eggshell easier with an empty eggshell half.
Cottage cheese stored upside down keeps twice as long.
Revive the flavor and texture of nuts by heating in a 100 degree oven for ten minutes.
Tuna Noodle Casserole, Ellie W., Quick & Easy Recipes, La Canada High School, California Home Economics, 1986
Serves 4
6 oz. wide noodles
9 ½ oz. can tuna
1 can cream of mushroom soup
¾ cup milk or water
1 to 1 ½ cups cheddar cheese, grated
Salt and pepper to taste
Paprika or crushed potato chips
Boil noodles 5 minutes, drain. Meanwhile combine tuna, mushroom soup, milk or water and half of the cheese in greased casserole. Gently fold noodles into soup mixture. Sprinkle remaining cheese over top of noodle mixture. Shake paprika for color or chips for added texture over chees. Bake 350 degrees for 20-30 minutes until cheese bubbles.
Serve with a green frozen vegetable and a tossed salad or relish plate.
Words to Chew on.
Good Advice for Cars and Men
Fix what's wrong.
Keep what's good.
Move ahead.
Humiliation is an emotion caused by sudden shrinking to our normal dimensions.
Recipe for Happiness
Take 24 hours, mix thoroughly with milk of human kindness. Add spice of life and pinch of discretion. Add an equal measure of sense, both horse and common. Knead with firm hand of Friendship and place in a pan of Goodwill. Bake on open hearth of Love and do not allow to cool too quickly by trouble. Serve with affection.
These Words to Chew on are from Bethel Temple's Jubilee Cookbook, 1914 -1964.

Ann Marie Bezayiff received her BA and MEd from the University of Washington in Seattle. She is an author, blogger, columnist and speaker. Her columns, "From the Olive Orchard" and "Recycled Recipes from Vintage Boxes", appear in newspapers, newsletters and on Internet sites. Ann Marie has also demonstrated her recipes on local television. Currently she divides her time between Western Maryland and Texas.