Top 5 Rideshare Questions
Meditation:
"Anyway, on this hot summer night, in the early morning hours somewhere around 2 a.m., I picked up two riders in the city. My air conditioning was cranking full blast, but the interior of my car was still warm due to the extreme outside temperature. These guys hop in my car dressed in dark clothing with ski masks up over their noses. One was wearing a dark cap and the other a black do-rag.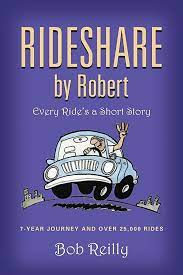 As far as rides go, this is of little concern to me and not particularly uncommon.
What happened next is what made this ride my scariest to date."
My "Rideshare by Robert" blog is a continuation of new stories based on my published book of the same name, "Rideshare by Robert: Every Ride's a Short Story." The book, and the blog, are short stories about actual rides, observations, revelations, and reflections on the rideshare experience. The writing is Informational, relational, and hopefully, seasoned with humor and compassion for the human family.
So, climb in, buckle up, and enjoy the ride.
Welcome to "Rideshare by Robert."
A place where anything can happen and usually does.
FAQ #5: How Long Have You Been Driving?
In this blog, I will provide you with the most common questions I receive as a driver from my riders. In my conversations with fellow drivers, the feedback I've obtained has helped zero in on the Top 5 rider queries.
For me, Question #5 usually goes something like this.
Rider: "How long have you been driving?"
Now, at this juncture, I can opt to respond with the assumed intent of the question, but I generally enjoy taking the opportunity to inject a bit of humor.
Me: "Well, let's see, I logged onto the app around 6:48 this morning."
Rider: "No, no, I mean how long have you been driving for (rideshare company name)?
Usually, both the rider and I are chuckling at this point.
Me: "Oh, I see. Got it! I've been driving for close to eight years."Most of the rider's questions are typically a result of a warm welcome from the driver. A pleasant "door opener" if you will.
A "Good morning (rider name), welcome to Tuesday!"
Set the stage for conversation. You never know where you'll end up.
FAQ #4: "What was your longest ride?"
I usually clarify the question by asking if they're referring to distance versus time. Half the time the riders want to know both time and distance, although the distance questions are asked more frequently and will hold the FAQ #3 slot as a result.
My longest ride was no more than 20 miles roundtrip. However, I spent time in the car with my rider for over three hours.
I picked the person up for an early morning drive to the airport. My GPS indicated there were issues on the main highway and provided an alternate route. The change would mean the transport would be 10 minutes longer than the original estimated time of arrival. The individual strongly opposed the GPS course change. I was told to turn off the GPS and head to the main highway toward the airport. I again attempted to explain the possible ramifications of not following the recommended "eye-in-the-sky" route with no success.
So, we got on the highway, and within 15 minutes we began our long stand-still traffic journey together. The GPS app showed there was a major accident around three miles up the road. We literally sat in a three-mile traffic cluster, in the center lane, for close to an hour. I listened to my rider cussing in the backseat, on the phone with her company, frantically reaching out to the airline to try and find alternate flights, and crying.
"I'm sorry. I was wrong. I should have listened to you. You were right, Shit!"
"Don't worry about it. We'll figure this thing out," I softly told my rider in as comforting voice as I could muster.
After some passing time, many phone calls, and overhearing "I know, I know. I'll be all right. Okay, I will," repeatedly from the backseat phone calls, the intense drama began to subside.
We eventually came upon the accident scene. There was a tractor-trailer on its side spread completely across all the lanes on the highway.
One mile from the airport exit.
The state police shut down the southbound traffic and moved all traffic to the left lane. An emergency turnaround was used to divert northbound traffic onto the southbound direction.
We headed back to where I made my pick-up close to three hours earlier with a sad person possibly with a growing appreciation of rideshare drivers, and more so, the GPS app.
FAQ #3: "What was your farthest ride?"
When asked this question, I tell my riders that my three farthest rides were to New York City, Columbus Ohio, and Greenville, SC. The response is one of surprise with some commenting about how much money I made on those trips.
At that point, I switch into educator mode and explain how not everything is as it seems to be.
The rideshare platform allows drivers to operate within a given geography or zone. In my case, I can drive anywhere in Maryland, Virginia, and Washington, D.C. Once I drive outside these zones, the app shuts down. So, if I pick up a rider in Maryland heading to New York City, the app shuts down once I cross the line into either Delaware or Pennsylvania depending on my routing.
Over thirty-five years in the logistics industry taught me well about the downside of an empty "back-haul." An empty truck or airplane heading back to where they started on a point-to-point run eats significantly into your margin or net profit. The same is true for that decent pay on a one-way trip to NYC where every mile and every minute heading back south erodes your income.
Then, when you cross the line on the north end of Maryland, you might not want to turn the app on and get stuck at that end of the state shuttling people around.
In summary, a ten-hour roundtrip, with no riders on the back-haul, could actually be a loser.
FAQ #2: What was your most dangerous or scary ride?"
With over 26,000 rides behind me, I still contend the following is my scariest ride.
In my early days of driving, I used to work weekends and late nights. The witching hours, or perhaps twitching hours might be more apt. As the 1972 Edgar Winter album boldly declared, "They Only Come Out at Night." Well, the sentiment is clearly dated and in our current times the album might be more appropriately titled "They Used to Only Come Out at Night," to better reflect our new reality.
Anyway, on this hot summer night, in the early morning somewhere around 2 a.m., I picked up two riders in the city. My air conditioning was cranking full blast, but the interior of my car was still warm due to the extreme outside temperature. So, these guys hop in my car dressed in dark clothing with ski masks over their noses. Both wearing black do-rags.
Now, this is of little concern and not fully uncommon. What happened next is what made this ride my scariest to date.
My normal welcoming comment is, "Hey, welcome to Saturday morning. How's it going?"
Dead silence.
Well, okay, not an issue.
About 10 minutes into the ride I heard the distinctive clicking and loading of magazines into handguns. My first instinct was to second-guess myself about what I was hearing from the backseat. Mumbling, loading weapons, and the sound of my heart beating faster.
Thump, Thump, Thump, Click, Click, Click.
I reassured myself that the ride would end in 4 minutes and all would be well. I would close the app and head home thankful I made it through another day on the road.
All good until a deep voice directed me, "Turn up this alley."
So much was racing through my mind, and I began to pray. I remember praying, "Lord, whatever happens, please make it quick and painless."
We drove to the end of the alley. I pulled up in front of a dumpster.
"Stop here."
I stopped, they got out, and the ride ended.
My prayers were answered. It was both quick and painless.
I turned off my app, took several, thankful breaths, and headed home.
FAQ #1: "What was your wildest ride?"
I often laugh when people ask me this question. Not only is it the most frequently asked question, but it's also the one that challenges me the most because having seen so much human nature up close and personal in life, the word "wild" is hard to pin down.
My response when asked is something like, "What is my wildest ride? Well, up until my ride with you, I've never had a wild ride."
This normally elicits a laugh or two from the rider, as I proceed with detailing not necessarily what I consider to be off-the-chart wild, but what the listener (or reader, for that matter) might consider to be wild.
Sometimes, especially on those late-night, early-morning weekend rides, the party continues in the back seat of your car. On one such evening, I accepted a ride request and pulled up to a big party scene in suburban Virginia. It was entertaining to watch and hear the all-too-familiar movie as young people were stumbling and being helped by friends get across the parking lot, singing, laughing, arguing, you get the picture.
Finally, after waiting over five minutes, I was back to indicate on the app a "No Show," when two people jumped into my car. They were very loud, very high, and very amorous.
"Turn up the music. Here's my phone playlist. Turn it up,"
I complied and smiled at youthfulness.
"Hey, can we smoke weed in your car? You seem cool."
I was almost tempted to tell them, "Just inhale the smoke saturated in your clothing for a good buzz," but I refrained.
"No. I can't have the smell in my car. The next rider might complain to (rideshare company name) and I could be removed from the app platform as a possible safety violation."
"Oh, okay man, Cool."
They then began vaping what I assumed to be THC oil, and complemented their vapes with "sniffs and giggles."
"This is odorless. You can't smell it. Hey, man. Check this out"
I looked in my rearview mirror and saw one of them, with a lifted shirt, flashing me.
"Impressive," I said in a very dry tone of voice.
My response prompted uncontrollable laughter from them both. They continued laughing during the remaining 5 minutes of their ride, occasionally punctuated by deep kissing, moans, and further attempts to get me to "check them out" in the backseat.
When we finally arrived at their destination, they profusely thanked me for the ride.
"You're so cool. Great ride. Thanks, man. You're cool. Five stars."
I paused, smiled, and remembered the follies of my youth before I headed for my next adventure on the road.
Disclaimer
I have made every attempt to provide anonymity to all individuals portrayed in this blog. The names have been changed to protect the innocent. And, in some cases, the not-so-innocent. I have substituted the characteristics of individuals in my writings to further my attempt to maintain anonymity. Conversations and other details are based on my best recollection and notes. Although I have spent time driving with many celebrities and public figures over the years, I have intentionally omitted their names, and their rides, in my writings. Actual locales, along with other details such as when and where the rides occurred, have been modified to maintain my objective of rider privacy and anonymity.
After a 35-year career in the Global Supply Chain Logistics industry, Maryland native Bob Reilly, is enjoying his second career as an author, freelancer, and singer-songwriter. His first published book, "Rideshare by Robert," is a collection of journalistic short-story essays covering a 7-year, 25,000-ride life journey. The book is available everywhere online with signed copies available directly through Bob or at his ongoing "Meet the Author" events. You can also explore his last four studio albums and singles on all your popular music streaming platforms. Albums and singles include, "Work in Progress," Unexpected Ways," Perfect Love," "The Journey Home," and "I Thank God for You," a song written and recorded in 2022 for his daughter's wedding.He is the band leader and promoter for The Reilly Goulait Band. Bob and his wife have adopted three children from China, Korea, and the Philippines. Their passion for adoption also extends to their many pets, including their current Husky, Shiloh.