Tony's Pizza: Ocean City boardwalk restaurant a must stop
It isn't the fanciest restaurant in Ocean City but that's Ok.  It is an ideal choice for families on vacation and for those looking for a good meal at reasonable prices.  It's Tony's Pizza, perfectly located at the boardwalk and Division Street.  It has been family owned by the Russo's since 1964.  So I'm guessing they're doing something right.
Open seven days for lunch and dinner this is more than just a pizza place. Other items that appear on the menu include salads, subs and specialty dishes.  There's seating for over 200 and that is factoring in the open upper deck.  You can't ask for a better place to people watch than there.  But be advised the upper deck is dinner only.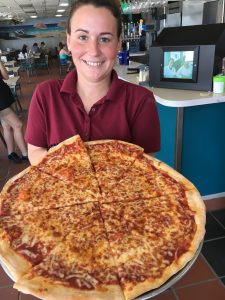 The restaurant is a favorite of the locals and just about everyday you can spot members of the Ocean City government stopping in.  How can it not be a favorite being in business at the same place for all that time.  The patriarch of the family, Mr. Tony, is often seated near the front welcoming everyone, as is daughter Lisa.
For those craving a little bit more than just an iced tea or soda they do have a beer and wine license.  But since they do such a big business with parents and their kids, soda and iced tea are popular choices.  And as you might expect the selection of pizzas are many.
Operating a restaurant is thought to be one of the toughness ways to make a living.  Just look at the track record of restaurants in any city.  Not sure of the exact stats but maybe one in five become a success.  So being in business since 1964 to me is a big deal.
Tony's is open everyday from Easter until the end of September.  Then they do weekends October and November.  And I do believe Lisa told they close until President's Weekend in February, then weekends until Easter.  But don't worry about remembering all that, just call 410-289-5740.
For me this is a must stop each time I visit Ocean City.  I found a place I like so a loyal customer I have become.  Check them out at tonyspizza.com.

Eddie Applefeld is a Baltimore native and a graduate of Towson University. He has been in the broadcasting profession for over 30 years. Currently he is the Promotions Director of WCBM radio. Before that, he was part of the Rouse & Company show on WQSR, host of a cable TV show called Dining Out and adjunct instructor at Towson.
His past accomplishments include being named a finalist in Baltimore Tourism's Employee of the Year Program and winner of Toastmaster's Speaker of the Year contest. He was also twice a heartthrob for the American Heart Association's gala fund raiser.