Three Dog Night: Still Playing after 50 years
You know them. How could you not? They've been on the road for more than 50 years.
With hits such as "Joy to the World," "Mama Told Me (Not to Come)," "An Old Fashioned Love Song," "Black and White," "Never Been to Spain," "One," and "The Show Must Go On," among many others, Three Dog Night has proven itself to be an iconic band in the music world.
Founded in 1968 by Danny Hutton, the band originally also included Cory Wells (who died in 2015) and Chuck Negron. They performed together with this line up until 1976, and from '69 to '74, Three Dog Night had more top ten hits, moved more records, and sold more tickets to their concerts than any other group. During that time, the band dominated the music charts, with 21 consecutive Top 40 hits, which includes three number one singles and 11 Top 10's.
Known for their three-part harmony, Three Dog Night was unlike other bands back then—the blending of three male voices was considered radical. "Chuck was a great ballad singer; Cory was a great blues singer, and I could do the rock and rock thing," says Hutton. So depending on what the song was, a different lead singer would take the mic, with the others singing as well.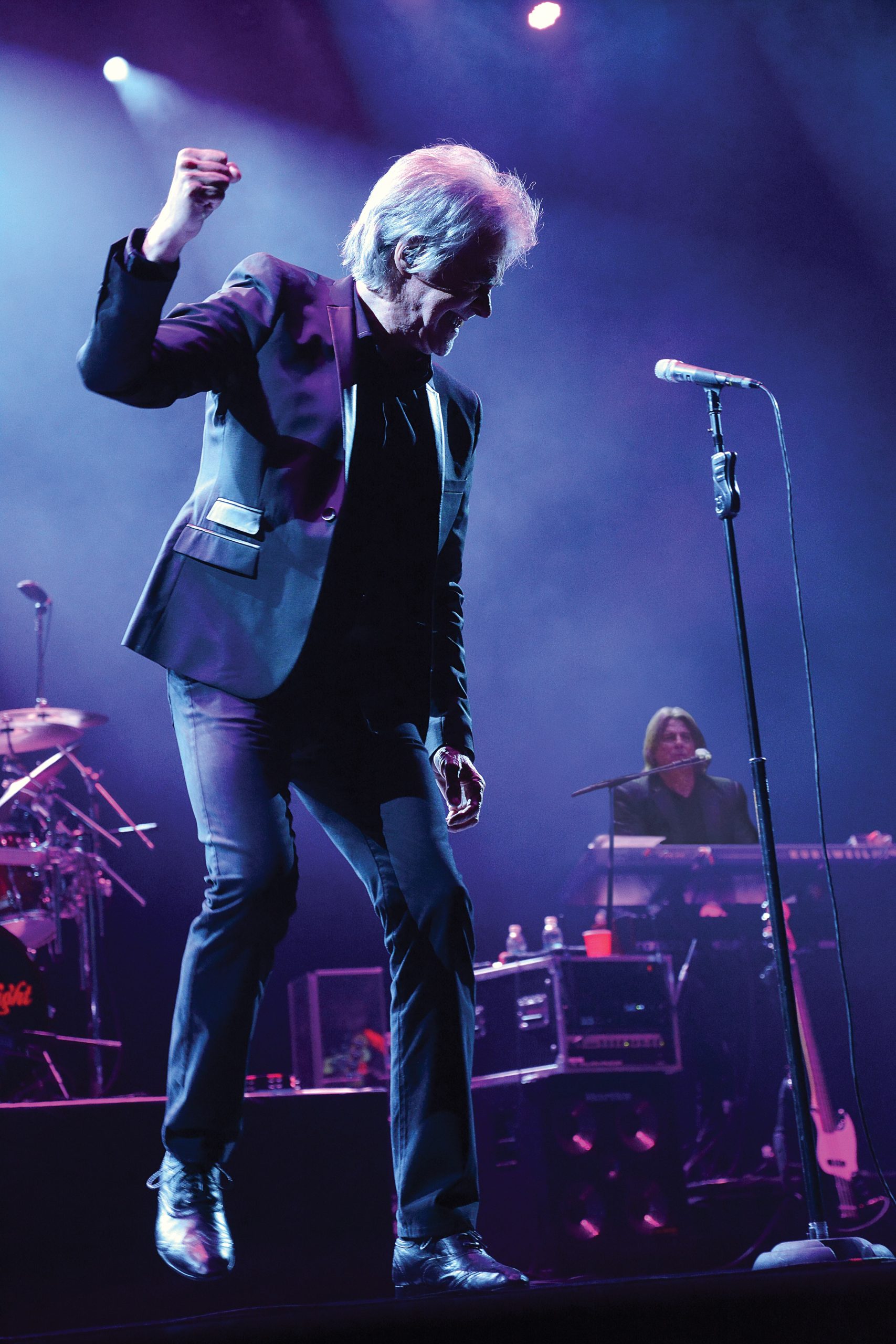 The band got the name Three Dog Night from a phrase used by native Australian hunters. When the hunters would huddle in the outback, they would do so with their dogs for warmth with the coldest of evenings referred to as a "three dog night."
Although the band broke up in 1976, Hutton brought it back with a different line up in 1981. Many of the band members currently with Three Dog Night have played with us for 20 or 30 years, says Hutton. The current group consists of Paul Kingery, Pat Bautz, David Morgan, Howard Laravea, and Timothy Hutton. They are still touring year-round, with more than 90 gigs a year.
"Paul has been with us like 25 years, and Pat's been with us about 30. David is almost the newest guy. He's like Cory [Wells]—one of those guys who is born with a baritone voice. He played keyboard with Ricky Nelson," says Hutton. "Howard is spectacular."
What's it like being able to play gigs with his son, Timothy? "Oh, it's wonderful," Hutton says.
In the current lineup, "Paul does some of the 'high stuff,' while David does the blues," Hutton says. Although he still does the rock songs, Hutton says that he also sings some of the ballads as well. "I think I've gotten better. I can sing higher now than when I was 24. That's crazy."
Don't expect them to just be a nostalgia band, though. They've sold more than a million copies of the releases from this decade alone.
What's the key to the band's longevity? "You have to be good live. You've got to be real, you know. No bullshit," says Hutton. "You got to have the chops to get on stage, and no rookies allowed."
On July 2, Three Dog Night hits the stage at Rams Head On Stage

Michele "Wojo" Wojciechowski is a national award-winning writer and author of the humor book Next Time I Move, They'll Carry Me Out in a Box. Her work has appeared in publications such as Vanity Fair, Esquire, Parade, Discover, AARP, PBS' Next Avenue, Family Circle, Reader's Digest, and many more. Over the last few years, she's been learning to play the drums and dreams of playing one song with the Foo Fighters. Oh yeah, and she's got a Xena Warrior Princess costume hanging in her closet. Don't ask. Reach her at WojosWorld.com, Twitter @TheMicheleWojo, Facebook WojosWorldFanPage.com.